When I used to give people directions to our house, I would tell them to look for the skinny blue house with bright purple shutters.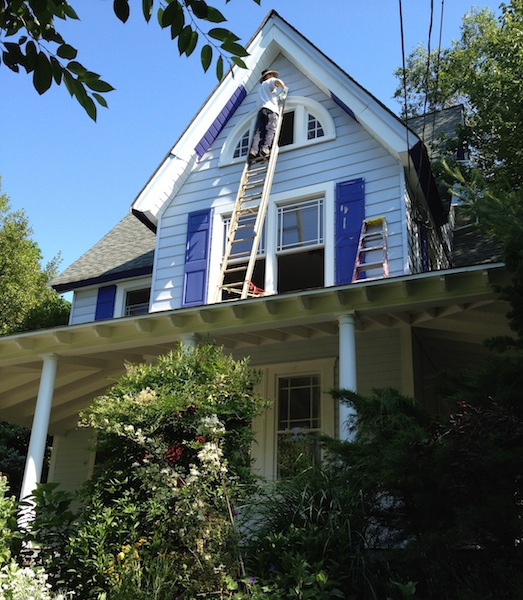 And purple foundation.  And purple doors.  And purple eaves.
And purple everything.
Our previous owner had dedicated himself to putting purple accents as far off the ground as humanly possible.
I have no idea how many hours Paul spent painting over dark purple—but it was a lot… Even though the house isn't big, it is tall, and the roofline has a lot going on.
The soffits alone were a ridiculous task. Requiring scaffolding and extension ladders and me refilling the paint tray through the window and telling Paul repeatedly— please be careful.
Theoretically, while Paul was covering the purple, I was supposed to pick out a paint color for the front doors and shutters.
In my mind, the light blue of the house would really be set off with something dark, but vivid.  Classic, but different… kind of slate-ish but not too grayish…  A magical, imaginary color that my brain created in my special, psychic-paint-mixing laboratory.
If you're interested in my services, I will be happy to whip you up a distinctive shade that you will never be able to match or track down or specify to anyone.
Also?  I wanted SHINY.  Which, we all know Captain No-Shiny vetoed.
I don't know how many times I trudged out to get more paint samples.  To Home Depot.  To Lowes.  To Sherwin Williams.  To Finnaren & Haley and Benjamin Moore…. Where I actually had to buy pints of paint because they don't offer all their colors in sample size.  Only some. Because that makes perfect sense.
The number of times we painted multiple shutters, let them dry, and hauled them around…  So I could see them in different lights, at different times of day, only for me to not like any of them.  Was a lot.
And?  Don't tell Paul… but I don't love the color we ended up with. I was just too tired to keep looking.  I say don't tell Paul, because if he knew that compromise were possible?  My entire campaign platform would evaporate.
Part of the problem was that my magical-imaginary-shutter-color was so beautiful, I wanted to use it on the storm doors too.
And none of these colors were delivering the otherworldly aura I was looking for.  In my head, the grey looked rich and vibrant.  In reality?  It looked dull. I was starting to think I needed to go with something bright and unexpected… despite literally having just gotten rid of an orange ceiling.
Until I came home with a fresh batch of samples and Paul had taken off the storm/screen doors to start prepping them for primer.  And I was like—oh look, there's my magical color!
I do like a red door, but I hadn't thought it would go well with the light blue.  However, it turns out the mahogany color is really a nice contrast, especially with the white molding.
I'll spare you the part where I went for red paint samples.  And narrowed it down to three.  And them mixed them.  In different amounts.  Using a plastic soup spoon as my unit of measurement.  And then gave Paul the task of calculating the exact mathematical recipe – using the formulas they give you for the 8oz sample can.  And then translating that into a gallon.  So that I could go to the paint guy and give him my custom order.
Believe me, I know what you're thinking:  Wow.  That is such an awesome idea.  I wish my partner were as detail-oriented about paint!
So, thanks for that.  I really value it.  Because, here at home?  I'm just not appreciated.
Paul looked at me and was like, you're kidding right?  You want me to figure out a paint-formula based on converting plastic-soupspoons to this chart:
I was like, it depends. I could keep looking for paint.  Or we can use my magic formula.  I guess it just depends on whether you want to paint the front doors sometime in the next month.
And apparently he did.
Other Porch Posts: