We wanted to use our front porch cafe lights as security lighting… so we swapped out the string of incandescent bulbs to LED and added a motion sensor. This lights up the entire perimeter of the porch— so nice when you come home after dark!
But.
Shopping for LED bulbs is a guessing game… the description tells you one thing… then they arrive.
We ordered and returned an endless selection of bulbs that assured us they were WARM white.
Lies.
It's not just the color spectrum—called kelvin… it's also the wattage; the packaging will say that it is equivalent to such and such… but what they ACTUALLY mean is three-thousand-watt greenish-alien-spaceship-beam.
Photos for comparison:
First, the (pretty) summer porch… these are traditional incandescent café bulbs, strung in a V pattern across the roof… the string is EXTRA long! Such nice light! So much wattage!
Incandescent string is here.
LED bulbs we ended up with.
Cord we used with LED.bulbs.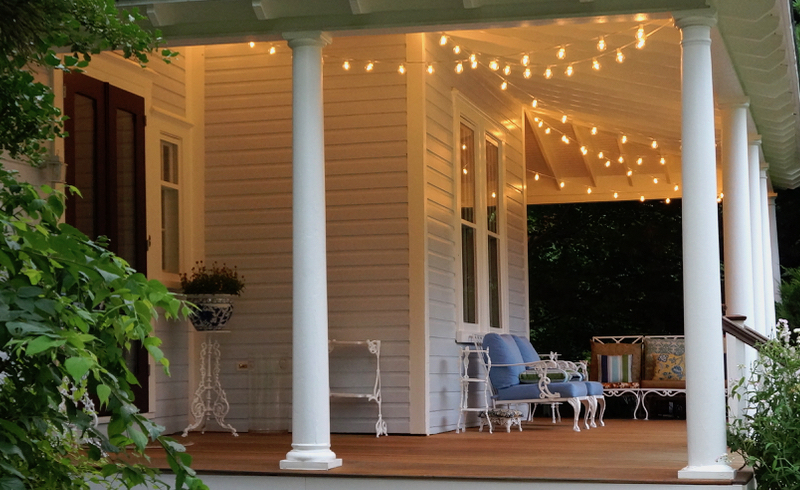 Now.
LED bulbs.
We used two 48-foot cords end to end.
We have a lot of porch!
Photos are unedited, taken with my phone.
It was about 5 degrees outside so there was no staging-of-pretty-ness.
First photo is half bright, second photo is full brightness… I'll explain below.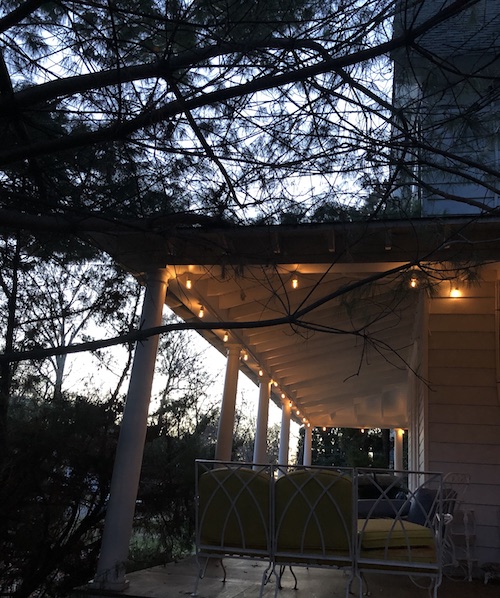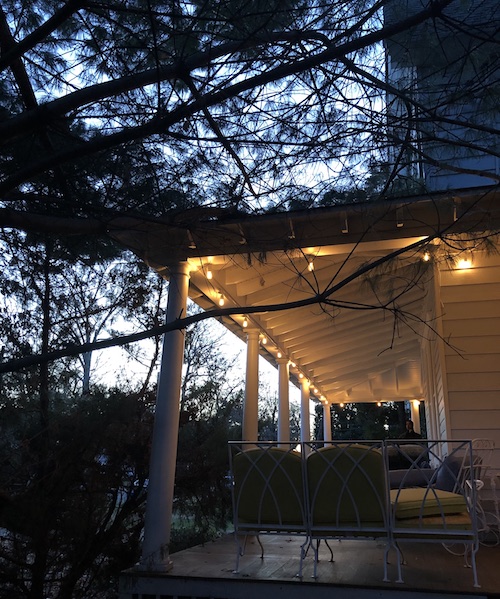 The motion sensor we are using gives you the option to have them on at half-light; when the motion sensor is activated, it brings them up to full brightness… which is how we discovered that the dimmer they are, the more-incandescent they look.
The bulbs we ended up with are 1 watt AND… I like them even better at HALF light… BUT just dimming any old LED bulb would not duplicate the color. These are much warmer than all the other bulbs we tried.
Thing I am compelled to explain:
Above photos of the LED string, we wrapped the leftover extra cord around the INTERIOR perimeter on the short/right side of the porch– you can see one of the extra bulbs, but you might not realize it… I'd previously had the extra cord wrapped around a pillar and I wanted to see it this other way, which now I am certain is wrong.
I may have Paul just shorten it to be exact along the roof line.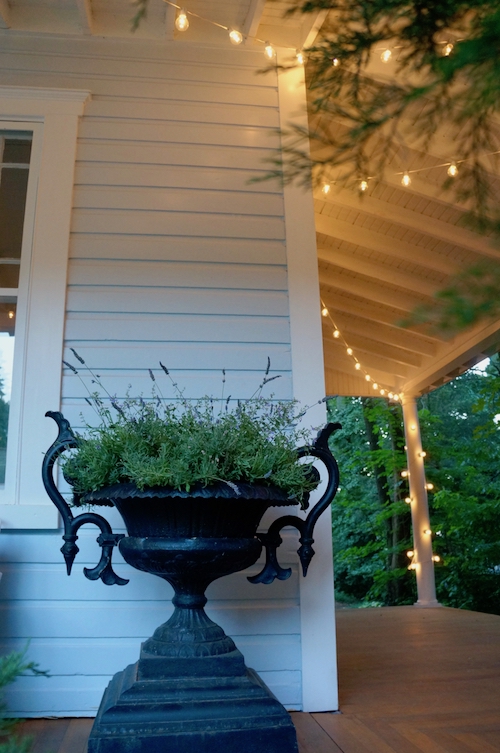 I thought I was going to find the new alignment unappealing in comparison to the previous café string. But surprisingly I like it fine.
Something I wasn't anticipating–it is so nice to SEE that space from INSIDE the house in the evening!
The lights give such a nice glow to the front room that Paul set them to come on at dusk at half light and stay on for three hours.
Below, half-light is first, then full bright, then incandescent.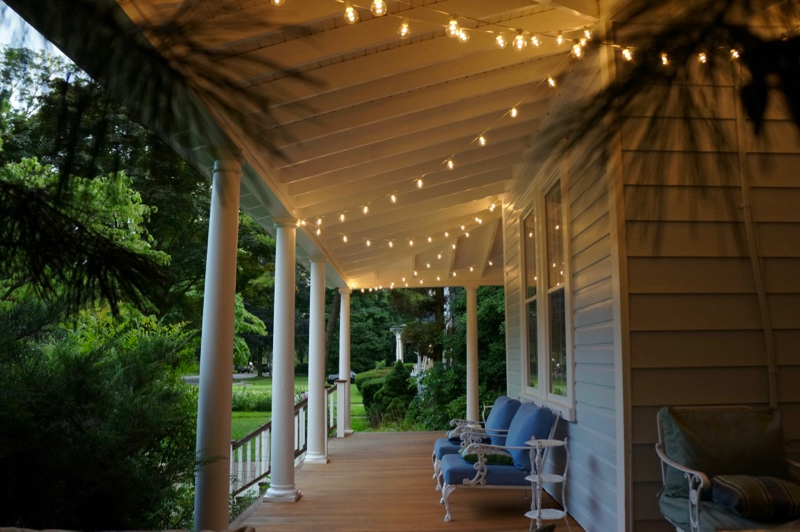 Paul got the cords at the scary electric supply warehouse. We paid $25 a cord. They do not have a website.
If I wanted to get into it, I could possibly improve this amalgamation by having Paul rewire the cord so that the first bulb starts directly at the side of the house. As it is, there is a space before the first bulb.
Each of the sockets is dropped from a very heavy duty outdoor type of cord. I think it is good they are spread out more because there's no such thing as a dim LED bulb… BUT if you prefer them in the V arrangement, (and have an unlimited budget for LED bulbs) I now see that with a dimmer, you could duplicate the V, without blinding the neighbors.
Front porch posts:
porch BEFORE– orange AND purple!
mixing paint for the front door, (in my laboratory of exactness)
Also, it's that time– my most popular post is actually NOT the kingdom mirror… it's
HOW TO MAKE A BOW
… which comes with life wisdom gleaned from my mother and also Kenny Rogers.