After spending weeks with my brothers, regressing to teenagers and laughing like rabid hyenas… this back-to-real-life-stuff is incredibly tedious.
The wedding was wonderful; and more importantly— I think my brother is very, very, very, fortunate.
He married an amazing human.
The last day Paul and I were there, we hung out with the newlyweds; and at the end of the afternoon, it was hard to to say goodbye like a normal person… what I really wanted was to insist that they get in the car with me. At gunpoint, if necessary.
Thank you again, to everyone who made suggestions for our trip!
We didn't have time to do everything! But what we did do was amazing! New Mexico is gorgeous and I cannot wait to go back!
But holy heck, SO DRY! I feel like my skin shrunk two sizes and my hair was bizarre the entire time— stick straight, flat, EXCEPT at the top… like a mohawk? A mullet? I do not know but… not a good look.
We did:
Bandelier National Monument– Bandelier's human history extends back for over 10,000 years when nomadic people lived IN the cliffs.
We also took the high road to Taos, and stopped at the church with the holy dirt.
And we spent time in both Albuquerque and Santa Fe.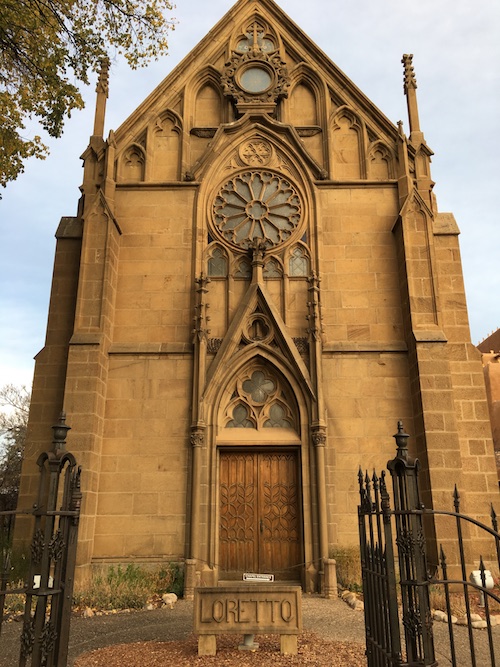 The miraculous staircase— the MIRACULOUS part sets you up, and I think they should consider changing the name.
It is a BEAUTIFUL and FASCINATING staircase! But I associate the word MIRACLE (when used without irony) with the parting of seas and being BROUGHT BACK FROM THE DEAD… so I was expecting a staircase BEYOND MY COMPREHENSION.
But since it turned out to be an actual SET OF STAIRS, it was still within the REALM of things I am able to imagine, and thus was somewhat less impressive than if they had called it something like the "hey! that's something! staircase."
Carson National Forest, which was my favorite— SO AMAZING!!
The trees and the mountains and the beginning trickle of the Rio Grande are mind boggling in their grandeur. It actually MADE ME UNDERSTAND WHY PEOPLE GO CAMPING.
All of these years on earth, I've been mystified why people would CHOOSE to sleep in DIRT, rather than their own bed… WHILE ALSO POSSIBLY BEING MAULED BY A BEAR.
I get it now.
Sadly, Paul says that we can never go camping because I would need three sherpas.
OR A TINY LOG CABIN.
If you go to Taos, the BEST part is the drive up to the mountain/ski area… the scenery will melt your eyeballs.
And also, go by the Maison Faurie antique store, to see a great collection of antique blue transferware! I've never seen some of the pieces that he has!! A leg bath?
I wanted this SO BADLY!
IMAGINE it: FILLED WITH DAHLIAS!!! Sunflowers! Some Sweet Pea trailing down the sides!
My other favorite was our stop in Albuquerque; we went to The Dirty Bourbon for dancing. The two-step in New Mexico is way different than it's northern counterpart and we realized that we need to move here, immediately.
Also, they had a disco saddle (rather than a disco ball)… the hallmark of a truly fine establishment!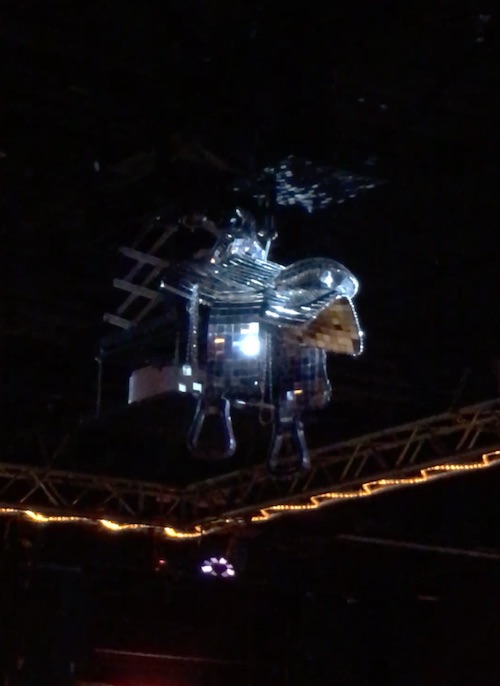 Now a totally smooth transition from disco saddles, to a PSA regarding pediatric hospitals.
If you have children… or know children… or might someday be a bystander in an emergency involving children? This is a book you should read.
Healing Children: A Surgeon's Stories from the Frontiers of Pediatric Medicine
I read this on my trip and enjoyed it… it's an easy and engaging read, but more importantly, the author is the head of Children's National Medical Center, in D.C. and he writes about how parents are not provided with the the information they NEED to make the best medical decisions for their children.
He writes about how the actual SCIENCE of medicine for children is SO DIFFERENT than adults… that a child's ENTIRE LIFE can be impacted by receiving care from doctors who specialize in pediatric medicine.
He writes about how EVEN AS the president of children's national hospital, he still has trouble getting this message out, and it dismays him at how this information is not more widespread… so, I'm doing my part to share!
OK! That's it for now! The new refrigerator alcove is FINISHED and I'm super excited to share it with you! Stay tuned!