Here at Victoria's Mirror Emporium, we say:
How can you call yourself a mirror emporium, if you DON'T HAVE LOTS OF MIRRORS?!
YOU CAN'T!
IT'S THE LAW!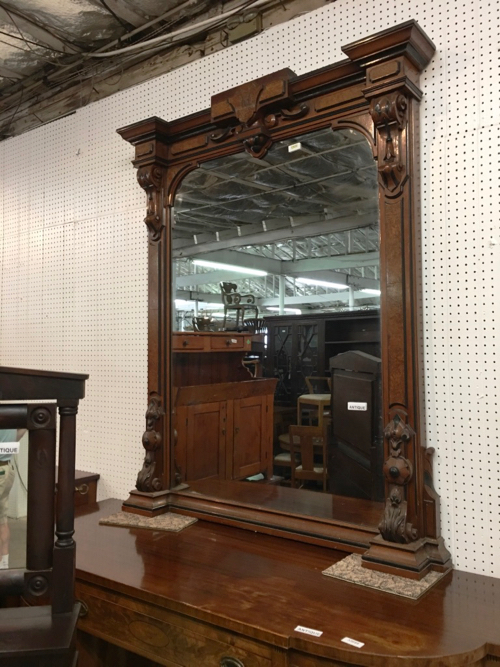 Am I am spinning towards a supernova, or am I simply living my best life?
No one knows!
I MIGHT be about to implode in a fiery deathstar of bankruptcy!
OR
I might be amassing a fine collection of low-priced antiques!
Stay tuned for next week's episode!

Recently, one of you recommended Culture and Comfort: Parlor Making and Middle-Class Identity, 1850-1930 … which is an analysis/critical reading, of Victorian cultural history and how it intersects with home furnishings (yes, absorb that!) And also an explanation of why stuff is tufted, how springs came to be, and why railroad cars were outfitted like palaces!
Essentially, a THEORY OF FANCINESS! And delightfully, this is a VERY SERIOUS BOOK! Because fanciness is hugely important and solemn!
So I feel now that I've been vindicated and it's totally fine to just buy stuff and stack it in your house for no reason other than FANCY!
But since people always want ask: BUT WHAT WILL YOU DO WITH IT? I have a kitchen plan for this mirror; I bought it just days before I left for New Mexico… and then I promptly got distracted by something bigger (literally) and fancier (literally).
So, um, do NOT hold me to my kitchen plan, because it may again be time for SELLING ALL OF THE THINGS I OWN.
First I have to see how much Paul wants to kill me… only then can I correctly math the percent of antique mirrors I am allowed to own.
Just kidding. I am allowed to own all of the mirrors!
ALL.
OF.
THEM.
This is why you cannot relax your vigilance in training your nearest and dearest to always expect the worst; it's a slippery slope!
PREDICTABILITY IS YOUR BEST OFFENSE!
If your significant other EXPECTS you to get ALL of the GIANT FANCY THINGS… THEY WILL NOT BE DISAPPOINTED!
Anyway, details:
I'd gone to look, ON auction day, not preview day; and I was like, dagnabbit… NOW I HAVE TO SIT HERE FOR HOURS.
Yes, I could have left an absentee bid… but the very first rule of auctions is this: if you MUST have it… BID IN PERSON.
I am still haunted by the AMAZING GFT* that I missed out on, when the online bidding froze at $50… I was hitting BID NOW, BID NOW, BID NOW!
FOR THE LOVE OF ALL THAT IS HOLY… BID NOW!!
*GFT = Giant Fancy Thing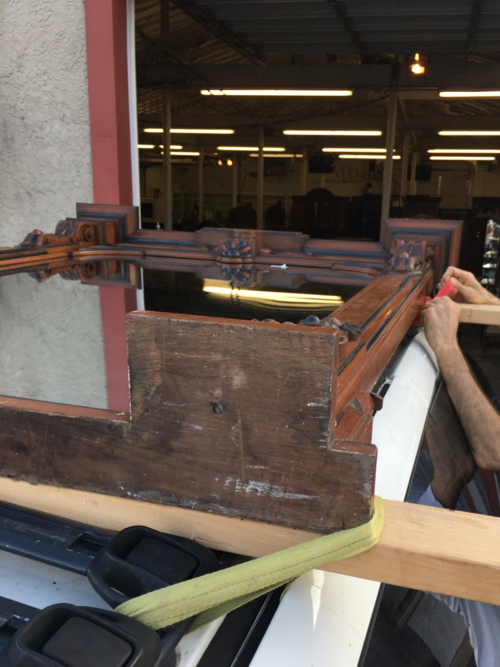 When the screen resumed functioning, it showed this: "sold to floor bidder."
It sold to the person WHO WAS THERE… for $45.
Someone ELSE.
Other than ME.
Won an amazing Renaissance Revival wall alcove for NOTHING.
Because they were there.
— a haiku of sadness.
I basically had a seizure of denial and rage… (otherwise known as a temper tantrum)… I called the auction house in a panic, howling; but shockingly, the auction house DOES NOT CARE ABOUT YOUR SCREENSHOTS.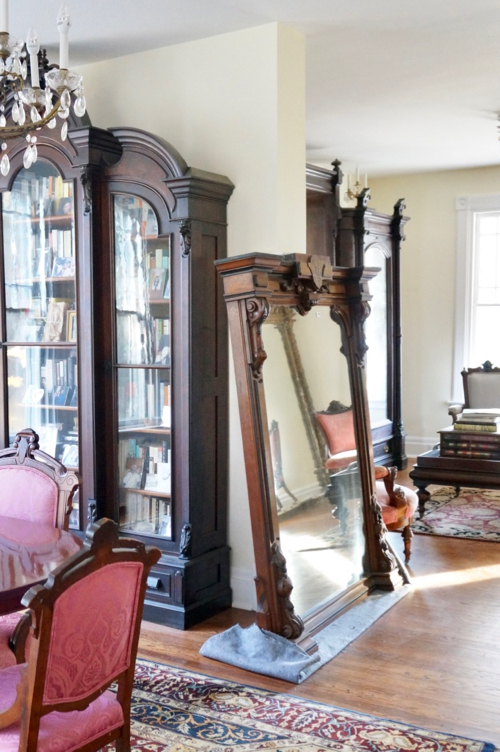 On the other hand, I've had great luck with phone bids, but NOT on the DAY OF… you need to be IN the computer, BEFORE auction day.
Leaving your number on a slip at the front desk WHILE the auction is HAPPENING is like throwing your hopes and dreams directly out the window: a waste of time.
Ok! This post is over!
More mirrors for your consideration:
The Kingdom Mirror… one mirror to rule them all!
MY CURRENT FAVORITE (from that mansion that revealed how sad my life is)
Gilt foyer mirror (I actually like this one way more than the Kingdom, because it has the original gold leaf)
Lady Mirror in kitchen
Giant hall mirror
Bedroom mirror
Auction mirror
Typing all of those out… I might need to admit I have a problem.