Paul did some stuff here.
*waves magic wand*
I was not even in the same timezone, so both Paul and I enjoyed the experience immensely!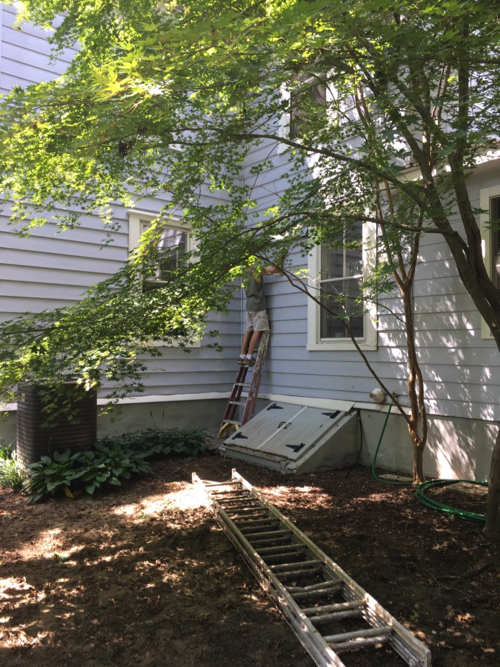 If you missed the post describing how we decided to hide the refrigerator, it explains what is happening above (and includes some photos of armoire fridges, if you have not seen one, they are worth a look!)
I could not be happier!
If it took you a second to figure out what I am showing you, THAT IS THE BEST PART! (hint: the foundation is white, still needs to be painted grey.)
The difference is utterly unremarkable, and for the first time in my life I appreciate an unremarkable thing! You cannot even see it from inside, unless you stand at the far side of the window and try.
Now, inside.
Before:
*first photo below is a STANDARD depth fridge, recessed to appear counter-depth.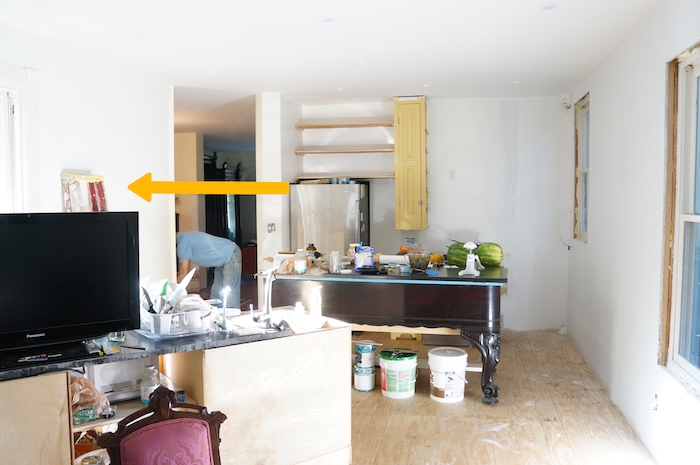 After:
*please remember this is a construction zone, not (yet) Versailles… this is not the fridge's final placement or appearance! AND we are still undecided about which fridge we are going with, so the trimming-out of the new opening has to wait for fridge specs!
In the photo above, the blank wall on the right is where we added shelves in the basement stairwell… the last you saw, it was still untaped sheetrock on the kitchen side.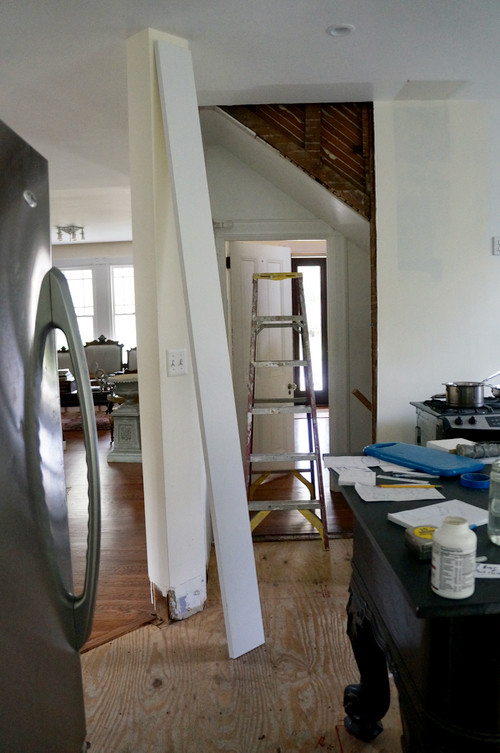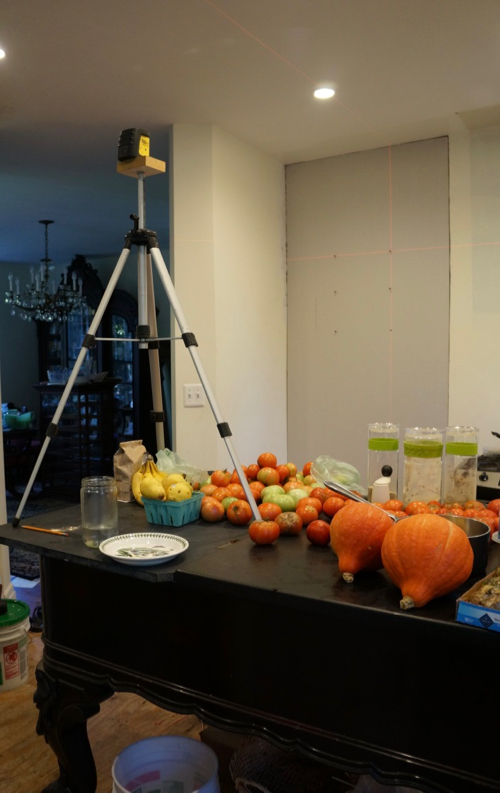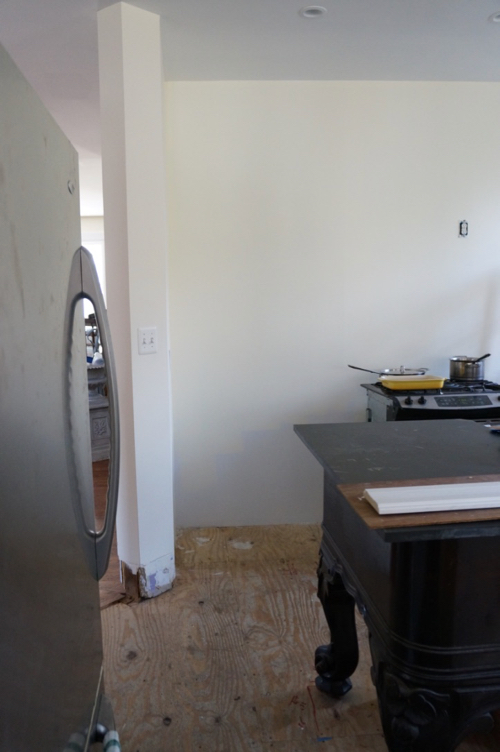 While looking through old photos to find "before" pics, I was shocked to revisit the PURPLE.
And the ORANGE.
And the rest of the RAINBOW.
If you're new and have never viewed the wide array of near-fluorescence this house endured during the previous owner's residency, you might enjoy the house "before" gallery.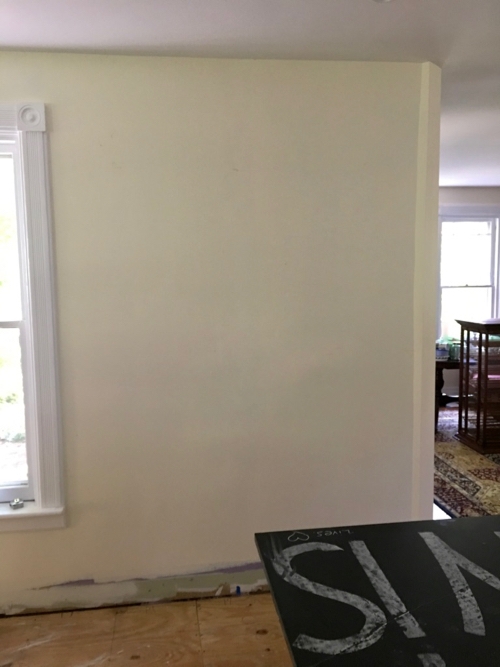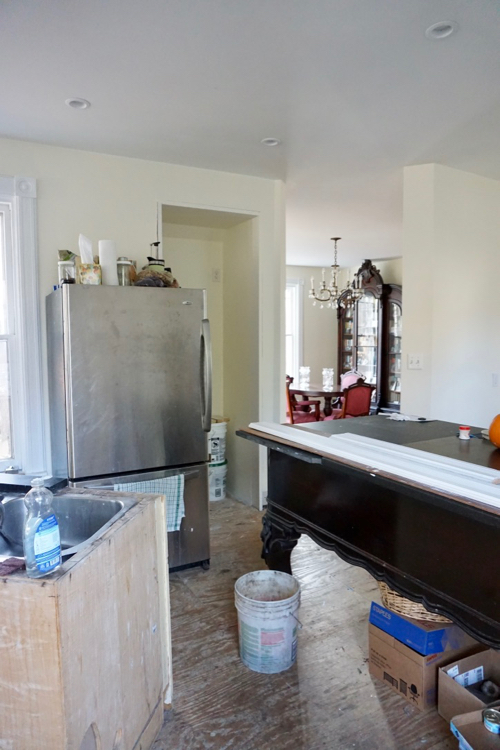 Boring kitchen part of this post is over… now, to thank the gorgeous and wonderous person who told me about the night of 100 Elvises.
You are an amazing unicorn who brought magic and delight into my life.
Thank you.
I made a huge error by not wearing a colorful wig, way more accessories, and definitely a tiara… but that's my fault, not yours.
If this looks up your alley, there is more in my Instagram stories… go watch before they expire! Kid-Elvis is good!
Swipe on the photo below to see them all! And, um if you are new to my love of ALL THINGS ELVIS… you clearly missed the post where I crashed the stage at an Elvis competition.
Full disclosure:
I must share the tragic news that Paul felt my enjoyment of the evening was disproportionate to reality… I didn't want to tell you this, because I am ashamed to be with someone so unable to appreciate the finer things in life.
But I cannot be unhappy with him, because as we were driving there, Paul said– you know, it REALLY CANNOT BE the night of 100 Elvises; it's night of 99 Elvises, because THE MOST IMPORTANT ELVIS HAS LEFT THE BUILDING.
Then he said– I bet they will do a special tribute to her.*
And I still, after all of this time, have no way to account for what I did to deserve Paul… I am worried the mistake will be uncovered and some kind of karmic comptroller is going to come to me (with a clipboard) and say, I'm sorry, there's been a mistake… we need to take him back.
*it occurs to me that I should explain I had an Elvis soulmate catbaby.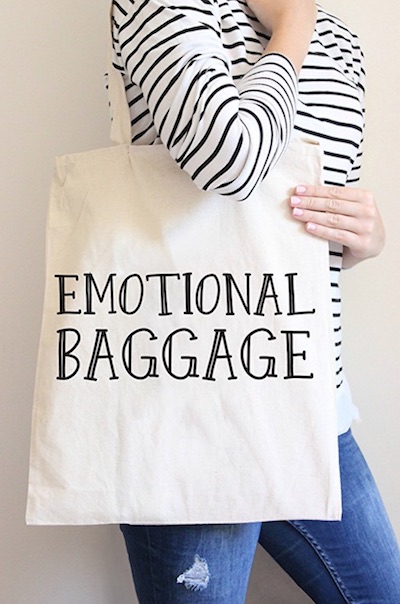 Final item of note: I saw someone carrying this bag, and I thought I should share, incase you need a cheap AND perfect gift for someone who is incredibly stable and on top of things and not at all prone to accidentally exploding their life.
XOXO,
VEB