I have six cats in my house.
With two more scheduled to arrive tomorrow.
Planning is hard.
Or I am incredibly stupid.
One of those seems more likely than the other.
Tomorrow– Friday, June 22.
A day which shall live in infamy.
Minya and Sir Earl Grey (chancellor of the Tea Party), are returning for 10 days while their family goes on vacation. (in case you forgot, Minya is Baby Godzilla.)
I can get through the cats.
It's Paul I'm concerned about.
He KNOWS this is happening.
Because I told him months ago.
So he has DEFINITELY FORGOTTEN.
So reminding him is telling him all over again.
But this time I'm telling him while already we HAVE SIX CATS… which was DEFINITELY NOT THE PLAN… which is why I had such terrible anxiety that I was unable to think clearly and went to an auction and now I need to figure out how to surgically remove my own organs for sale on the black market.
Hopefully there is a good YouTube tutorial.
BECAUSE I AM A WINNER.
I repeated my urn-swan-song but with a revised and expensive ending.
Like Juan Diego Florez.
But with urns, instead of talent.
So I will now narrow down my dream faucet options, to the hardware selection at my local dollar store.
At least I have my priorities straight.
Anyway.
Cats.
I have Webster.
My adult foster.
And five kittens.
I originally took a crew of three kittens + a single… so that once everybody was cleared healthy, they could go together, and I would not have a singleton being adopted alone.
But the people who brought in crew-of-three, found Baby Sprout, two days later… so now I have odd numbers.
Exactly what I was trying to avoid.
If you know anyone who would like to adopt three kittens… these are good ones!
Baby Sprout!
Sprout. Sprouty sprout. Sprouty sprouty sprout pants.
Her fur looks like a mix of lentils— orange, browns, blacks, and a big white tummy patch… when she came to me, she was TINY TINY!! Her tail was just this itty bitty little squiggle… she looked just like a baby sprout.
Batman!
If you have ever seen a baby bat – that is EXACTLY what he looked like when he came to our house.
And he has grown into the name… he is the one who is most likely to fly out at you unexpectedly… somewhere around shin level.
He is tireless in his defense of Gotham.
Against all shins— foreign and domestic.
Handsome Orange!
He's orange!
He's handsome!
He's Handsome Orange!
Elvis, the Prequel.
I'm struggling mightily with this one.
The love is paralyzing.
Baby Yoda.
The singleton.
Looked like Yoda when she first came.
Still does.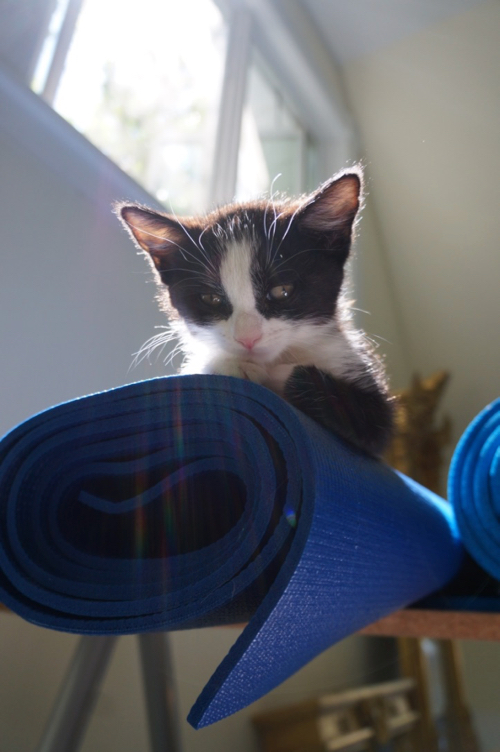 She has no baby fatness… she looks like a very small cat wearing full-size features, which makes her look very serious and not at all kitten-y… BUT her serious face hides a baby sweetness AND she is growing into her face now that the rest of her is starting to catch up!
She LOVES to be held and starts purring like a LAWN MOWER the INSTANT you pick her up. And she LOVES to be with her friends… she has bonded with her new pals LIKE CRAZY and they have accepted her totally.
Prequel is constantly.
at all times.
without ceasing.
SHOCKED
BY
LITERALLY
EVERYTHING
**
What I'm Reading:
Jenna Blum, Those Who Save Us.
Her storytelling is amazing.
She has a new book out (but I'm like 57th on the library wait list,) and I was reminded that I owned her first book and hadn't re-read in years. It holds up… STRONG.
In the vein of The Nightingale and The Women in the Castle.
Both of which I loved!
I'm on a re-read kick… when I am stressed, I like to read things I ALREADY know I like.
I did Dry, Augusten Burroughs; THAT didn't just HOLD UP. It's SO SO GOOD… personal-memoir-of-crazy is my jam; the people with the unpredictable brains and too many words.
I hadn't read him in FOREVER and I pretty much RAN to re-read Running With Scissors… and it may have been BETTER than I remembered. Which… has that ever happened? I'm not sure.
Now this post is over.
I took Batman, Handsome, and Yoda to be fixed early this morning… I've never split up a kitten crew's fix date, but they were big, and Sprout is still far behind.
Kitten season is hard.
So many are waiting, hoping they get a foster home… so.
I'm trying to speed up some spots for them.
If you too are IN in.
I am thankful for you.
xoxo, VEB