The last month at our house has been like a carnival from 1923.
Full of delight and whimsy and shiny things.
All revealed to be crap, in the light of day.
I love crap.
So much.
It's my favorite thing.
I have run the idea-carousel day and night.
The bearded lady is surprisingly into brass.
The strongman looks like Howard Keel.
The huckster marches around, harassing the patrons.
COTTON CANDY!
TEST YOUR STRENGTH!
STORE THE GRAINS IN ANTIQUE BRASS COFFEE BEAN DISPENSERS.
OR BUY NEW ONES.
MOUNT THEM TO THE WALL.
ON EACH SIDE OF THE MIRROR.
FITZ.
MARBLE
BRASS
GEISHA
MARCHING BAND
CLARK GABLE
STUDEBAKER
RIBBONS
76 TROMBONES
STRIPED TENTS
DIANA VREELAND'S LIVING ROOM
THE ORIGINAL DIOR ATELIER
Daily, I have submitted to Paul, a flurry of 27,000 pages of incoherent sketches and design ideas for backsplash/mirror/open shelving amalgamations.
Marble, on top of subway tile, on top of train racks, on top of my very FINEST and most IMAGINARY brass brackets… a design and style I have determined conclusively do not exist ANYWHERE.
57,000 hours of my life I'd like to have back.
No matter.
Library ladders.
Why do I not have already, seven in each room?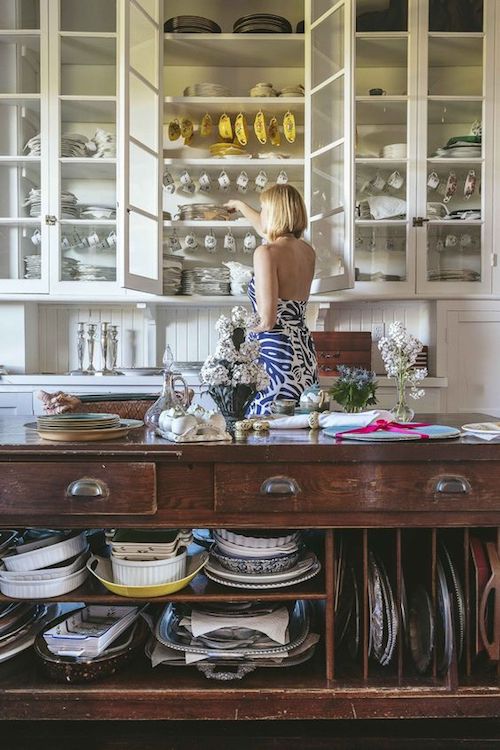 I have filled the sink wall a thousand times over.
I have rearranged the fountains and hedgerows and marble baptismal fonts.
All of the marble baptismal fonts.
There can be none left for anyone else.
I swapped out the brass coffee bean dispensers for antique glass candy display jars… THE REALLY GIANT ONES.
SO MUCH MORE PRECARIOUS.
Then.
In a shocking plot twist.
Paul inadvertently clarified the murk of glittery shelving and endless fancy storage ideas.
By asking me– if you don't want a kitchen-looking-kitchen… why add all this visible-kitchen-stuff?
Why indeed?
Oh, wait.
There's an answer:
Because I am unsure I will have ENOUGH storage.
So.
We need to score some cabinets on craigslist and do a mockup.
One last thing.
Sometimes I see The Nuclear War of Fanciness, out of the corner of my eye… and Self seizes me by the arm WITH COVETEOUS ANXIETY– do you see that?
She has not yet fully absorbed that no further action is required.
I mention this because I would like to share some newfound-wisdom that you might find helpful:
Owning that which you most covet.
This is the best way.
BUILDING DRAWERS INSIDE THE PIANO ISLAND