After introducing this pair, I have not written again about these kittens; I've been waiting to have a better report… I have it now, and everyone gets a gold star.
These two were SO sick– tiny kittens are susceptible to an upper respiratory infection that you can imagine if you think of the very worst cold you ever had– the kind where you cannot breathe, your nose runs endlessly, your eyes water and everything feels terrible.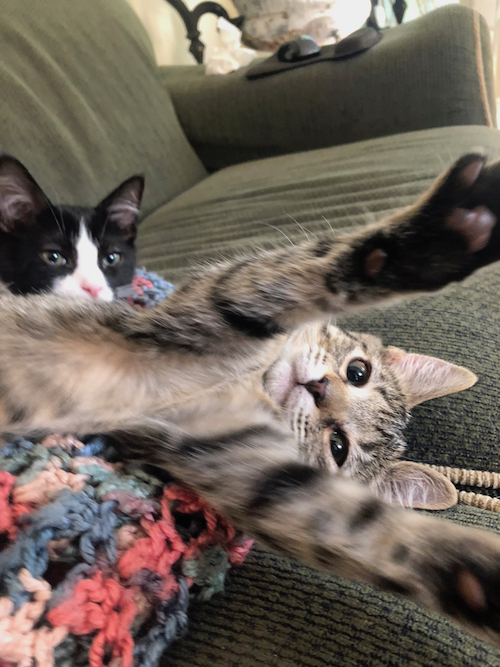 Tiny tuxedo kept getting it AGAIN… he'd improve a little, and then it would come roaring back… I now believe that it was a stress response; this little one was different than any other I have had— he was TERRIFIED of humans.
I could not convince him that I was safe and well-meaning… and it did NOT help that I kept stabbing him with needles and forcing him to eat.
It is an awful feeling to watch a tiny helpless little creature with an endlessly crusty face who literally cannot breathe; to not be able to HELP… and worse, every vet visit, every attempt to make things better, was so stressful for him that it put us back to square one.
Square one is standing on the toilet while the hot shower runs, with the bathroom door shut, to create a sauna, (you stand on the toilet to get as close to the ceiling as possible because steam rises.)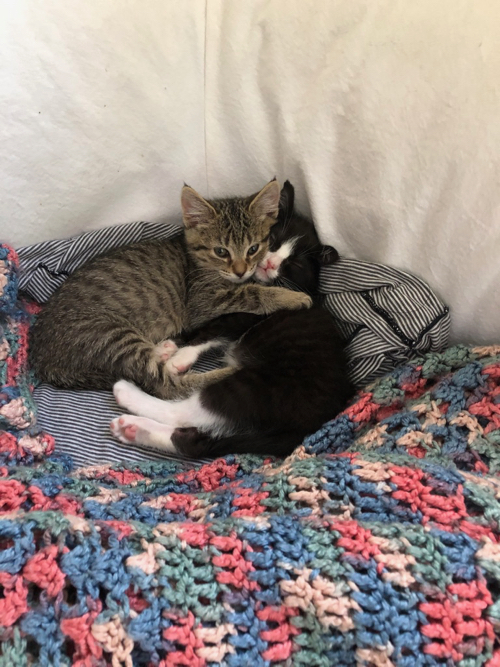 It has been rough– it has sucked my entire brain.
Then, I had A DAY– I found myself in a situation where I needed to literally plunge my arms into a bush filled with poison ivy.
You know when you feel ON FIRE WITH FRUSTRATION AT YOUR OWN STUPIDITY… this was all of those times, rolled into one–> WIT'S END.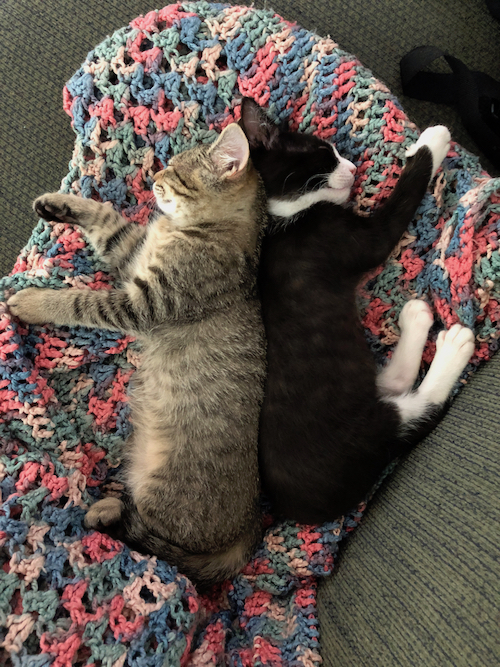 That night, as I prepared syringes of food; no one wants to eat on their own when they are so sick… and I got towels for the mess-to-come, and heated the IV fluids and got the butterfly needles… I was discouraged and so overwhelmed.
I went over to where little man was curled up– he was exhausted, we had been to the vet for the nine-millionth time; I gave him some pets and said— I am so sorry but I have to give you needles now… and he rolled over and pulled his feet up to show me his belly AND HE STARTED PURRING…. SO LOUD.
PEOPLE.
I did not even believe what I was hearing.
I was… dumbfounded.
THE RELIEF IS IMPOSSIBLE TO PUT INTO WORDS.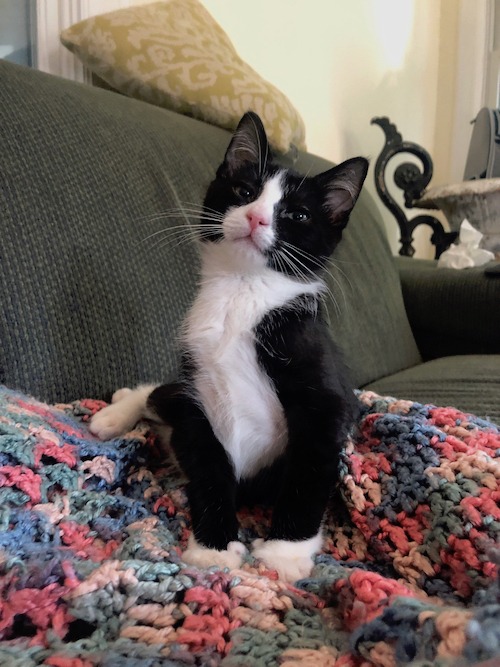 And now?
Oh my gosh.
This little dude is a lovebug.
He does this thing now– he TELLS you he wants you to put your face at his level; then he walks back-and-forth VERY EXCITEDLY while purring AS LOUD as possible and rubbing his face and body on your general head area… you can SEE in his face that he is communicating with you. AND THAT HE IS HAPPY.
If a human can die of love, this will be the kitten who kills me.
I always forget – the ones who NEED you the most?
Those are the ones who GET your heart.
But they are going to need a special family— humans who can have patience.
They are both very shy with new people.
If their new family can be understanding— spend time just hanging out and letting them adjust… playing with them with their favorite toys. They will all be best friends very soon.
What I'm reading: Maid: Hard Work, Low Pay, and a Mother's Will to Survive, by Stephanie Land
Did I like it?
No, I did not.
You know why? Because it is an immersion in tedium— the sluggish grind of poverty… having ZERO OPTIONS. Being judged. Being found lacking… JUST TRY HARDER.
Why?
wHy?
WHY?
Why do we give ALL of the money to rich people?
You're a billionaire? HAVE A TAX CUT!
Better idea:
Take the money we give ENTIRELY TO THE RICH… and divide it evenly amongst EVERYONE.
Why not make EVERYONE'S life easier?
Why give it ALL to the Koch brothers?
WHY?
While I was reading this, I listened to the Pod Save America interview with Andrew Yang— it is worth your time; dude is smart and thinking about things I do not hear anyone else talking about.
He sold me on the absolute necessity of universal basic income… it benefits ME/YOU/US/EVERYONE/SOCIETY— we will never solve anything; especially climate change, while people are suffering so much in their daily struggle to just SURVIVE.
He has a plan to pay for it… and also the math to explain how wildly it will benefit the economy. Think about it— we are all idiots! Are we going to save that money? No! We are we going to spend it on unicorn pool floats and other frivolous stupidity like car repairs and going to the dentist.
I found him very compelling; he has a lot to add to the conversation– EXAMPLE: I did not know that Alaska ALREADY has a universal income! (for nearly 40 years! including children!) Shocker: Alaskans love it.
I've requested his book from the library– The War on Normal People: The Truth About America's Disappearing Jobs.