Oh.  My.  God.  Don?  DON!
Over here, Don!
Don, over here… Behind you!
It's you! I can't believe it!  After all this time!
You look surprised to see me, Don.  I don't know why… I've been stalking you for years now!
Year after year, season after season.  Episode after episode… I've waited for you, Don. Eager to live with your lies, your infidelity, your mysterious past…
Eager to fish through your suit pockets for evidence I will not find.
Eager for you to neglect me and make me feel small and worthless.
Eager to meet your sad, unappealing children.  Eager to be perfectly coiffed and wear red lipstick and irritating curlers and never show emotion.
Gosh!  It's been so long!  I haven't seen you since, when???
I guess since that time I ran into you and Roger at The Plaza, and Roger said I was freakishly tall.  And clearly over thirty.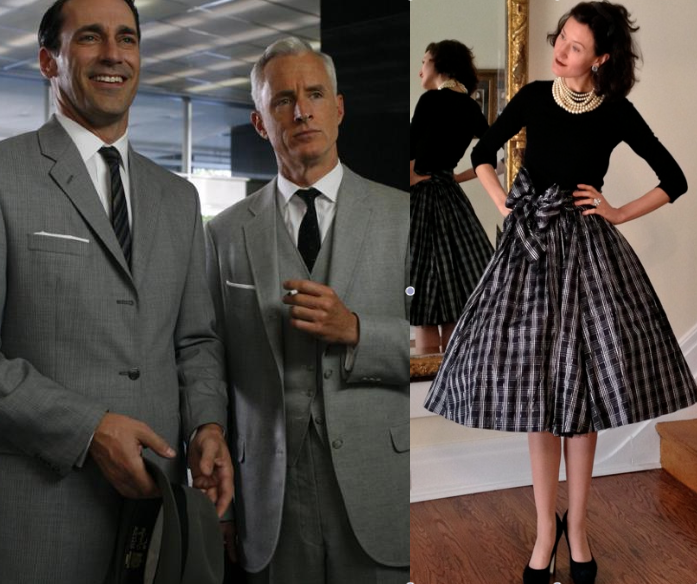 And you said you would see me soon in Season 6… But that was so long ago, Don!
Where are you?
I miss you so much, Don!  Why is Season 6 taking so long?
I miss your super shiny hair and your fantastic way of verbally punching people in the face.
I miss your amazing ability to drink an entire bottle of alcohol and not fall over.
I miss your eerily prescient way of fixing everything right before it all goes to hell.
And?  Most of all, I miss you and Betty being together… She's so beautiful and disdainful and angry. I love her almost as much as I love you.
In Season 6?  Please get back together with Betty, Don.  I really don't like your new wife, Megan.  She's so vapid.  And those mod clothes she wears are a disaster. I know she's young and fresh, but the polyester is killing me, Don.
Or?  Better yet—leave her, Don.  Marry me!  No one understands you like I do!
See 2013's Halloween date with Don.
•   Happy Halloween, Ya'll!!!   •