We've axed all kitchen cabinets on the wall housing the new mirror.
We are not moving them elsewhere.
They have ceased to exist.
I know this will not appeal to everyone… anyone?
But for me, once I visualized it this way, everything else stopped being a possibility.
It opens up this space dramatically.
If you missed it… we hid the refrigerator… if you want to see what the plan was before.
The mirror's total height is 4" short of our 9' ceiling. We are going to mount it all the way up… resting on a narrow base, same way we have mounted our other giant mirrors, and the entire thing will be flush against the wall.
But this time the base will be fancy! MADE OUT OF MARBLE! (shh, don't tell Paul! a surprise for him!!) Also because we have 57,000 tons of marble in our garage.
Right now, because the glass of the mirror is sitting on the floor and leaning back at an angle, it reflects a lot of the ceiling… once we're ready to put the mirror in place, it will reflect the room straight on; the piano island, and some of the living room windows.
the piano island will be lengthwise!! NOT this direction!!
Now… before I get to what we ARE doing, I must acknowledge an idea.
A version of Pilar Guzman's kitchen which is was! my end-all-be-all-kitchen-of-all-kitchens.
I feel so sad for her now!
Poor woman.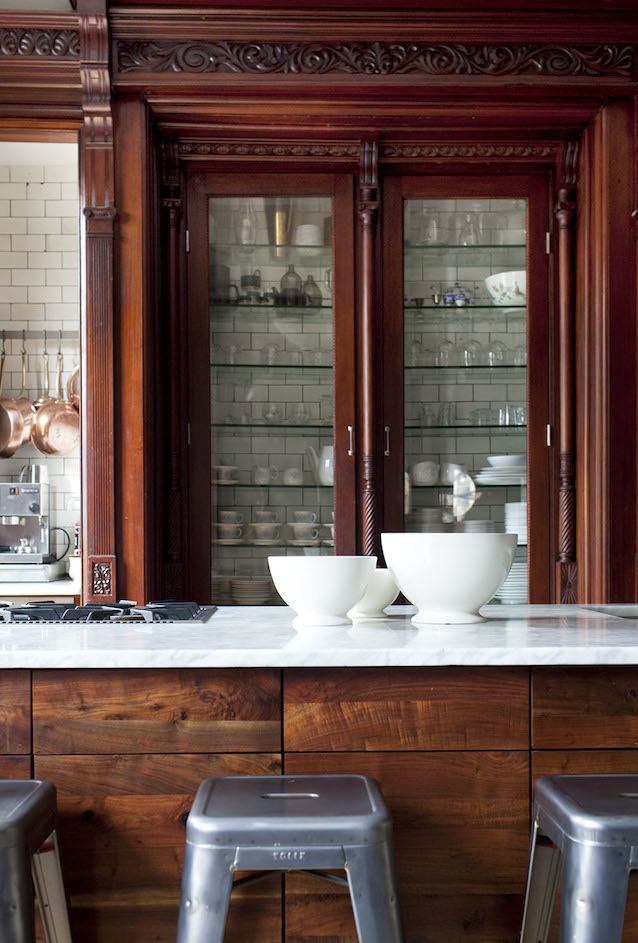 So we could do similar by using our mirror frame (sans glass) and bump it out like a built-in bookcase… line it in subway tile and add shelving.
Do I love that idea?
Sure!
But.
Self directed otherwise—  we will use this as it has existed since 1875.
MAGNIFICENCE DOES NOT EXIST TO BE REPURPOSED.
MAGNIFICENCE STANDS ALONE.
*twitch twitch*
So.
What can I say?
I just work here.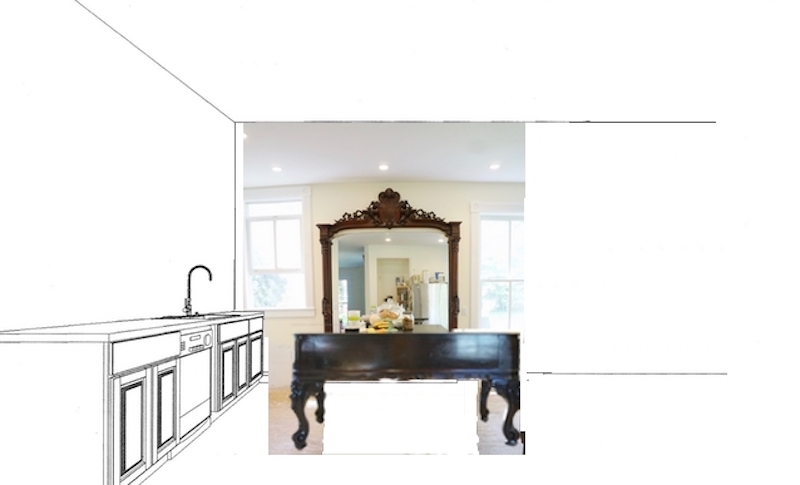 If you are sad to see me abandon this idea! Consider this: floor-to-ceiling storage there loses appeal when I think of the view from any other angle… keeping that exterior wall/footprint streamlined/uninterrupted, I think for ME, is most appealing.
When I consider the visuals from the fauxsunroom area, I prefer keeping the entire room as open as possible.
Also, for REAL that would be an INSANE amount of storage! Far MORE storage than I need… but I'm going to leave that untouched for today because A- I'm going to do a post about storage… and B- I haven't even gotten to the point of THIS post: inviting the internet to inform me of my stupidity and poor planning.
That's it.
(plus island.)
I don't know if half of you just died from how much you think this is a terrible idea… so I guess I'll give you a second to resuscitate yourselves?
We will put an induction cooktop in the island.
Cabinet wall (pictured above) left to right:
22" base cabinet
27" base w/ wall oven <—super pumped to hear how much everyone loves this
30" apron front we already have our sink I did sort of revisit going down in size… but I have plenty of counter space, so it would only be to go bigger on the oven… which, is already big enough AND I want to stay as close to symmetry as possible.
24" dishwasher <— I would prefer if this were symmetrical to the wall oven cabinet, but I do not want to go any smaller with the oven… if you see some reason to swap, the current location is based on nothing but preferring to load the dishwasher on the right.
22" base cabinet
Obviously, there is still a lot to figure out but I am EXCITED!
And I know it is going to make you itch to not STORAGESTORAGESTORAGE. But maybe wait until I tell you my thoughts? or not… you know… whatever works for you.
The End.
This post lacks a conclusion… but there is none. yet. I'm just giving you information as I'm processing it. a,lso I am doing too many things at once and I still have one more thing.
BEFORE I GO I have something REALLY IMPORTANT to bring attention to… you all know that I am an ANIMAL LADY… and that CIRCUS ANIMALS HURT MY HEART SO MUCH.
This event begins tonight in Philadelphia… past years have included TIGERS AND ELEPHANTS… ELEPHANTS! IN 2018!
Contact the Potentate, at the Lulu Shrine temple and urge him to replace the circus with non-animal events!
Douglas H. Fink, Potentate, LuLu Shriners
5140 Butler Pike Plymouth Meeting PA 19462
Phone: 610-828-9050.
When I called a month ago they weren't able to tell me exactly what animal events were coming… but I just called, and they have an elephant… a solitary traveling elephant.
The person who answered does not think there are tigers but they had them last year so we will see… I HAVE SIGNS FOR THEM TOO.
I truly believe that we humans are CHANGING and that if the people managing these events UNDERSTOOD this, they would reflect our evolving values! There are SO MANY amazing dance and acrobatic troupes in this area! Everything from salsa to aerial stuff! Many of them are talented KIDS!
But I think the people running the circuses don't yet HEAR that there is a public desire to STOP seeing wild animals in cages pushed by humans dressed as clowns.
This is NOT entertainment. That is sick. Foul.
Not to mention idiotic.
No one wants to watch an elderly arthritic elephant proded around a ring.
We understand what we are seeing: grotesque cruelty.
If we use our voices, we can help… case in point: Nosey the elephant!!! THIS has haunted so many animal lovers for SO LONG… and because of VERY DEDICATED HUMANS, they freed her. Nosey hadn't been allowed to walk free or socialize with other elephants in over three decades! Now she is safe.
But so many others need our help.
Here is a post I wrote about one traveling tiger act: Mitchel Kalmanson… I wrote an entire post about his grotesque heart-wrenching treatment of the big cats… NINE MONTHS ON THE ROAD AND THEY NEVER LEAVE THE TRAVEL CAGE. rotten food. open sores.
Here is another post to understand ways that BIG CATS SUFFER IN CAPTIVITY AND HOW WE CAN MAKE A DIFFERENCE!!
In the wild, tigers can travel up to 20 miles a day… In the circus, they live in tiny travel cages.
The unmitigated despair of this existence is horrifying to me.
LOUDLY for the animals,
🐯❤🐒🐾🦁
xoxo,
VEB