I know you were expecting a post about the Country Living Fair… and I am excited to show you what I got— it outweighs me!
But my brain is particularly bad right now… the firehose of mental chatter and ideas-I-must-begin-immediately is VERY LOUD and thus I am VERY BUSY; making a mess of things I will OBVIOUSLY never finish, but must start anyway.
SLEEVES!
MORE SLEEVES!!!
Longer.
LONGER.
The current trend for SLEEVES OF RIDICULOUSNESS fills me with JOY… but also disappointment because NO ONE IS MAKING THEM RIDICULOUS ENOUGH.
Why must I do everything myself?
THIS SHIRT IS GOING TO BE AMAZING!
Abandon it!
NEW PLAN! Buy two of THIS SHIRT… cut the sleeves off one, and SEW THEM TO THE OTHER!
AHHHMAAAAZZZINGGG!!
NEXT.
Botanical, dahling!
ORANGE BLOSSOMS!
Go to the fabric district.
WHY ARE THERE NO BOTANICAL PRINTS THAT LIVE IN MY HEAD?????
I guess I'll have to paint my own.
Start now!
But first!
Make earrings OUT OF FRINGE.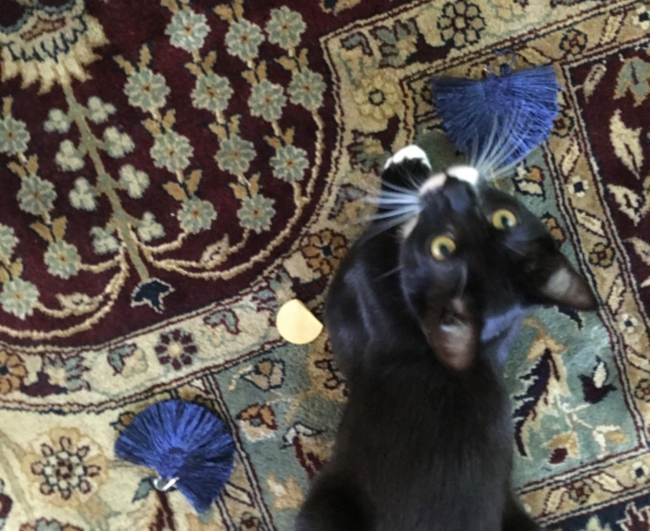 Ugh!
STOP fueling the hamster-wheel-of-pandemonium.
BE SENSIBLE!
Get ORGANIZED.
Divide the towering pile of paper overflowing on the desk into three… throw the bottom third directly into the recycling! Don't look at it… everything has resolved itself and those people hate you!
Time management!
High five!
Vacuum the house so that the couple coming to meet Mr. Bart and Little Mouse are not disgusted with the slovenly hovel they live in and take them only to rescue them from this pit of filth.
Figure out how the Victorians did not die of heatstroke.
(I google this every year, and continually fail to gain any kind of understanding.)
I have been reading Victorian Fashions and Costumes from Harper's Bazar, 1867-1898 and the combination of the elaborate layers, and the fact that it has been 95-degrees-of-hades here for the last three days makes me SO CONFUSED how these people did not simply SWEAT TO DEATH.
I don't care how heavy your drapes, or how shady your porches; can you imagine being a Victorian woman in July? With some combination of petticoats, bloomers, corsets, chemises, hoop skirts, bustles… UNDER the actual gowns, with some kind of shawl, gloves, hat?!?
Were these people totally insane?
BOWS!
It should go without saying that NONE OF THESE THINGS ARE WHAT I SHOULD BE DOING… and that if I simply focused on what NEEDS TO BE DONE, I would not cringe at the thought of checking email.
But these things are not merely ideas… the conviction that comes along with the idea, cannot. be. overstated.
Don't forget to check Craigslist.
$20! Go buy this!
Why did I buy this?
We are already the house of nine-million chairs.
I LOVE the wood, but the shape of it is not really ME… I cannot explain why.
Sell it!
Research the etymology of the word grimalkin: an archaic term for an elderly female cat!
Make an obi.
WITH RUFFLES!
(Obviously.)
Appliqué!
A 40's style turban!
WAIT UNTIL YOU SEE WHAT I AM EMBROIDERING!
Make roses from ombre ribbon!
ALL THE ROSES!
THE ENTIRE GARDEN.
Go. Now. Faster. More.
AN OBI MADE FROM RIBBON ROSES WITH TRAILING GREENERY.
Ok, that is a legitimately amazing idea.
Also make a matching turban!
Macramé!
Retro!
Vintage!
APRONS!!!
Lord, I am tired… but I still need to make pants.
The End.
ps- sometimes you people say things like– POST MORE OFTEN! I thought you'd like to know exactly what you were asking for.