Mr. Bart and Little Mouse got adopted… TOGETHER!!!
Lots of people wanted only Baby Mouse without his brother… but the people who adopted them LOVE BART TOO.
When the adopters came to my house, we spent nearly two hours! We got talking, and the time just flew by! I TOTALLY LOVE THESE PEOPLE… and knowing that MouseMouse and Bart-the-loudest-purrer-on-earth are going to such a loving home is THE BEST FEELING EVER!!!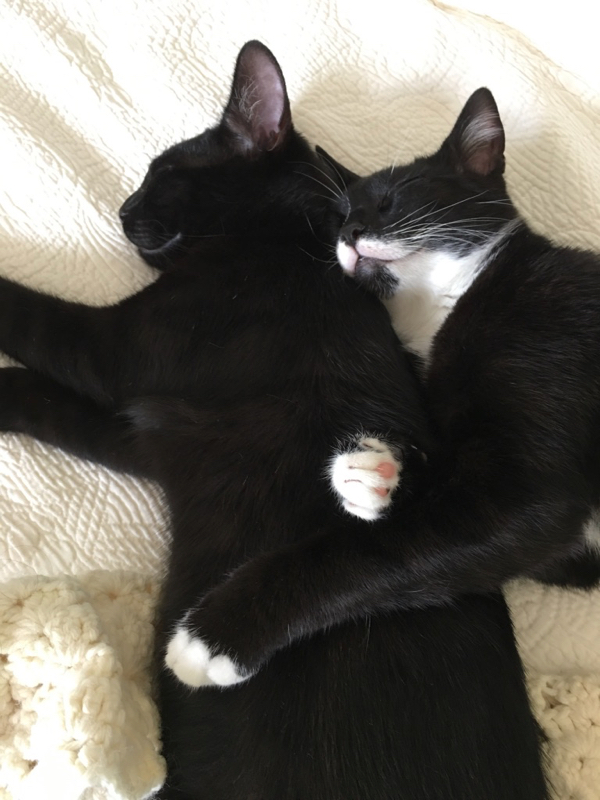 Do I miss my boys? Of course! SO MUCH!
I miss BabyMouseMouse curling himself under my chin at night, so that every breath I took was chock-full of delicious toasty Mouse smell.
I miss Mouse's tummy mohawk— his fur is the softest! It comes together in the center of his torso and makes a little tufted mohawk all the way down his belly… and if you say to him: MouseMouse! Show me your tummy mohawk!! He WILL ROLL OVER ON HIS BACK to show you!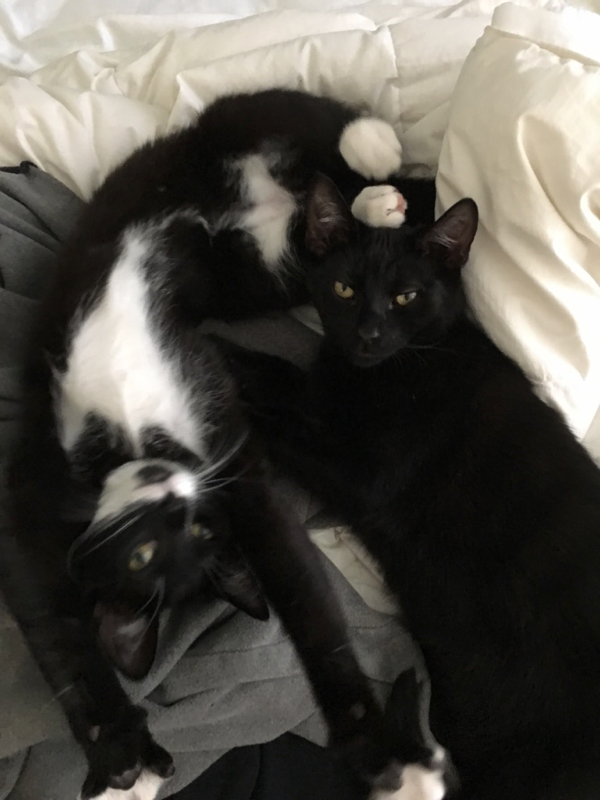 I miss Mr. Bart careening through the house (destroying everything in his path) to catch a fly.
The boy LOVES flies.
I miss him squawking to ask where you are; if he cannot see you, YOU MIGHT HAVE DISAPPEARED!!
He does not like to think you have disappeared!
ALARMING!
And you have to say— Mr. BartBart! up here! And then he comes TEARING up the stairs.
I miss ALL the monkeys that have come through my home since Elvis died… they all took a piece of my heart; but I am SO happy to know that they are out in the world carrying it with them! (And it appears that you do not run out of heart to share.)
If you have room for some love in your life… fostering kittens will fill your heart with purrs and fluff and hilarity.
If you cannot foster, there are still so many ways you can help! I wrote a whole post about how you can help your local animal shelter… Lots of ways don't even necessitate you interacting with animals, or having them in your home!
YOU CAN MAKE A DIFFERENCE!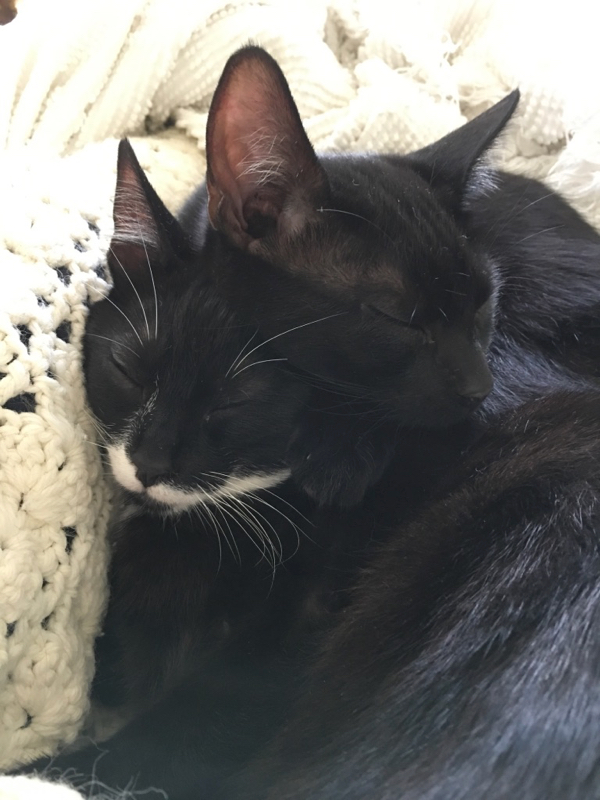 Bart and Mouse are the seventh and eighth fosters I've had since Elvis died… and I'm feeling like I AM READY now to meet another permanent soulmate— having a relationship with an animal for the span of their entire lifetime is one of the greatest joys on earth!
BUT.
Daily, I get emails from multiple shelters, rescues, volunteer organizations… Asking for help. Asking for fosters. Asking for homes for babies… if no one takes them, they die.

I know that a solution might appear to be: get off these email lists!
But to me, that is EVEN SADDER… do you know what I mean? To simply delete them as though they are of no consequence.
Ignoring it does not erase it.
To me, there is value in ACKNOWLEDGING these little furry faces… in witnessing their existence.
Their lives did not go dark without being seen.
Looking squarely at that which fills us with grief feels counterintuitive… but I think the things that rip our hearts out are the things we are obligated to KEEP OUR HEARTS OPEN TO.
I think that is our Self telling us: THIS IS A THING YOU MUST DO SOMETHING ABOUT.
Hence these four munchkin maniacs.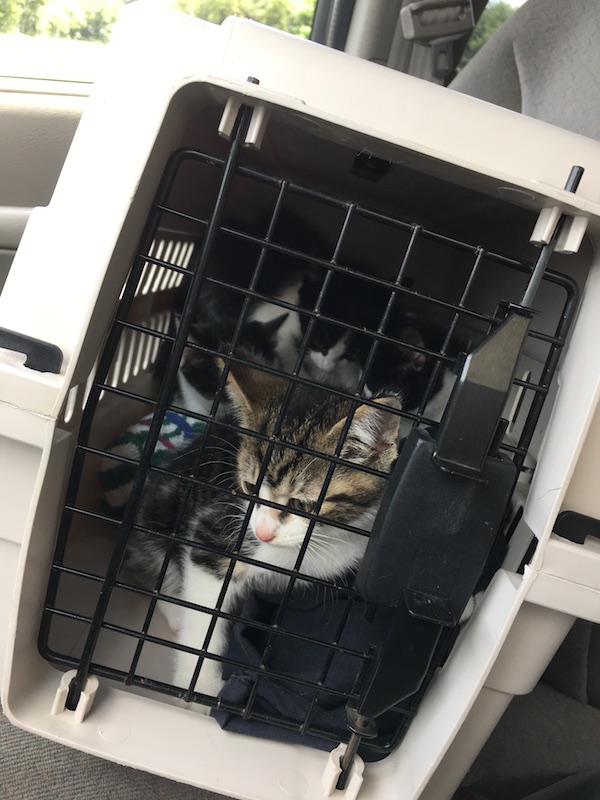 It took them about five seconds to destroy their new home, tear down the hammock, upend the food bowl, SIT in the water dish and overflow it everywhere.
Plus! For extra fun! They are not socialized!
Two of them seem willing to consider humans… the other two are like, NOPE!
There is more on my Instagram stories (which I've just started trying to figure out; is it just me or is it NOT AT ALL INTUITIVE?)
I am not changing the world… but for EIGHT animals so far, I have changed their ENTIRE world.
And these four make TWELVE!
#kittenmathisthebestmath
The feeling this gives me is the opposite of hopelessness.
This is so valuable to me, because hopelessness is a place I have lived in since I was 15 years-old: the first time I saw inside a slaughterhouse and became fully aware of the suffering of animals at the hands of humans… these beautiful creatures who share our world but not our language; end their lives in terror and pain so grotesque it defies understanding.
Even all these years later, I struggle to live in a world where humans have embraced the death of empathy.
We say things like– Oh that is terrible. Oh that is horrifying. Oh I cannot stand to look.
OH! DON'T TELL ME!
These responses send me into a cave of grief, defeat, and pure hopelessness… not to mention how it implies that I have some sort of immunity; like I am INTO this stuff because I am somehow LESS bothered than other people… and I should keep it to myself because I shouldn't upset the nice people of the world who are more delicate than I am.
I promise that is inaccurate (and rage-inducing!)
I engage BECAUSE IT RIPS MY HEART OUT.
I engage BECAUSE WHEN WE KNOW, WE CAN MAKE A DIFFERENCE.
Turning away and ignoring our own culpability in GREAT SUFFERING changes nothing but OURSELVES… When we kill our own empathy, are we not ultimately killing ourselves? Killing our ability to fully engage in the world?
Is empathy not the key to every single problem in the world?
Well… empathy AND KITTENS.
Throw back to my very first batch who started it all! (I still suspect I made a horrible mistake in giving them up!!! LOOK AT THOSE FACES!!) you have to turn the volume WAY UP if you want to hear their little baby motors!