If you do not know Webster, his post is here
If you do not know Lara, her post is here
If you do not know my Elvis, her post is here
Webster got adopted by my best friend in the entire world.
Her house has been too sad because they lost their old man Foxy cat.
Cancer.
Foxy was Lara's Elvis.
Lara has two other cats— Lady, and her Kitten (who has not been a kitten for very, very, very many years but never grew out of kittenishness)…. and after Foxy was gone, Lara could see that Kitten was struggling.
Kitten loves to be fussed over and interacted with in a very cat-specific way that Foxy excelled at… but Lara's other cat, Lady— has no interest in stepping up and being nanny to the adult child who still lives in her basement… get a job.
So Lara was thinking about getting a companion for Kitten… but, you know, the thing with adopting an animal… they are all so different and unique, and Lara needed a cat who had a very specific and unusual trait.
Basically, at that exact moment, I started writing about how Webster just LOVES other cats… KITTENS IN PARTICULAR.
Lots of people thought I should keep Webster. But I was not a good fit for him… fostering means upheaval, turnover, and a two-week quarantine— longer, if the kittens are not doing well!
Webster needs a home where every day he can have stability and do what he loves best— his purpose on earth seems to be loving other animals, and he TRULY takes it very seriously… you can quite literally SEE in his face, how much happier he is with his animal friends.
The first night when Lara came to meet Webster— she asked me if I was sure I wanted to give him up… but the next day she saw what I saw.
I had just gotten all Webby's kittens adopted, and Lara could SEE.
He wandered the house.
Sitting near us, but then wandering around… returning… but leaving again.
He was not HOME, with me.
Lara said— buddy, I can see that you are at loose ends… we will take a trip and see if you can be HOME, with my Kitten.
View this post on Instagram
How's it going at Lara's house?
Slowly.
Cats + new cats.
Rarely involves the cancan.
Lara's cats were like— MAYBE YOU SHOULD HAVE ASKED US BECAUSE WE WOULD HAVE SAVED YOU THE TROUBLE.
Fortunately, Lara and her husband fell in love with Webster… her husband especially, bonded FAST— basically, INSTANTLY… and if you are an animal lady, married to a man who was NOT an animal person when you met him… (ahem, Paul) YOU know, AS I DO… that watching your partner fall in LOVE with a fluffy being, makes you love the human even more.
Adding love is good, even if it also adds stress and need-for-patience.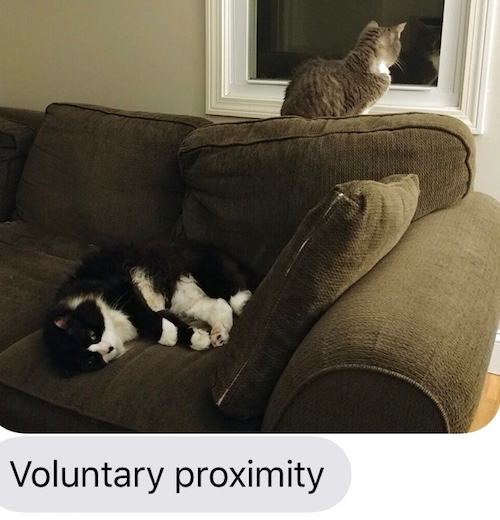 AND… it does seem… things are improving!
Proximity is becoming fine!
AND! AND! Recently, there was a lap-emergency and a lap had to be shared for unknown-to-human-reasons and it was acceptable to all… but no encore yet.

Lara started using a Feliway diffuser… she feels that it is making a difference!! I had never heard of this!
There are two kinds, and she is using the one for multiple cats… she told me that she had used the other kind previously for another cat, and also thought it helpful, FYI.
I wish I'd had one of these for some of my adult fosters who could have used some calming, and I will be ordering one.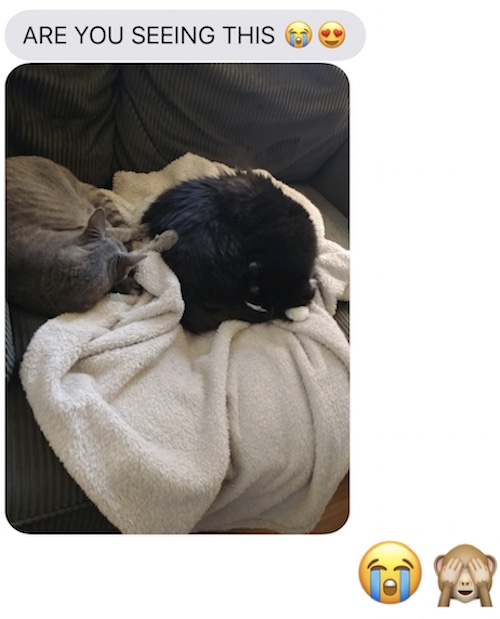 It's been three months and there is definite progress… although, the above photo implies companionship and that's not quite accurate.
Lara knows this is hard for Webster, and we are all HOPING SO MUCH that given a little more time, we will have a friendship.
In the meantime, he is with humans who love him very much.
Webster is lucky.
Many shelter animals are not.
There are animals right now, exactly like Webster, waiting.
ALL we have to do, to divert their journey to euthanasia, is give them a home.
There is something different about helping adult cats.
The way they look at you when you open the cage.
They have lost hope.
WE HUMANS, can a make a difference.
xoxo, VEB
Victoria Elizabeth Barnes
Cat Public Relations and Media Representation