Starting your seeds indoors is effort on the front end, but the benefits are worth it – your plants get a headstart on the season and your germination/growth rate will be better/faster because you can provide ideal conditions.
I use a system of soil blocks, plastic trays, heat mats, and overhead lighting… most of this is self-explanatory with the exception of the soil blocker– it's a hand-held tool that makes nifty little soil containers for your seeds.
With soil blocks you do NOT need pots or anything else. When you are ready to plant your seedlings, they go right in the ground.

What you need for starting seeds indoors:
1.  Fluorescent overhead lighting – you can get them at the hardware store, but don't forget to check Craigslist first. (I do not buy the special plant bulbs, just the regular cheap ones.)
2.  Trays for the soil blocks – I use an assortment of stuff we already had. (Those under-the-bed plastic boxes are nice and long and are about the same size as the fluorescent lighting.)
3.  Soil mix – you can DIY your soil mix, but I buy a pre-made version called Pro Mix. I get mine at a local garden/farm supply store. I buy the big bale – 3.8 ft.³ (I have tried other brands when they are out of the ProMix, they are all pretty similar;  just be sure it is labeled specifically as a seed-starter or growing medium.)
4.  Soil block maker – you will probably have to order this online. You can buy soil blockers in lots of different sizes. I use the 2" x 2" for most seedlings.
FYI – you definitely don't want to use something like Miracle Gro potting mix for starting seeds. In fact, you definitely don't want to use Miracle Gro for anything… That stuff is bad for your garden and bad for the natural balance of the soil.
Okay. Let's make soil blocks. You can watch the video to see all of the steps, but I will write them out below, in case you want to refer back.

How to make soil blocks:
1. Get a container large/deep enough to mix your soil and water. Mix WELL.
2. Wait a few minutes to see how much water gets absorbed… You may need to add more.
– You want your soil mixture to be fairly wet, when you squeeze a handful, some water should drip out.
3. Once you have the right consistency, take your soil blocker and make a few passes through the soil. Be sure you pack the mixture into the soil blocker, compressing the soil.
4.  Place the soil blocker in the tray where you will grow your seedlings and press the handle to make the soil blocks.
5. Plant your seeds in the soil blocks.
6. Place your lighting directly over the plants.
–You can see that if the bins are the right size, the sides give you an easy way to support the lighting.
–Depending on what you are growing and when you are starting the seeds compared to when you will be able to put them outside, this might be a good height for the entire process, or you might need to rig them up.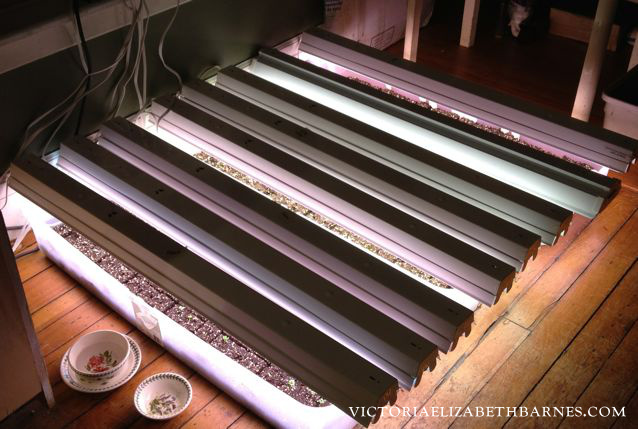 7. This is optional, but for seeds that really prefer warmth to germinate, you can use a heat mat to get them started. It makes a huge difference with how quickly my Zinnia sprout/grow but they will still germinate if you don't use a heat mat. So, up to you.
8. Cover your newly-planted seeds. Usually, it is recommended that you use plastic… But in the last few years I have switched to old sheets, and it has worked just as well. You are trying to maintain an atmosphere that is moist and warm. Once the seeds sprout, you can remove the covers. But you still need to keep them watered. DO NOT LET THEM DRY OUT.
9. As the seedlings become more established, and as you get closer to the time when you will harden them off, you can let them begin to dry out between waterings.
10. Harden off. This means putting your seeds outside still in their trays, acclimating them to being outside. DO NOT STICK YOUR TRAY IMMEDIATELY INTO FULL SUN…Start a few days before you want to plant the seeds outside and gradually increase the time they are in full sun.
11. Depending on what you are growing, you may want to pinch your seedling to get a fuller plant with bigger flowers.