take the full holiday house tour here!
My goal this Christmas was to NOT ENTER THE CRAFT STORE. You know why? Because I have enough crap.
Also, because I have silently led us down the road to bankruptcy via Elvis's cancer treatments and I am trying to remedy that now by not spending $19 on fake cranberry branches and assorted other crap that would have improved my tablescape.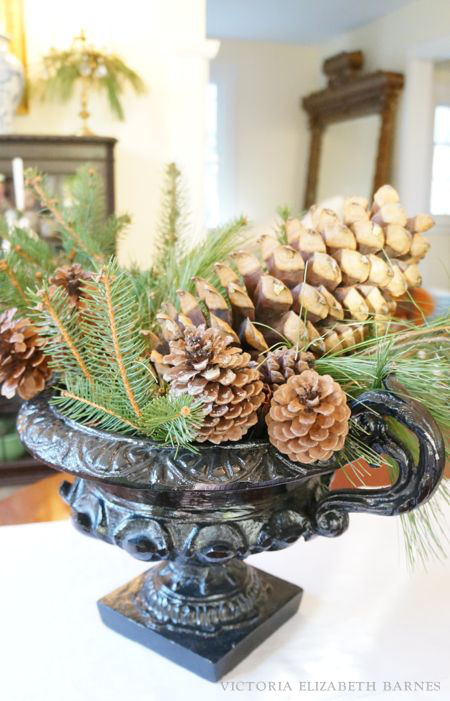 I have kept my budget-minded thought process to myself though because the last thing I need is Paul knowing that we have reached a point where I am abandoning my commitment to wasting money on seasonal madness… which would definitely be his cue to conduct a throughout audit of our expenses.
So far, Paul has shocked me by never once asking what Elvis is costing us. This is a man who cuts open the toothpaste to be sure he gets it all, so I can only imagine the restraint involved in his not questioning what we are spending.
OR, alternately he DOES know and realizes the ugly predicament where he:
a— asks.
b— is compelled to suggest a budget for Elvis's lifespan.
c— is never heard from again.
I really have no idea what will happen when it's time to buy kitchen cabinets. Or appliances. Or do the kitchen floor. Probably something bad!
Fortunately for me, I'm excellent at ignoring the long-term reality in favor of something old and fancy. Especially if it comes in urn-form.
Are these the perfect substitute for my TRUE URN DESTINY that were ripped from my loving arms?
No.
Were they a better deal?
Indeed.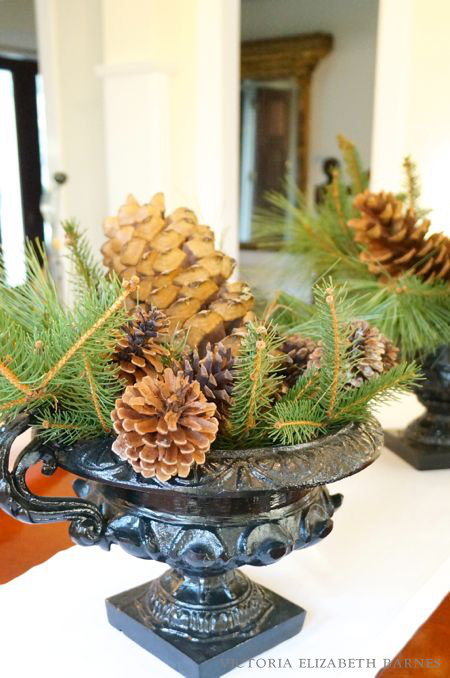 Besides, I think we can all agree that Craigslist purchases are exempt from budgetary limitations because there will always be time to buy refrigerators… there will not always be time to buy smallish GFT's.
Also exempt from budgetary limitations, apparently was Black Friday.
I re-routed my wise financial decisions to the holiday weekend/sale in the form of some truly outsized accessories which will either be horrendous or outstanding… I will probably need to submit them here for your admiration once they arrive because no one else will tell me they were a good idea.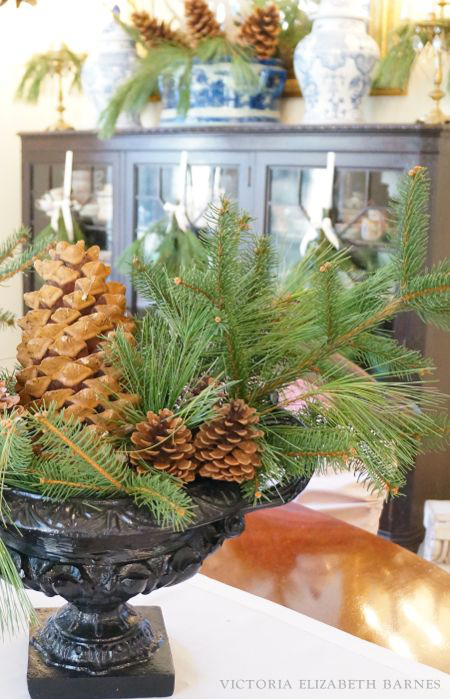 I'm not sure if you can tell, but these are sugar pinecones and THEY ARE MASSIVE. Every single person who came for Thanksgiving was like– THOSE ARE REALLY BIG PINECONES.
Which is always the nicest compliment anyone can give me: to visit my home and remark on how GIANT something is… I don't care if you like it or not; if you are struck by how unusually large it is, I am pleased.
To give you a better perspective, these are essentially CAT SIZED pinecones… it looks like Elvis is alarmed by the pinecone, but she is actually looking at Paul putting a box on the floor– there is nothing Elvis loves more than a good box party.
If you can find the pinecones in person, you can dig through the bin and get all the giantest ones. Otherwise, you'll have to order them online and hope for the best.
I thought I needed some color in the greenery… so I bought pomegranates. But then I ate them.
So now I'm pretending that I intended a simple, forest-themed centerpiece.
Now let's recap past Christmas holiday posts.
One of the first posts I ever wrote, How to Make a Bow… has been pinned over ONE HUNDRED THOUSAND times… Proving that my mother taught me everything I need to know in life, including what the internet wants to read about.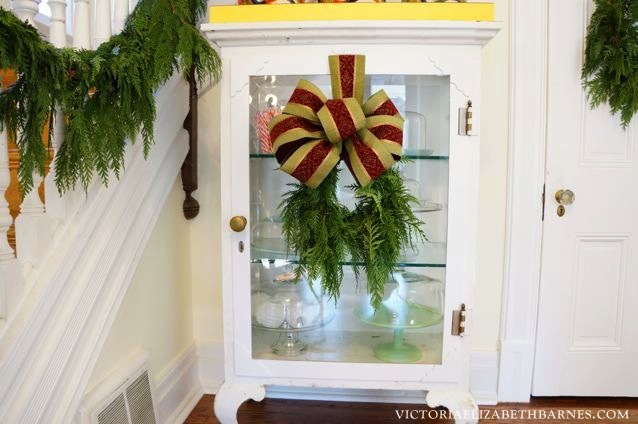 My personal favorite Christmas post (maybe even ALL TIME favorite?) is the time I decided to sew roughly 96 yards (not a typo!) of fabric into fancy pillow bows.
Paul helped long enough to utterly destroy the project, then went to make a snack and started calling me Kim Jong-il.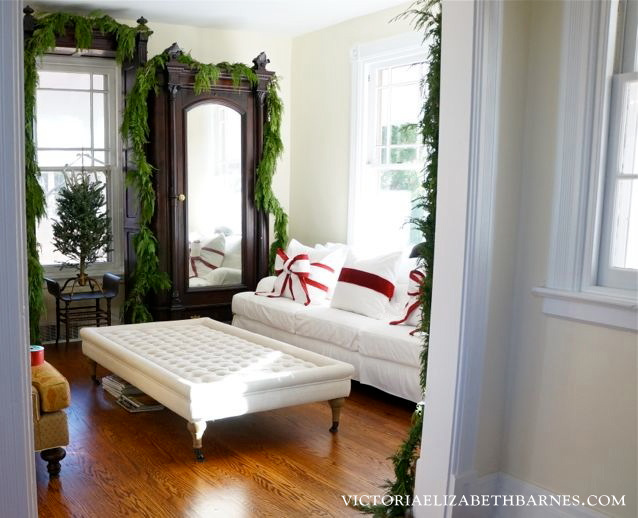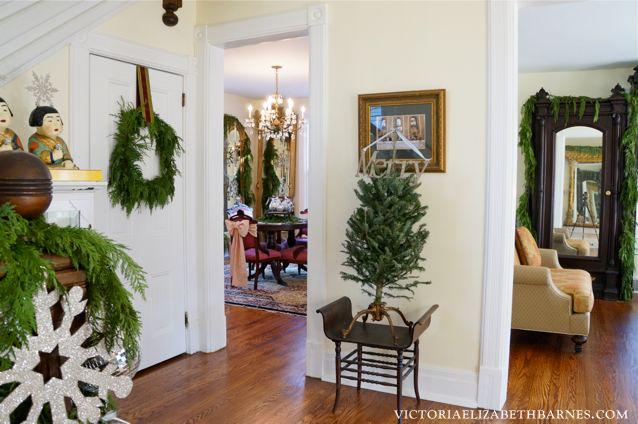 Nothing says Christmas like 50 Disco balls.
Buying the disco balls: 
The shiny-loving, raccoon-part of my brain demanded that I buy these and take them back to my den. I tried to leave, but it chattered insistently and clawed at my good sense.
Front porch in its full glory.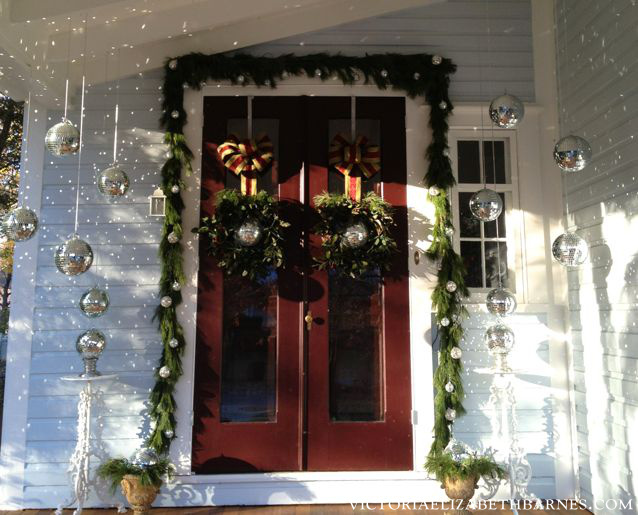 Huge DIY glitter snowflakes: they are super fast and easy IF YOU GET YOUR HUSBAND TO MAKE THEM.
Ok, now I have to go hit refresh on the UPS website to see when my new hat/earrings/necklace will arrive.
go see the rest of the holiday posts.