Paul was away for work early in spring. This doesn't happen very often, but when it does I worry about two things:
1. previously-discussed proliferation of ax murderers outside the house.
2. that something really good will show up on Craigslist and my retrieval team will be unavailable.
Which is exactly what happened.
And it turns out that sometimes it is better if your retrieval team is not available. Because sometimes the retrieval team gets confused and thinks that their role is actually the roadblock-to-happiness team.
I called Paul and said – GOOD NEWS! Marble! Giant fancy edge! The guy will put it in the car for me! I'm going this afternoon!
Paul said – have you actually thought this through?
I said – nope. BUT YOU ARE NOT HERE TO STOP ME.
#winning
The marble originally lined a foyer; sort of like wainscoting in a small vestibule. The guy had three sections, each one is 2' x 4'.
What am I going to do with it?  I don't know.
Why are you on Paul's team?
When I got there, it was EVEN BETTER than I expected. EXCEPT for the 50,000 ways it is going to be impossible to work with.
When I saw the marble, half of me was like – awesome.
The other half was like – Paul is not going to be too happy with this.
First, the slabs are slightly different thicknesses. And the back of it sort of resembles the surface of the moon– unfinished.
Second, the edge that would be out-facing/flush with (my special, imaginary non-cabinet) cabinetry is rough. REALLY rough.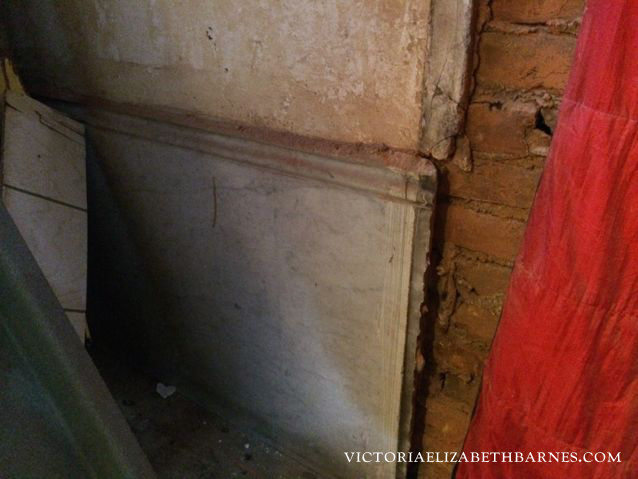 Now. Normally my part of the acquisition would be finished… but because Paul was away, I was tasked with the get-this-out-of-the-car finale.
I had planned to ask one of my neighbors to help me. And Paul made me promise that I would not drive ANYWHERE until it was unloaded.
Paul has this weird thing about safety. And also about not leaving loose ends lying about. How we ended up together is a total mystery considering that my entire personality consists only of loose ends… you cannot even get near me without tripping.
Plus, do you know what I'm really good at? Doing only part of a project: the fun part.
I am SO great at the enthusiasm part— the part where you will move heaven and earth to ACQUIRE GIANT FANCY THINGS. But after that, I am tired.
So after I got it, I just left the marble in the car.
I never asked the neighbor. I kept putting it off. And forgetting. And forgetting.  And forgetting. Until I'd go to get in the car and be like– oh, right… this marble is STILL HERE.
So it was no surprise that I ended up with a pile of stone still in the car the same afternoon Paul was supposed to come home.
I cannot overstate how incredulous he will be to realize that I drove around for a week with roughly 600 pounds of unsecured marble in the car.
Whenever I go to pick something up without him, he tells me 50 times – don't forget to tie it down. If you get in an accident, you do not want to be speared in the back of the head with vintage patio furniture/plant stands/the hand truck… USE THE STRAPS. Safety first.  Boy Scout code of conduct. Blah, blah, blah.
For whatever reason, it does not motivate me to actually take steps to prevent being bashed in the head. I just drive around IMAGINING my head bashed in.
Why I choose to go around, mentally dissecting worst-case scenarios, rather than taking the 10 minutes to avoid them in the first place, I cannot say.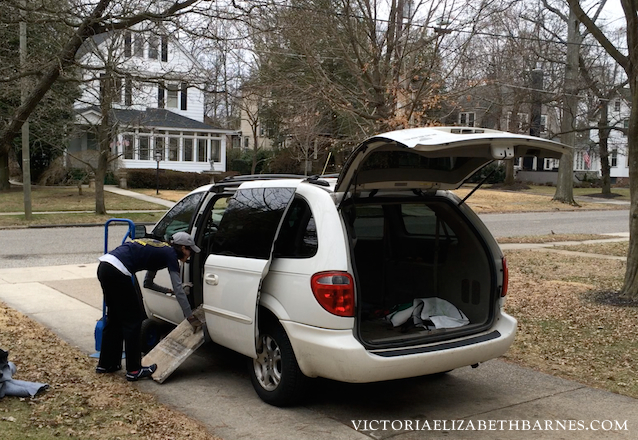 Anyway. Paul was coming home, I had three giant slabs of marble violating the car-safety-code-of-conduct, and not one of my neighbors was home. So I decided to do it myself.
I was pretty sure my chances of breaking one, (or all) were high. Marble is notoriously fragile during transport. But it tells you something about Paul's ongoing frustration with my inability to complete tasks that I found it more appealing to possibly trash my find than incur an interrogation.
So, I figured I would video it… When you are an blogger, this is how you spend your Sunday: videoing yourself wrestling a 200 pound rectangle.
Was that the most interesting thing you have ever seen? No… Was it slightly more interesting than whatever you are supposed to be doing at work right now? Probably.