The day we moved in, our front porch looked like this: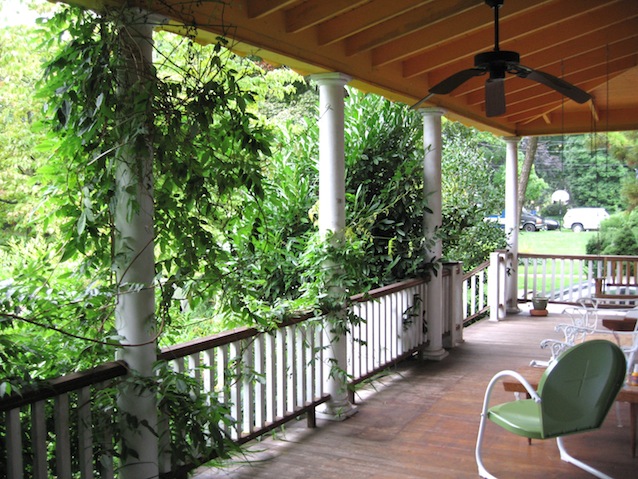 Like maybe we were in the jungle.  Or Key West.  It was really private—which I loved.   It had an overgrown, Grey Gardens vibe.  Which was pleasing in a dramatic way.  Like I might become a person who wears scarves and doesn't clean the house, and eats tinned caviar for dinner.
The ratty, camp-like vibe made me feel like I was transported to a summer cabin from Dirty Dancing.
Some things were less appealing— our previous owner had a fondness for orange.  Particularly on ceilings.  And there is a whole lot of porch ceiling. Across the front, and around the side.
There was also this issue, below.  At one time, the porch only ran the front of the house.  The previous owner decided to expand and wrap around the side.  A great plan… but like a lot of his projects, left unfinished.  The scar from the old roofline was left untouched.
So the porch has been left like this for over two years now.  But it's the next project.  We won't have purple doors much longer.  Or a bright orange ceiling.
RELATED POSTS