My trip with my brothers was LITERALLY, NOT FIGURATIVELY, the very best time I have ever had in my entire existence on earth.
We did absolutely nothing except hang out, eat our combined weight in dried mango, and dread the arrival of the "real adults"… their pesky attempts to organize the day in a way that does not involve sloth; so misguided.
Sloth>activities.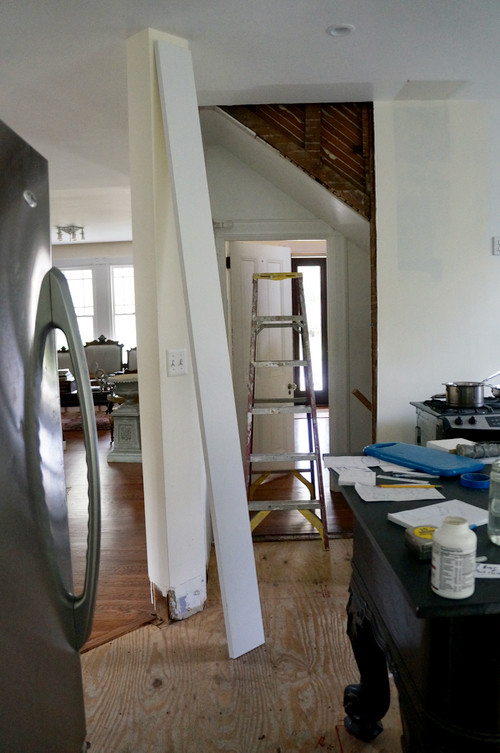 While I've been off, living my extraordinary and glamorous lifestyle of carting dirty laundry around New Mexico, Paul has been DOING HIS THING.
Paul flew in with my parents, so he had a whole week to go full-speed without my interference.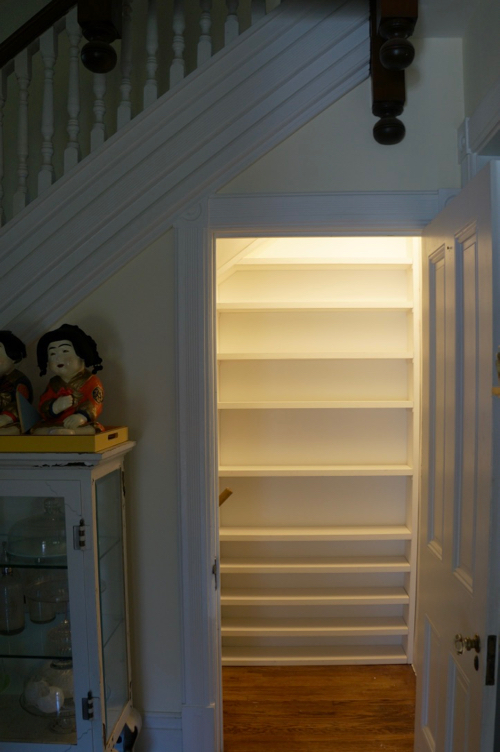 Paul is magic-ing the handrail white, he painted the basement stairwell, (the yellow that the rest of the house is,) caulked cracks, put a finish coat on the shelves… and forgot to bring me pictures.
THAT IS A LOT OF STORAGE!
I seriously LOVE shallow shelves. I love being able to SEE EVERYTHING.
The intermittent differences in shelf-spacing are based on the sort of stuff we normally have floating around near our front door.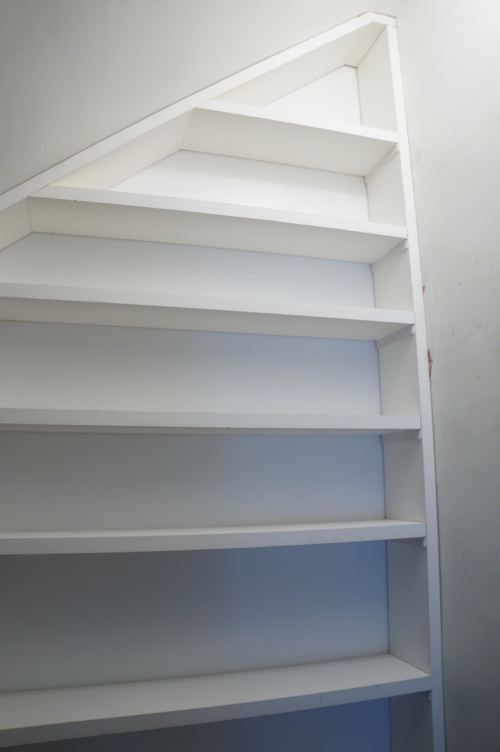 Ok. That's all.
I have get to go for a 12 mile hike now… so just say to yourself: this post was not fulfilling, but AT LEAST I DO NOT HAVE TO HIKE TWELVE MILES.
Paul does not even remotely understand the concept of sloth.
Now for the most important part of this post: there is a cat here, where we are staying… his name is Pico. He is tuxedo. He is giant. He loves to lick you and then bite you unexpectedly.
I love him.
We were best friends, but then I violated his trust by holding him like a baby and smothering him with love while shoving him inside my sweatshirt to "show him" how warm and snuggly we could be.
Thank you so much to everyone who had suggestions for must-do things near Santa Fe! This area is so fun, and BEAUTIFUL!!
Paul and I are going to work our way through your endorsements; we are staying on, just the two of us, so that I can practice denying Self's desire to scream: TAKE ME HOME IMMEDIATELY.
We went to La Fonda last night (at your suggestion) and they had THE MOST AMAZING BAND! (see my Instagram stories.)
They played WONDERFUL covers of super old country, folk, bluegrass… there is no genre of music that makes me HAPPIER than old two-step… it's so swingy and irresistible! Full of misogyny, casual violence, alcoholism, and other American traditions!
My ALL TIME FAVORITE being Hank Penny's version of "Catch 'Em Young, Treat 'Em Rough, Never Tell 'Em Nothin"… ('cause that's what gets results!) YES, REALLY THAT IS THE SONG. Listen for yourself! It's from The Girl in the Spotlight, (a 1920 Broadway production, music and lyrics Victor Herbert, and Richard Bruce.)
p.s.– I'm still getting quite a few kitchen/fridge questions that are answered in recent posts, so you may have missed one of these updates!
1. Researching refrigerator options, panel-ready, cubic-feet, etc.
2. We are planning to move the refrigerator to a recessed alcove… has NOT happened yet.
3. We started repurposing this area shown below… to see the first half of the project, read this post.