Below is our previous plan for the kitchen layout… to understand the details that dictate our options, this is the post you want to read, (it's boring because it deals with boring details.) Here is an index of all my posts about the kitchen.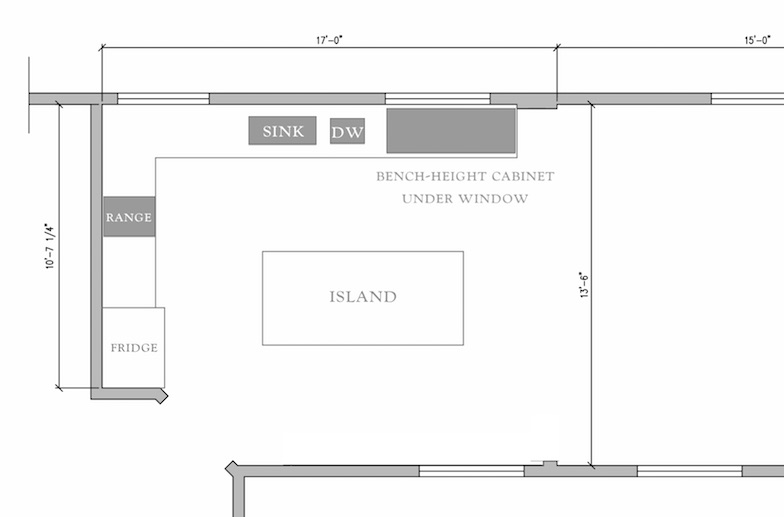 My problem with kitchens is that you need stuff in them.
Like appliances.
and
Appliances are ugly.
Unless they are $47,000.
If you do not have $47,000, you are left with an equation where you still have to pay LOTS OF MONEY… but now, the money is FOR UGLY THINGS.
So you buy ugly things, put them in your home, and then come to terms with ugly things just hanging out, being ugly.
Like this: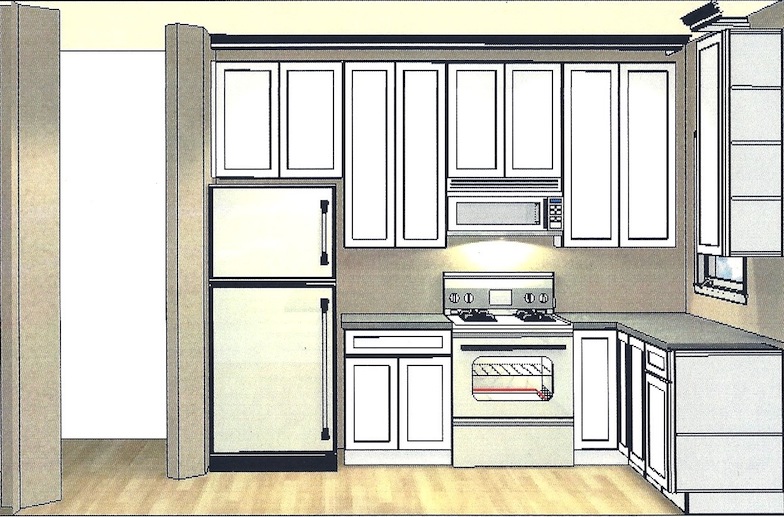 For me and Paul, this equation-of-ugly is compounded by the age of our house– even if budget were no issue, we are still constrained by a space that was never intended to house a hulking metal box full of ketchup.
Up until now, the spot the refrigerator has been occupying in all our designs was dictated by two things:
1. my wish to have it as much out of view as possible.
2. access to the basement stairwell—> allows us to recess a non-counter-depth fridge.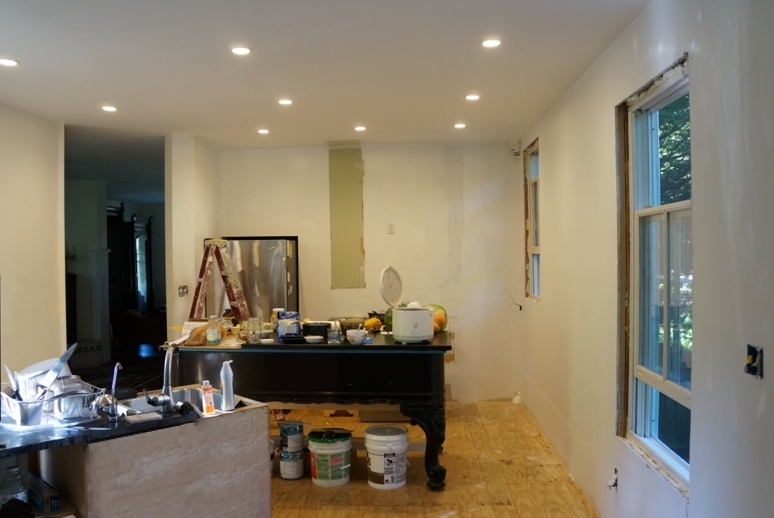 The house originally had access to the basement from both the foyer and the kitchen; but the access from the kitchen had been closed off at some point.
The wood and wallpaper we found was pretty old, so we are thinking it was closed around 1930?
Below is a (not remotely professional) footprint of our first floor, just so you can visualize better what is happening… the grey/porch area at the bottom is the entrance to the house.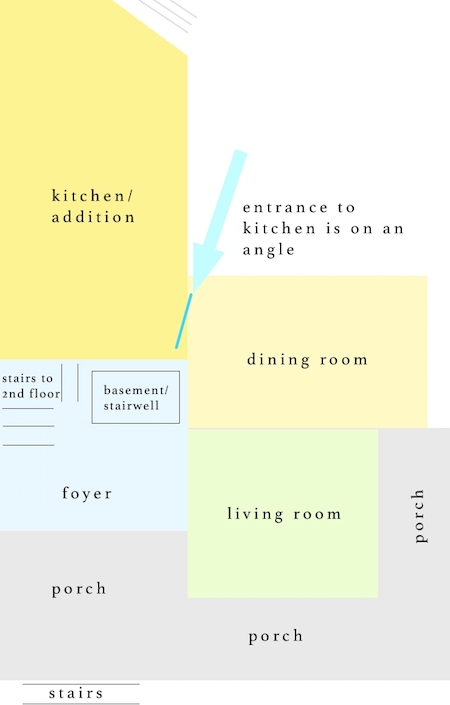 Paul had already reopened the access to the basement stairwell to recess the refrigerator; it allows us to make a normal-depth fridge appear counter-depth.
What we have there now is a 33″ refrigerator, but after a mind-numbing amount of internet-ing, we realized that with a brand new fridge, we could get that down to 30" and keep the same storage.
Infact, you can get a 30″ standard-depth fridge, with storage (21.8 cu. ft. at that link) that is greater than a 36″ counter-depth refrigerator.
This makes me think that the reason we're seeing MASSIVE WALLS OF NOTHING BUT FRIDGE are NOT because that looks awesome… but because otherwise you have zero refrigerator space.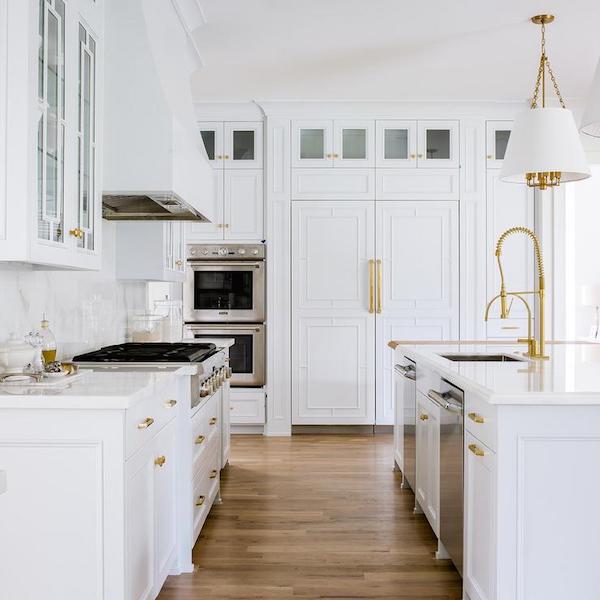 Also, hello? Can we discuss how a regular fridge is SO MUCH CHEAPER… $1,300 for a standard depth, vs. $8,000, minimum, starting price, for a panel-ready fridge.
Why would I pay 57 times more, to get less fridge space?
Oh, wait… I remember: TO AVOID THE UGLY.
If you have not spent the last three months looking AT ALL OF THE REFRIGERATORS ON PLANET EARTH, you may not have realized JUST HOW UGLY YOUR REFRIGERATOR IS.
A regular fridge is not a visually appealing thing… SQUAT is the word that comes to mind.
This is a fact: a $12,000 refrigerator looks better than one that is $1,300.
And if you spend even MORE… say, $24,000… you can acquire an appliance that I would fully enjoy LIVING INSIDE. LIKE A MINI HOUSE JUST FOR ME AND KITTENS.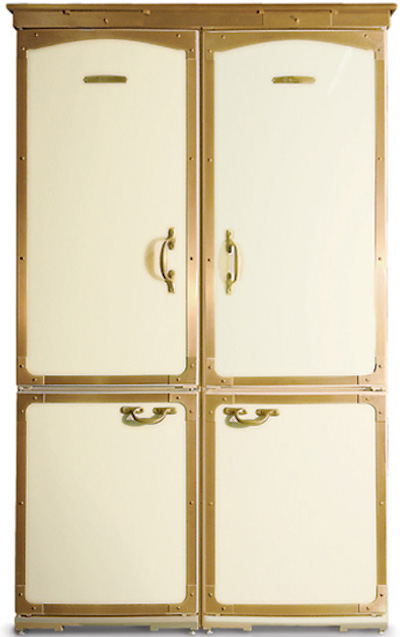 I could have solved this by working an extra job on third-shift, to afford a refrigerator I'd really ENJOY looking at… but then I would end up in the sanitarium, and wouldn't really get much use out of it.
*Intermission*
This is the point in a blog post where I question my life choices that I have so much to say about refrigerators.
*end intermission*
Anyway.
My point is: for a while it seemed that panel-ready was the solution to my stupid-problems-that-are-not-real-problems-but-still-occupy-all-of-my-brain-space.
BUT.
There is no ven diagram where you find overlap between a 30″ refrigerator, that is panel ready, AND has real storage… IT DOES NOT EXIST… you MUST go to 36″ to get a reasonably-sized panel-ready.
We went and looked at them in person, just to verify that we would be insane to buy one; and also to feel like we are people who consider high-end ketchup boxes. (Albeit, scratch-and-dent fancy ketchup boxes.)
My findings: 30″ panel-ready refrigerators are for people who do not wish to have food in their home.
Half a watermelon and a large bowl of grandma's cucumbers would leave room for not much else.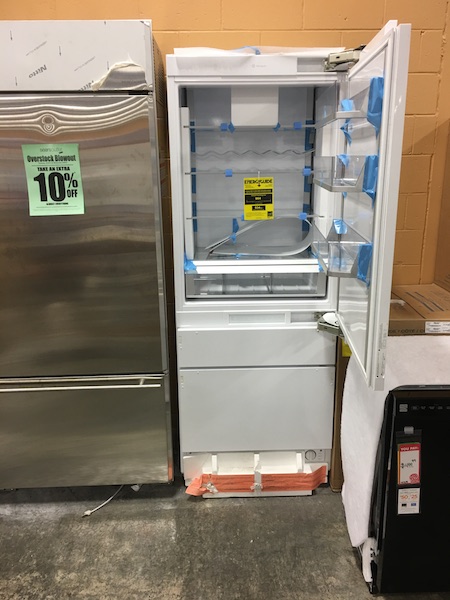 Which led us to this consideration: let's just do an all-fridge column… this will give us the space we need, and let us keep the less-obtrusive 30″ width… and we'll just trek to the basement for freezer stuff, (because we bought a chest freezer.)
Ideal? No.
The OPPOSITE of ideal!
(Hi! Have we met?)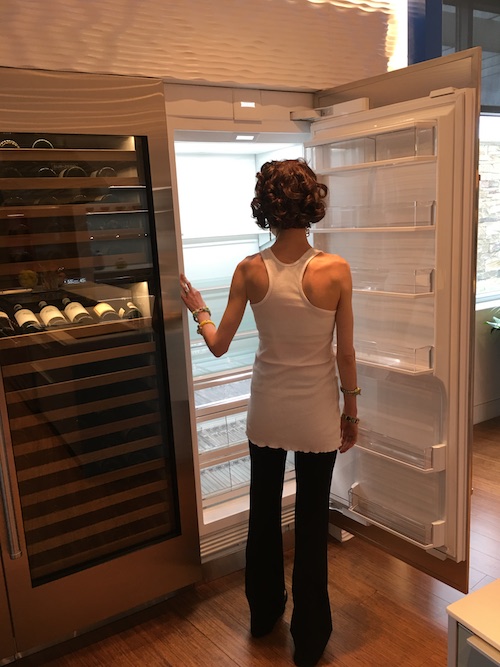 This fridge-only-column "solution" isn't even more "affordable"… it's just random juggling of needs-vs-visual-appeal, and doesn't really solve anything… but is the sort of design-road you travel down just to see if it might magically lead anywhere other than a dead end.
And! Of course! No new plan would be complete without an attempt to DIY what lives in my head… which is how we ended up lying on the floor at the scratch-and-dent trying to figure out how to remove the finished door of a cheap fridge to turn it into a panel-ready.
An interesting theoretical exercise!
But even if we could overcome the hinging/pivot issue, (panel-ready/built in/integrated fridges; which are not really interchangeable terms, but for my purposes they are… they hinge differently than regular fridges) I still couldn't figure out a solution to the inherent SQUATness. Cheap fridge =  short… and while extending the panel above the actual fridge to make it APPEAR taller was maybe an option, that seemed… what? Silly? Shoddy? And when added to the hinging issue… blah blah blah, words words words, WHY AM I STILL SPEAKING?
I also concocted a plan where we buy antique brass doors… and glue them to a 30" cheap fridge… and then paint the fridge, inside the new brass "frames" a sophisticated shade of yes-this-is-a-painted-fridge-with-brass-glued-on.
Paul didn't have to consider it because the frames are $4,500. And in Las Vegas. And also because it would look incredibly stupid.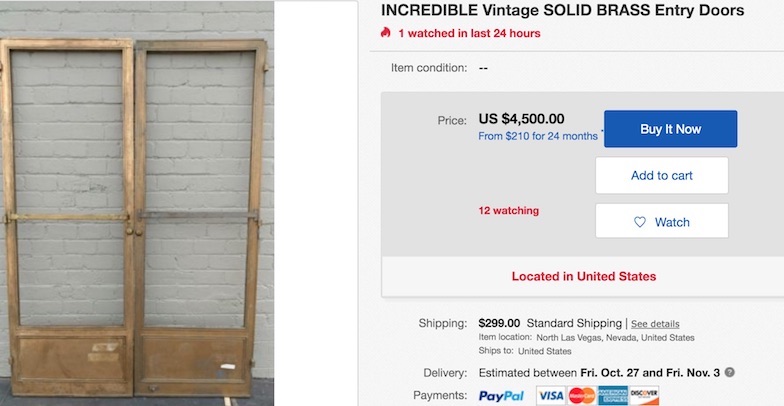 Anyway.
This is how NUTS the refrigerator makes me.
And you know what else? EVEN IF we found a 30″ panel-ready that was magically not $9 million dollars, and stored more than condiments, I WOULD STILL HATE IT.
Because in our kitchen, the refrigerator makes our layout NOT SYMMETRICAL.
Lack of symmetry makes me itchy on inside of my brain.
The refrigerator MESSES EVERYTHING UP.
Thus it is unacceptable.
STAY TUNED!