Paul was on vacation a few weeks ago… a time of dirt, noise, kitchen progress, and me deciding that now would be the best time to try to convince him that we should drive to Arkansas to spend a shockingly-unholy amount of money on something utterly un-kitchen related… on Craigslist.
He said no… but what I heard was: sell everything we own.
I cannot show you what it is, because one of you probably has $8,000 that you do not need, and I cannot be the the one to facilitate your owning of what is rightfully mine.
So, instead of a trip to Arkansas, we have been working on multiple kitchen and addition projects… In an attempt to make the progress coherent, I am focusing on the sink wall.
What we started with in the kitchen/more before pictures.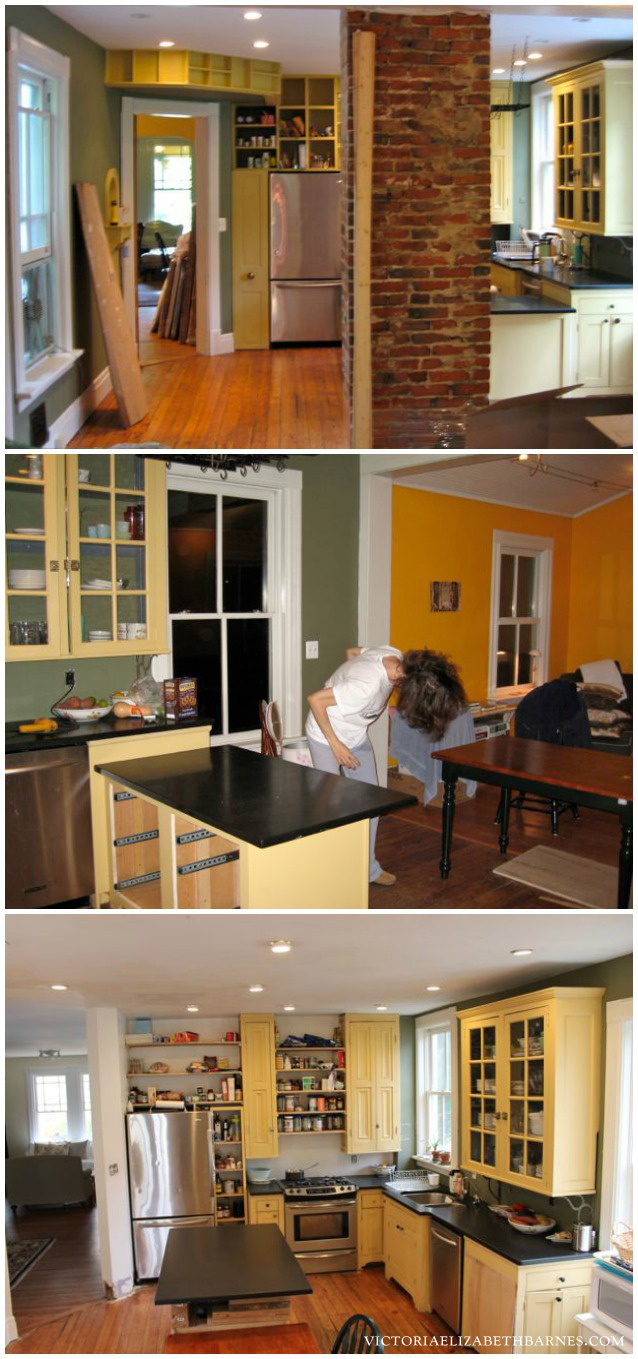 Above is what we started with.
I have zero idea of what I am doing upside-down, but it is one of only two photos I have from before we removed the weirdly-low peninsula and jacked it up into an island… before you are a blogger, you do not know that one random photo will not suffice to tell an entire story.
Below, you can see that we moved the kitchen down to the addition for a makeshift workspace. Then, for fun, we moved it back.
The white space-pod looking thing is a reverse osmosis water filtration system… it tops any list I would make for kitchen "must-haves." And in the new kitchen we are going to combine it with instant-hot water. I cannot overstate how excited I am for this… I drink a lot of tea during the winter, and the idea of not waiting for water to boil seems like an unimaginable luxury.
I'm so easy to please!
We already took out the strange half bath… and we put up more plastic to form an L-shape around the perimeter of the room so that we could gut the sink wall.
We gutted the sink wall for a couple of reasons:
– on part of the wall, the previous owner had sheetrocked over plaster.
– there was no backsplash behind the sink/water had gotten the plaster mungy over time.
– throughly insulate the exterior wall.
– there was some plumbing that was lazy-boxed rather than recessed into the wall at the corner.
So we gutted, recessed the plumbing, insulated, sheetrocked, and painted.
This is a brief summation of a big project… But I don't have anything interesting to say about it and I think the photos are pretty much self-explanatory.
I missed getting pictures of some of the steps because Paul wasn't about to wait for me to get home to document whatever was happening.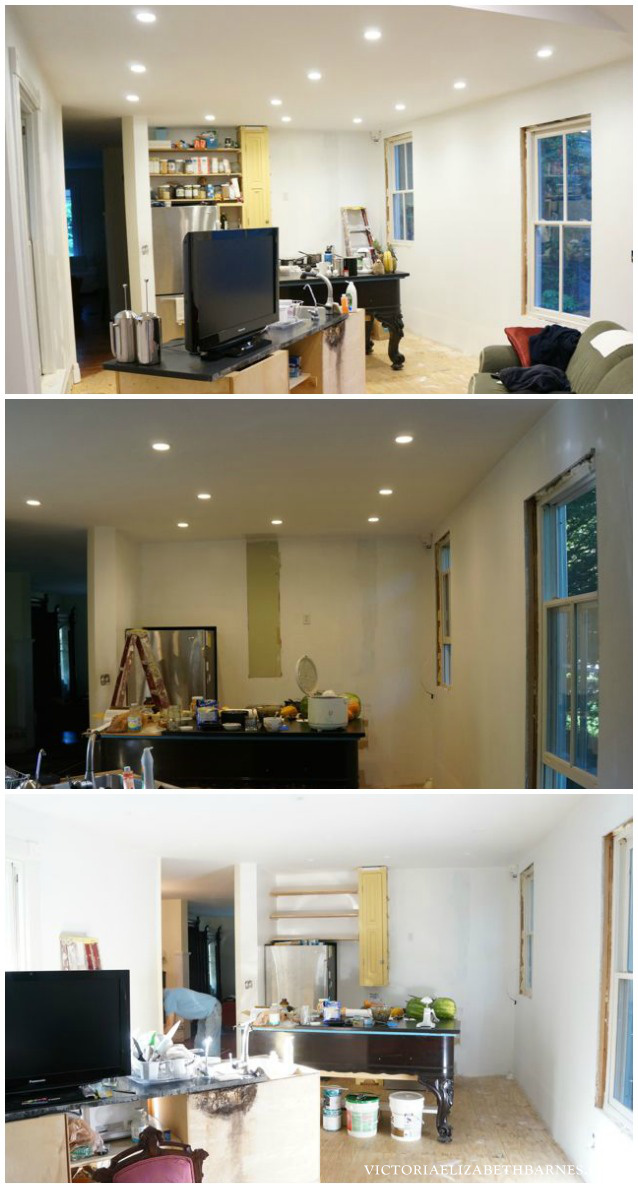 A few more things:
1. The piano island is NOT going to go sideways like it is above.
The island will be lengthwise in the other direction, but we had a dinner party, AND are having Thanksgiving, so I don't want to move the TV into the living room until we are done having company.
2. The wall color is just a primer… we'll use the same paint colors that we've used through the rest of the house.
3. We solved a dilemma that's been holding the kitchen design hostage and I am so excited.