Seeing as how I'm going to have an L-shape kitchen, I'd like to be on record that I'm AGAINST IT.
L is arguably the most boring letter.
In both the categories of upper AND lower case.
But I guess that's what we are doing now: boring things we hate.
DEATH TO PIZZAZZ.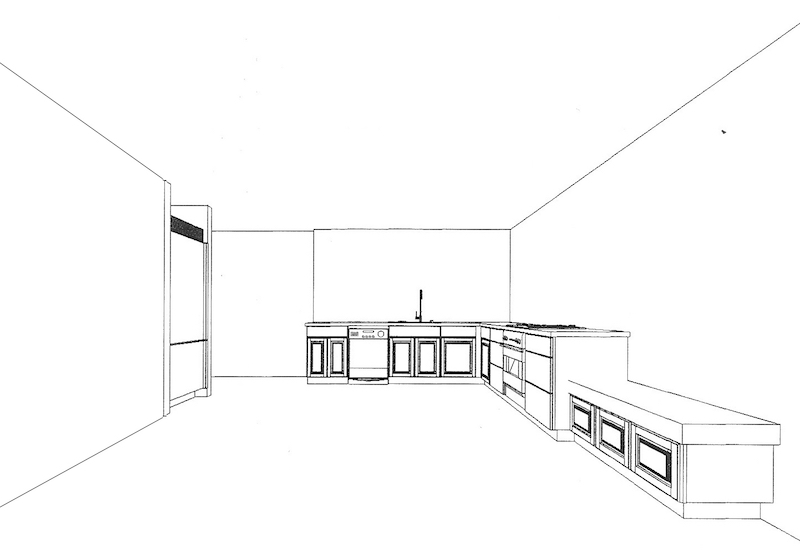 In case you are thinking I forgot about upper cabinets… I didn't. I just hate all of them.
They fill me with antipathy.
And gout.
So unpleasant.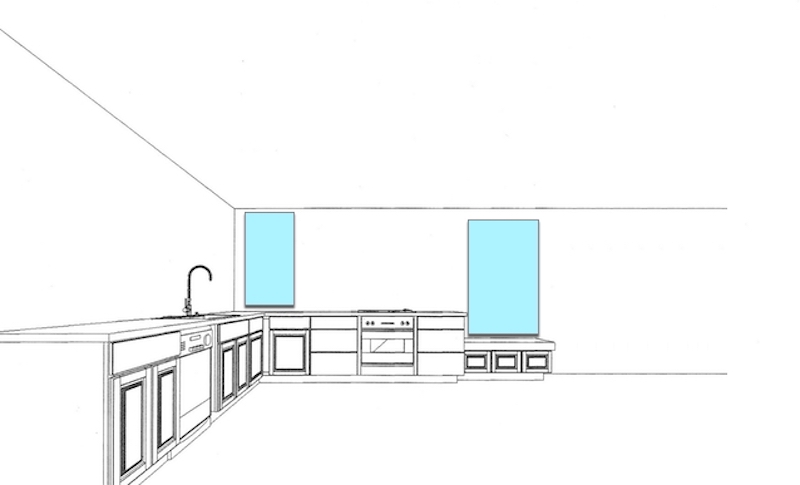 These images are blindingly hideous and I apologize for searing your eyeballs with the FUNDAMENTAL AND OBVIOUS KITCHEN-NESS.
No magic.
No orphaned forest creatures.
No items of delicate antiquity and bejeweled human remains.
I AM AN UTTER FAILURE AT LIFE.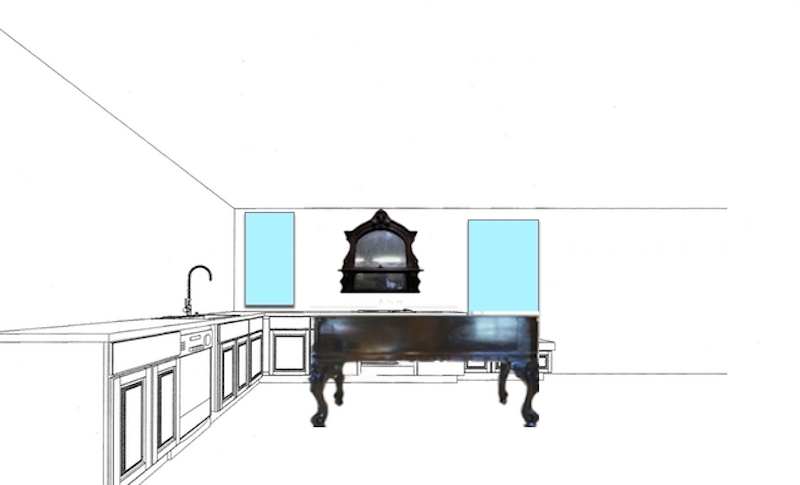 Our kitchen island is a repurposed antique grand piano… but my skills at "photoshopping" it into these mockups is literally cut and paste; so my additions of windows, mirror, piano are just eyeball, not to scale!
Here is the antique mirror, shown above.
Here is THE FINISHED PIANO!
Here are the theoretical DIY slate countertops.

Now: important details.
When looking at these 3D layouts, you have to remember that our kitchen doorway is actually on an angle– the above floorplans don't make that obvious.
The cabinets meet the wall, not the doorway.
So when you enter the kitchen, the interior wall of cabinetry will be sort of behind you/to your left.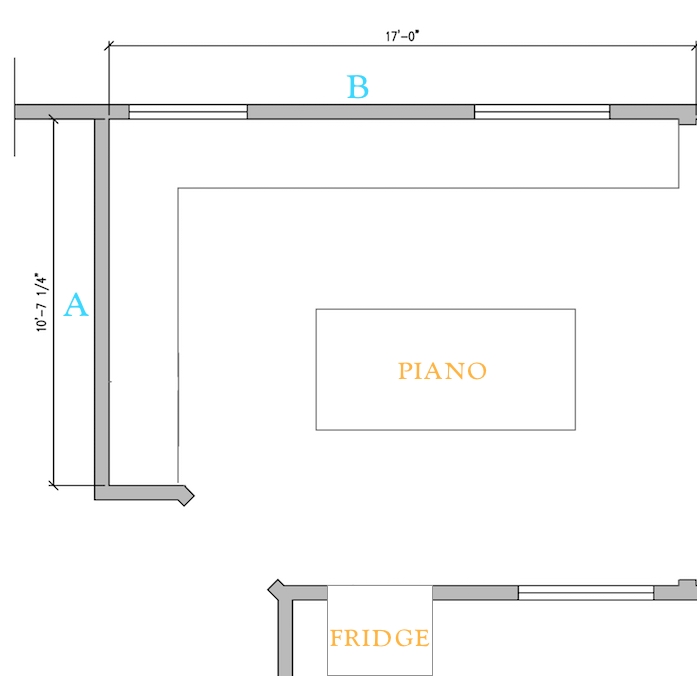 Next.
For the entire century of my kitchen non-remodel, I have been working in some basic parameters; including the assumption that we'd do glass-front upper cabinets.
A light/bright base— white cabinets, glass uppers, LOTS of chunky white molding.
As kitchens go, I don't hate this… and for a long time, it's what I had in mind.
Groundbreaking, I know.
The detail that most makes this a good "inspiration" picture for me is the window they have in the corner.
The above photo is our exact layout option: L-shape perimeter, with an island… centering either the range (or the sink) on either wall… (but not with a gas range— we're doing an induction cooktop and wall oven.)
BUT… from our existing kitchen, we have slowly removed upper cabinet after upper cabinet after upper cabinet… until I've been living with nothing but open shelving for the last year and a half…and…
… BRACE YOURSELVES…
I think it's fantastic.
AND I LIKE IT WAY BETTER THAN CABINETS.
And I don't think I want to go back.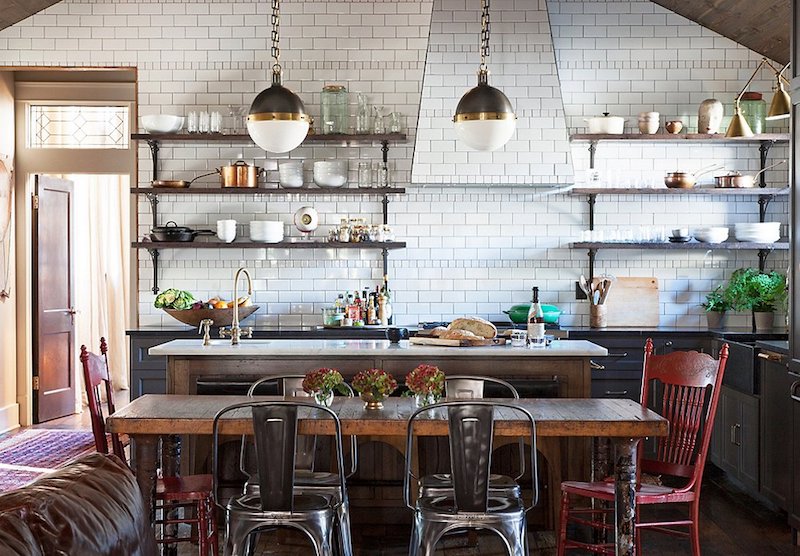 NOT frou-frou open shelving with pitchers and cake plates and fake succulents… REAL open shelving that I actually use.
The sight of lentils does not offend me.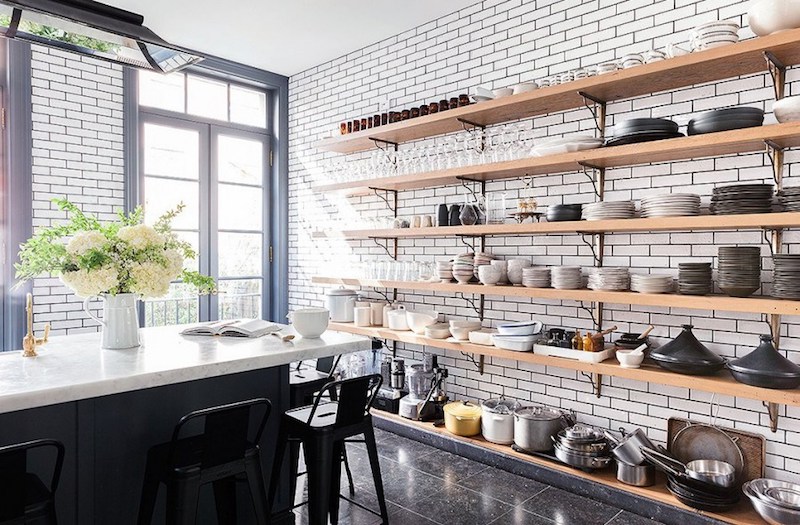 This is a new development for me… so I'm not sure what the shelf-amalgamation looks like yet.
Also!! don't worry! I fully understand that lots of people REALLY HATE open shelving… and please! feel free to foam at the mouth and leave comments about HOW OPEN SHELVING IS A VIOLATION OF HUMAN DECENCY GERMS FILTH GREMLINS!
You should also know that I will not have a window over my kitchen sink.
I understand and certify here, on this day of April, in the year of endtimes, that I am making a giant, crushing, mistake-of-hideous-proportions, and I should go and throw myself directly into the river.
I proceed otherwise at my own risk.
Hereby signed, VEB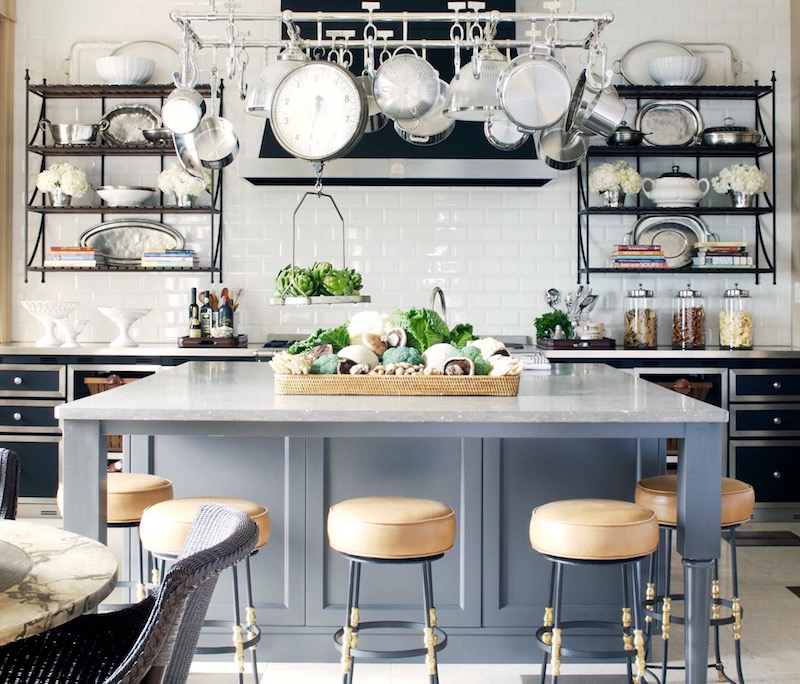 ps- several of you endorsed microfiber drying mats as an alternative to my bulky wire dish rack with mungy-grungy plastic tray WHICH DOES NOT FIT IN THE DISHWASHER EVEN THOUGH I HAVE TRIED 500 WAYS.
You have revolutionized my countertop. MY SHREDS OF SANITY THANK YOU.
pps- some of you put the dishrack into the sink, which does make sense! Maybe if we were doing a bigger sink? Our sink is only 30″… and I already bought it, so getting a bigger/different sink is not an option for us.