The photo below is where we are today… the second photo is a mockup of the cabinetry… (all drawers, because every recommendation I've read.)
If you are new: our kitchen island is a grand piano that has been gutted and fitted with custom drawers.
Here is us emptying the kitchen out to prep for floors. And the floors being installed.
CHANGES:
Kitchen cabinets— our original plan for white cabinets no longer makes sense to me, we've swapped to dark wood… possibly leaving the refrigerator panel white.
We made the refrigerator-space identical to the shape of the window to its left… our plan was to treat the fridge as part of the wall-molding; rather than part of the sink-wall's base-cabinetry.
You can see that we went as high as we could with extra space over the fridge, (which will give us a spot for rarely-used stuff.) We'll need a custom panel different than normal; we are debating design. Maybe like a transom?
But color– white vs dark wood is what I'm trying to explain here: and while I was waiting for Paul out in the garage… I noticed an element of my hoard that I had forgotten about: a pair of carved pillars that accompany a sliding-three-door salvage-thing-that-is-mine-forever-winning.
The pillars are a wonderful complement to The Nuclear War of Fanciness!
I brought them inside and near the refrigerator… I like the dark wood! I am not sure I like adding any volume to that wall, so the pillars themselves seem to be a no. But still mulling panel color.
Here is how we recessed our refrigerator.
Here is my post about choosing a panel-ready fridge.
Here is the refrigerator— a subzero we got at a steep discount.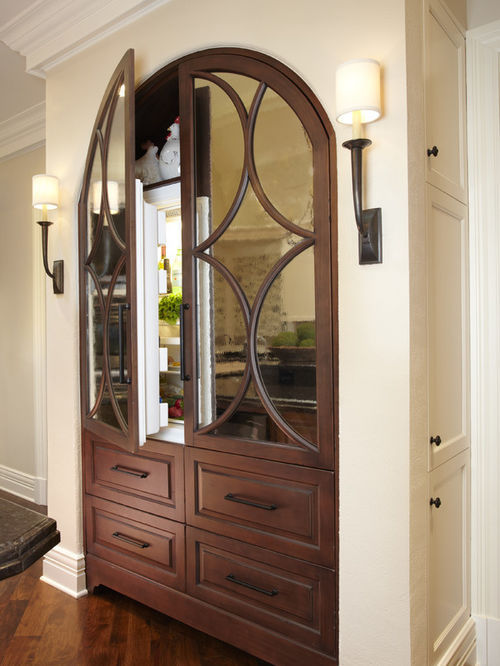 Still deciding: water stuff.
Adding INSTANT hot, FILTERED water is the thing I am MOST excited for in this entire kitchen.
just.
dispensing.
hot.
water.
no teapot.
no heat source.
no waiting.
As someone who buys tea in bulk bags of peppermint leaves and has zero tolerance for tedium— I have long suspected that I have something better to do than stand and stare at water not boiling.
I use a stainless filter that just sits in your cup. (They have fancier ones, but ease of cleaning.)
For every type of water you want to dispense, you need a handle.
We already have reverse osmosis, (filtered water, not comparably replaced with another type of filtration system) and you can reroute through the instant-hot.
There are lots of good options for two-handle countertop water dispensers! Oooh so fancy nine million dollars!
But as pretty as I think that is! I would prefer to get everything OFF the counter! But the only option for a wall-mount dispenser— it looks like something in an airplane bathroom.
Why.
If you have RO and instant hot, and figured out how to get OFF the counter– what did you do? I do know I can get a faucet with a third dispenser (photo below is Perrin and Rowe) — options are limited, but not terrible! But nothing has a fourth for hot… and all are all still deck mount.