Because we are doing an induction cooktop, we'll be doing a pair of stacked wall ovens.
The top oven will be a combination oven— it's a traditional baking oven with a REAL heating element that can brown and broil… AND it has a microwave capacity! So you only need two boxes, rather than three!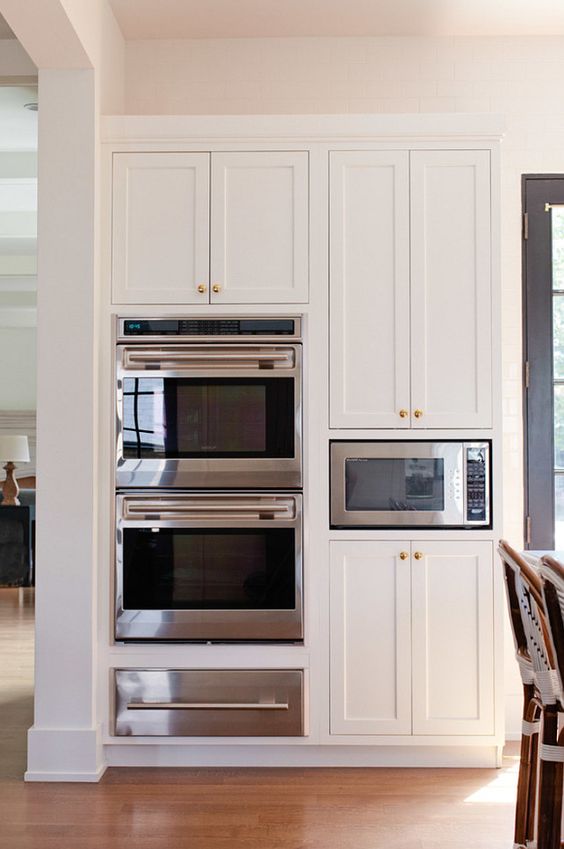 BUT! Not many American brands offer an actual combination oven, and FYI: many times, Google AND appliance websites have shown me ovens that are NOT a combination… but rather JUST a microwave, OVER an oven… but the way the description is written is completely confusing.
Bosch and Miele are what we've we narrowed it down to… the stacked Bosch unit is the most affordable… but only comes in a stainless brick with some snazzy black glass. Miele comes in white.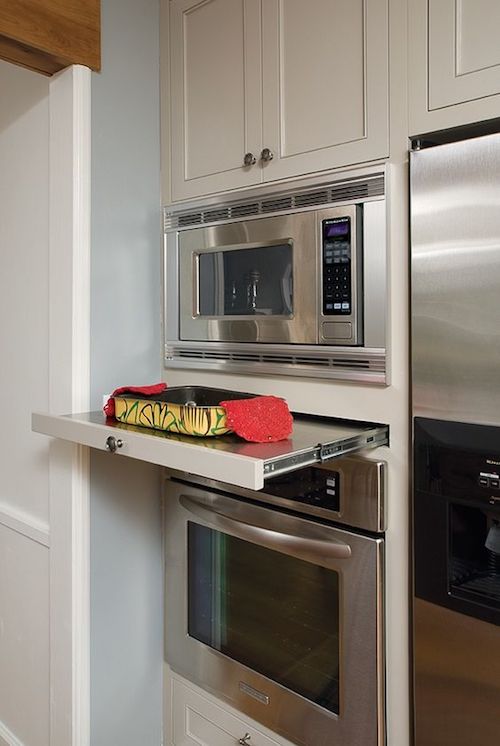 But as I explained in my last post about our kitchen design tweaks,  we are still mulling the color/visuals of this wall… we're thinking white is a better fit– ALL the wall/window/trim/molding in the entire house is white.
Also, as I have explained in every single other post I have ever written about anything:
BRING ME FANCY OR GET OUT.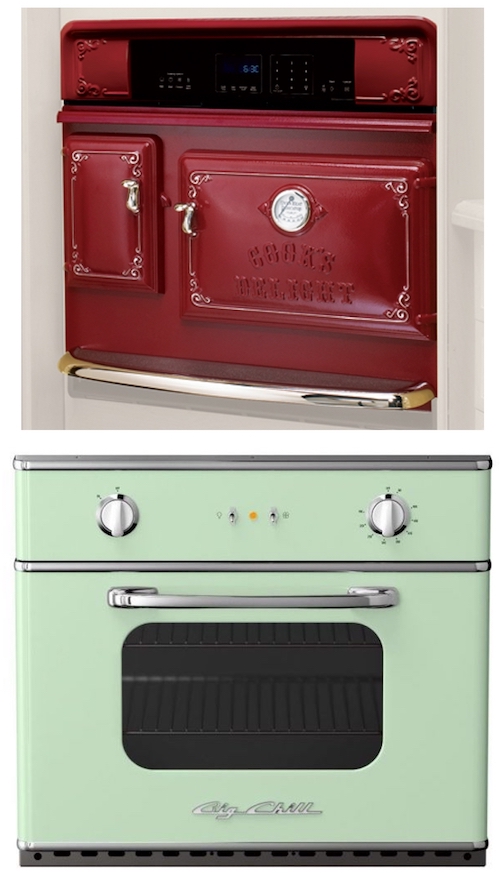 But.
All of the combination ovens in the American market look as you would expect them to… like ovens.
Sad.
But.
Turns out Europe has a non-sad oven-situation.
Officine Gullo… THESE ARE MY PEOPLE AND I WISH TO LIVE AMONG THEM… please let me know if you would like to buy any of my organs.

Also, you definitely do not want to look at their other creations, because they are GLORIOUS, and then, like me, you will be forced to grapple with the full realization of how subpar your own existence is.
THE HANDLES GIVE ME FITZ.
fitz<– fancier than regular fits.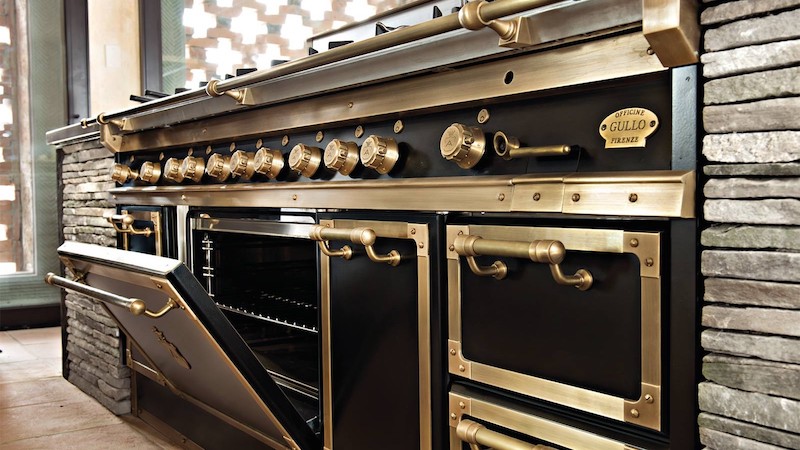 But guess what?
The Europeans… they also want the poors to have nice things!
Below is Lofra, Dolcevita… as of writing this, I can get them on eBay for less than $900 each.
The smaller oven is a true combination oven, so it is ALSO a microwave.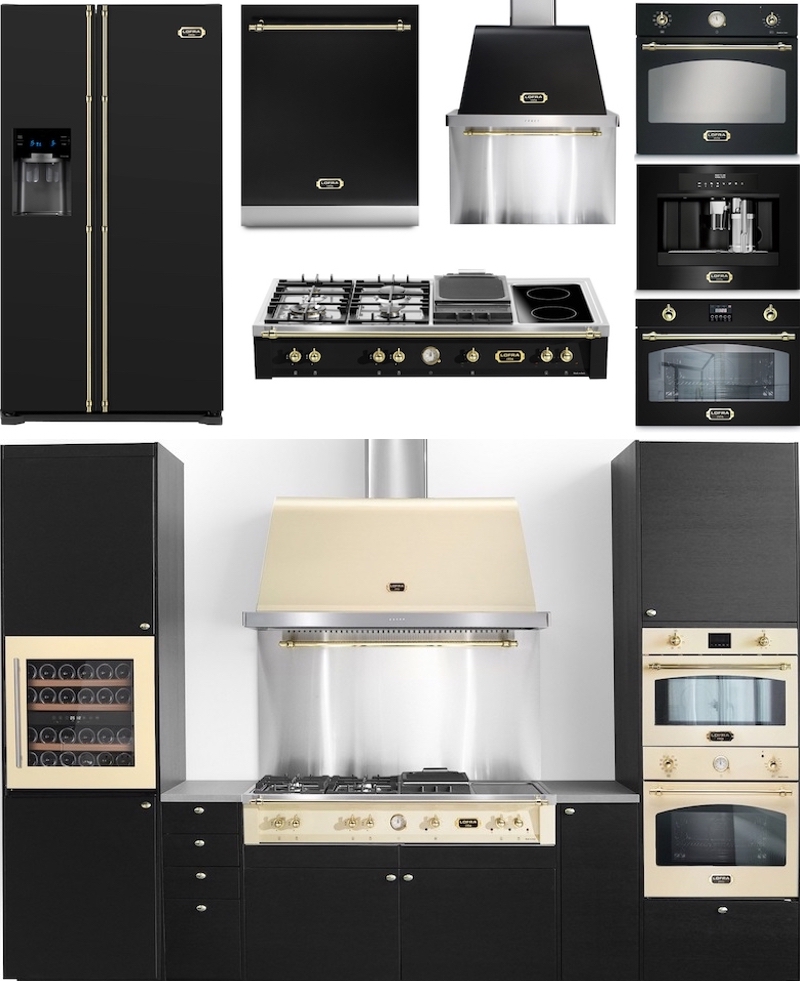 But.
The United States runs on 60 hertz.
LITERALLY EVERYWHERE ELSE IS 50 hertz.
The OVEN hertz we could make work… but the microwave is a no… unless we do an industrial-type converter thingy? And I cannot get anyone to ASSURE me that the microwave will work. The best answer is: maybe?

Which brings me full circle back to American availability. Because the thing we MOST want, is that it should work.
Miele gets the best reviews, and a number of you have recommended their wall ovens specifically… Paul was in Princeton for work and they have a showroom there. He said they are REALLY nice– the entire front is glass; so you do not have seams on the oven window… details are the good stuff!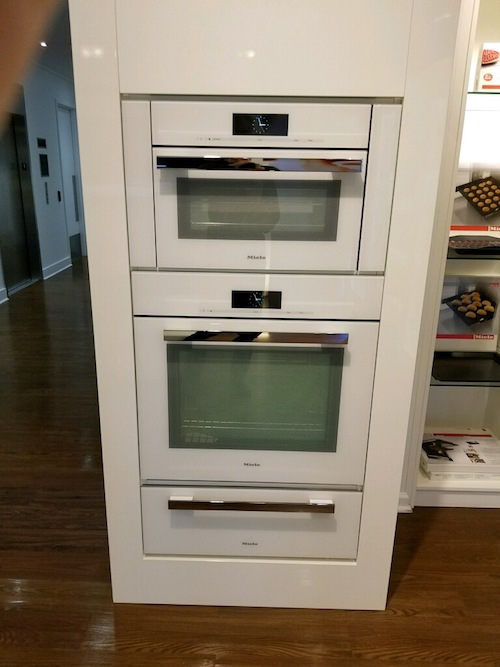 But.
The list of things I would like to spend $6,000 on is… long… and fancy… and does not include boxes of electronic heating elements.
You understand.
But.
Seeing as how this is a realm where fancy lives.
Perhaps the electronic boxes should be observant of the general aesthetic.
View this post on Instagram
Or.
We could keep our 15 year old microwave and put the money towards a VERY FANCY MICROWAVE TABLE.
logic + financial planning = VEB.
The end.
epilogue/faq/in case you missed:
our full kitchen is in our basement– stove, fridge, workspace, sink, all of it.
here is our current plan. we have added extra deep countertops…here are our possibilities for countertop/backsplash: antique marble shower wall slabs or pool table slate
We are doing an induction cooktop in our antique grand piano kitchen island (that post is where we drilled through the piano leg to add electric! and with NO RANGE HOOD BECAUSE I HATE THEM.
If you ever wonder why bloggers repeat themselves, it's because whatever we DON'T repeat is the thing we should have repeated.