I am BAFFLED that I must have a regular oven AND a microwave oven.
How is it that humanity has invented APPS… but is too stupid to combine two HOUSEHOLD BOXES OF CONVENIENCE?
Who is deciding the priorities of the human race?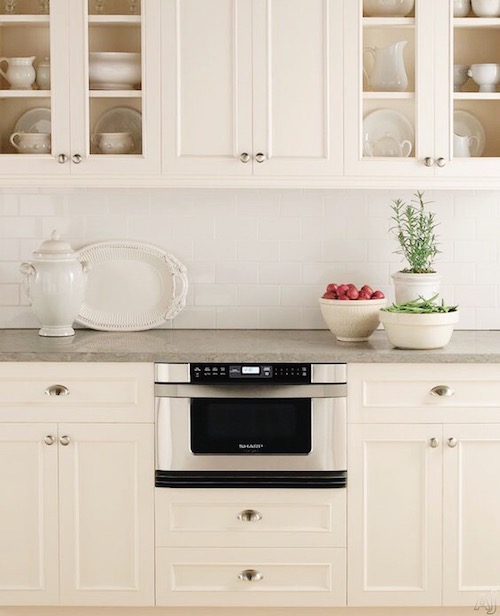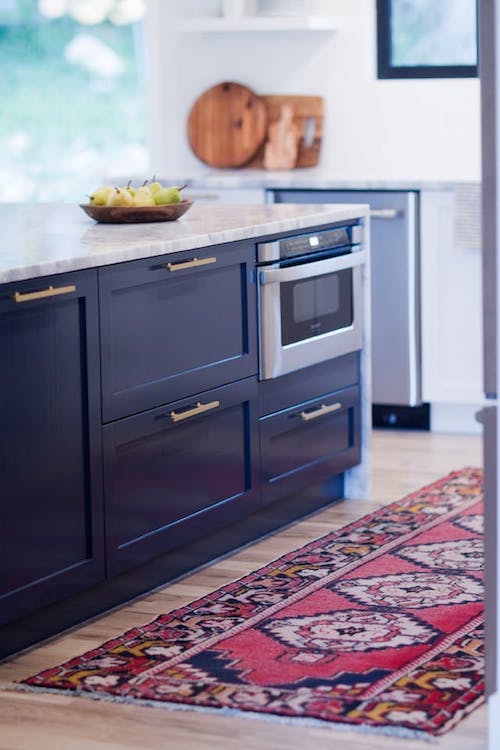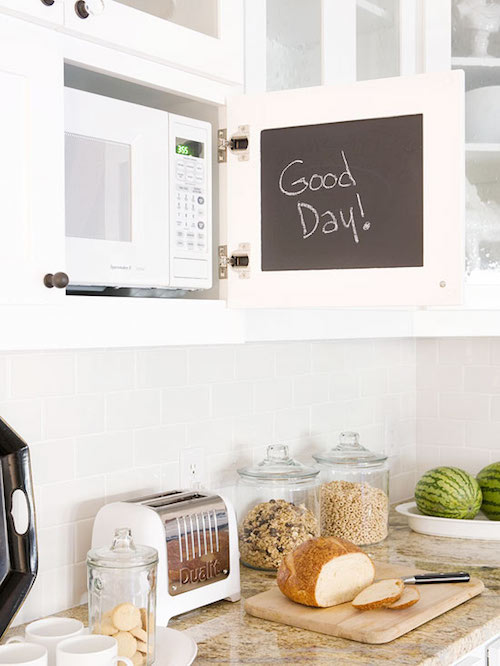 Short of the OBVIOUS AND SUPERIOR CONVENIENCE of combining two boxes used for heating squash; I guess we'll just get a panel-ready microwave… I can live with that.
Oh.
Wait.
No.
They don't make those.
However! I CAN GET A PANEL READY TRASH COMPACTOR.
Amazing! Is this still 1982?!
(advance apologies to the people who are all— YOU DON'T EVEN KNOW HOW GREAT A TRASH COMPACTOR IS.)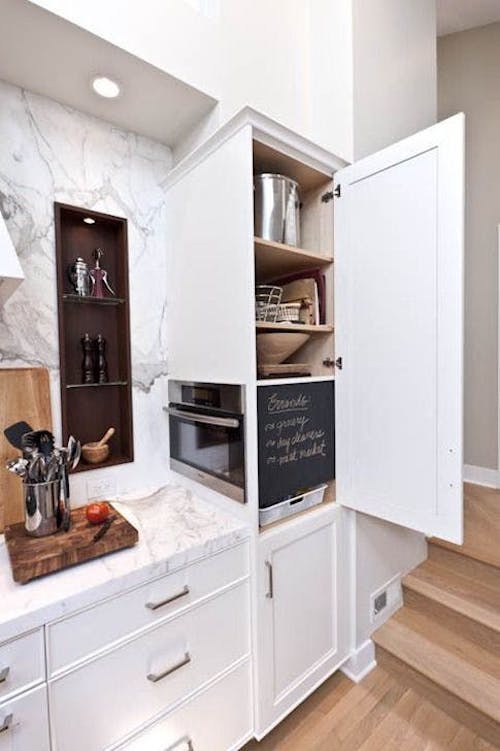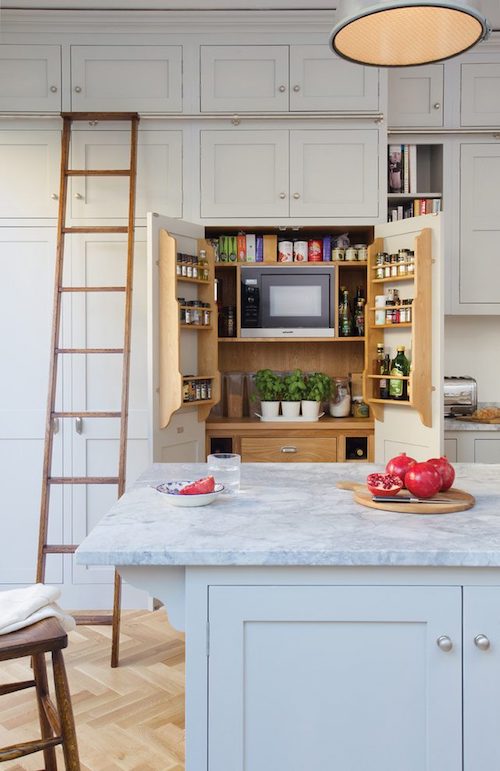 Then I spent a stupid amount of time trying to figure out how we could conceal a drawer-microwave with some kind of faux-panel… if you figured it out, let me know?
Although, I don't actually WANT a drawer microwave… all the reviews are great and people seem to love them. EXCEPT for reheating liquid. (The opening and closing of the drawer/action, you can imagine is sort of slosh-y?)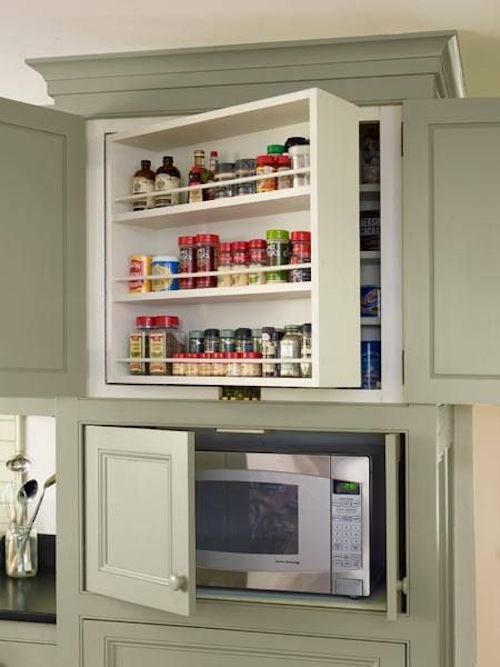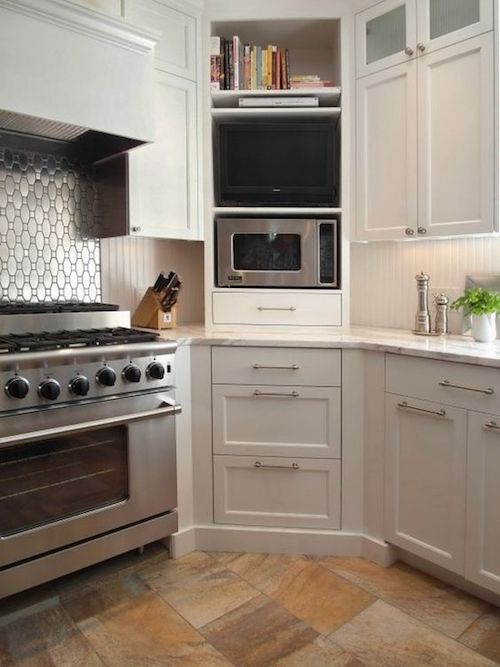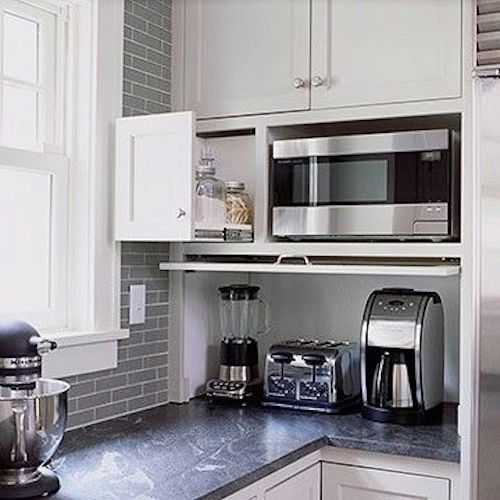 And the thing for which we use the microwave MOST is Paul's coffee routine.
He likes it BOILING hot… but he goes out to the garage or wherever, forgets about it, and when he comes back in, he needs to reheat it to 900 degrees.
He does this at least 12 times every Saturday morning.
I've suggested other systems, but this is the only one he will consider.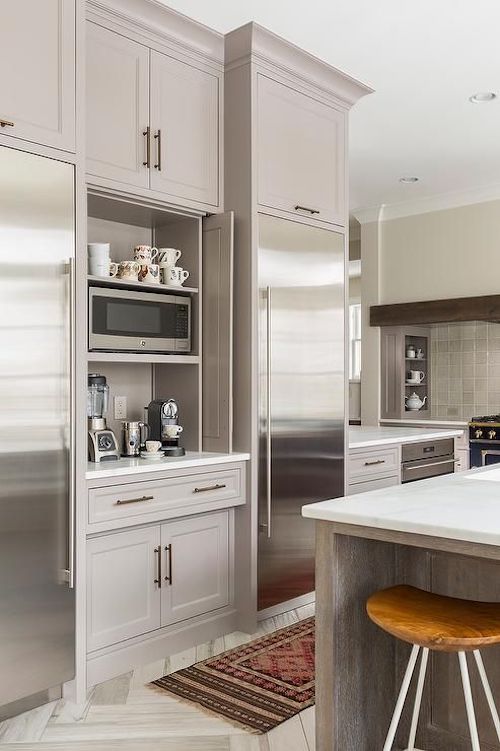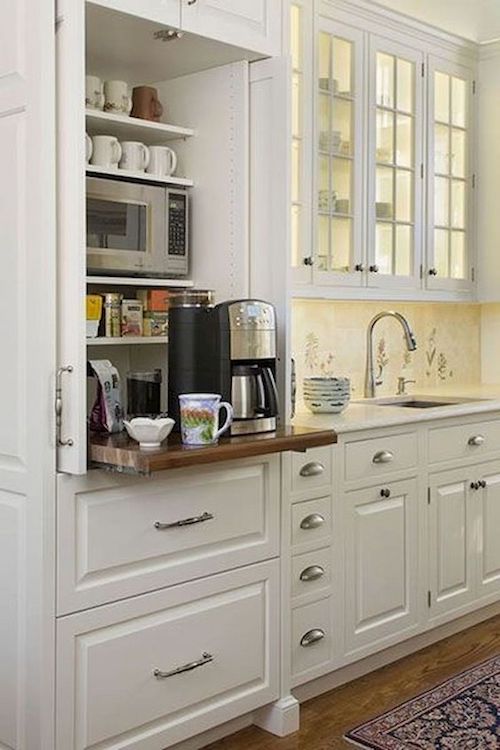 AND Paul does everything at warp speed, which means that it will take him less than five seconds to pull his cup out before the drawer is open fully and catch the lip of the mug and CRASH SPILL FLYING COFFEE EVERYWHERE.
He does this AT LEAST ONCE A MONTH WITH THE REGULAR MICROWAVE.
Then he gets mad.
Like he had nothing to do with it.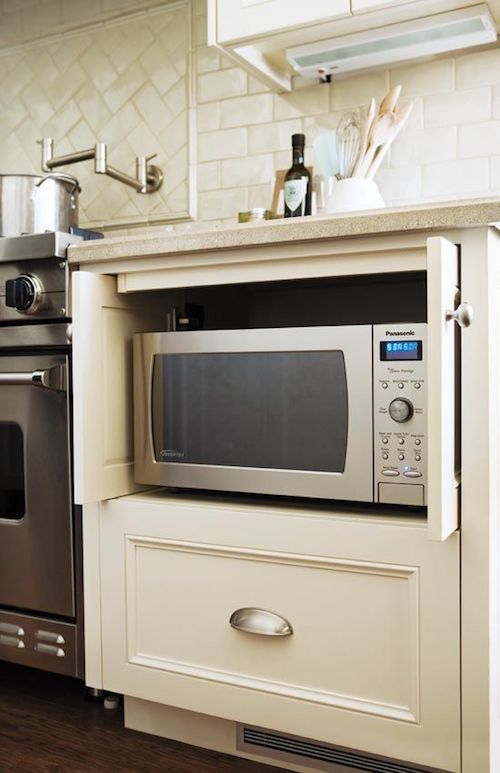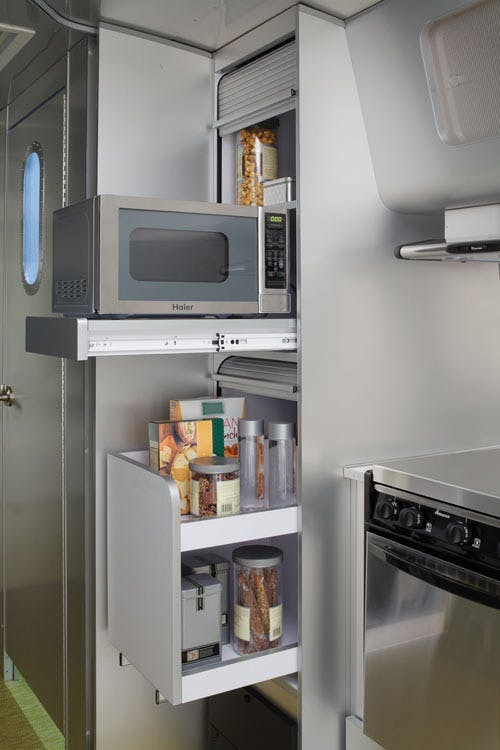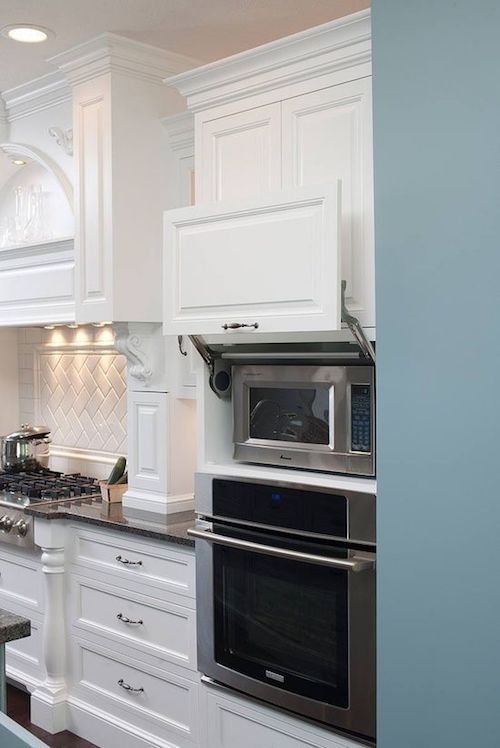 I bought bigger mugs… then I bought BIGGER mugs… then I bought THE LARGEST MUGS ON EARTH… thinking that if I could CONTAIN the liquid in a big enough container, it would not spill when CRASHED INTO THE MICROWAVE.
FYI:
it still spills.
Just THINKING about it makes me mental.
It makes me SO mental, that I EVEN ASKED HIM TO STOP MAKING ME INSANE.
And you know what he said?
Why do you need to control how I make coffee?
GENIUS.
I bow.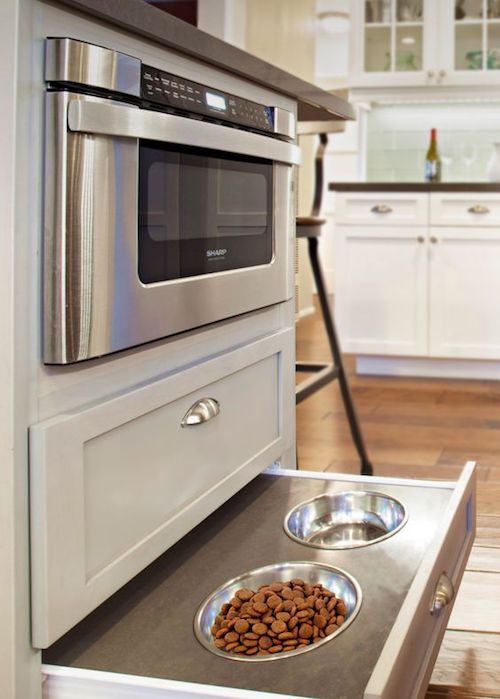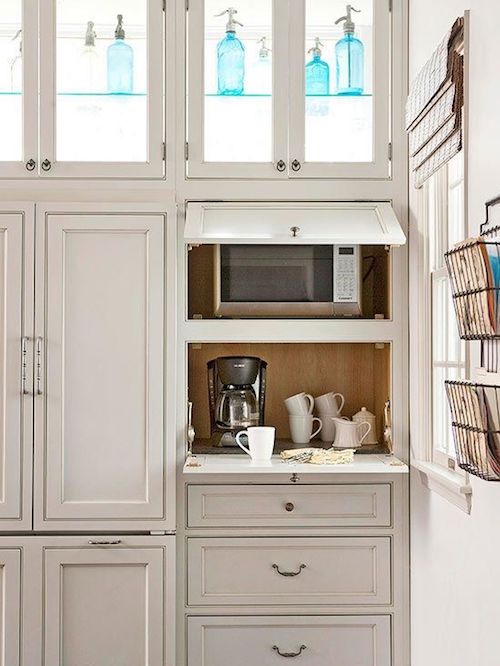 The drawer would be like ASKING FOR MORE OF THAT.
No drawer.
Ok! now is when you tell me your secret perfect solution!
We do not need to have the conversation about whether the microwave should go over the stove… I agree that it is convenient and solves all the layout issues.
But visually, I don't like it.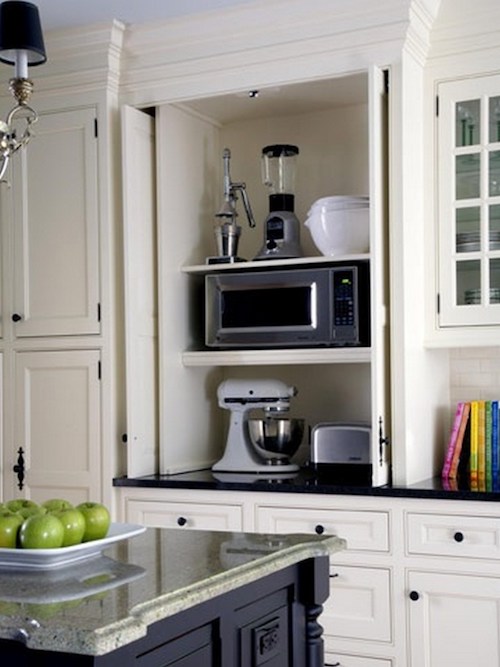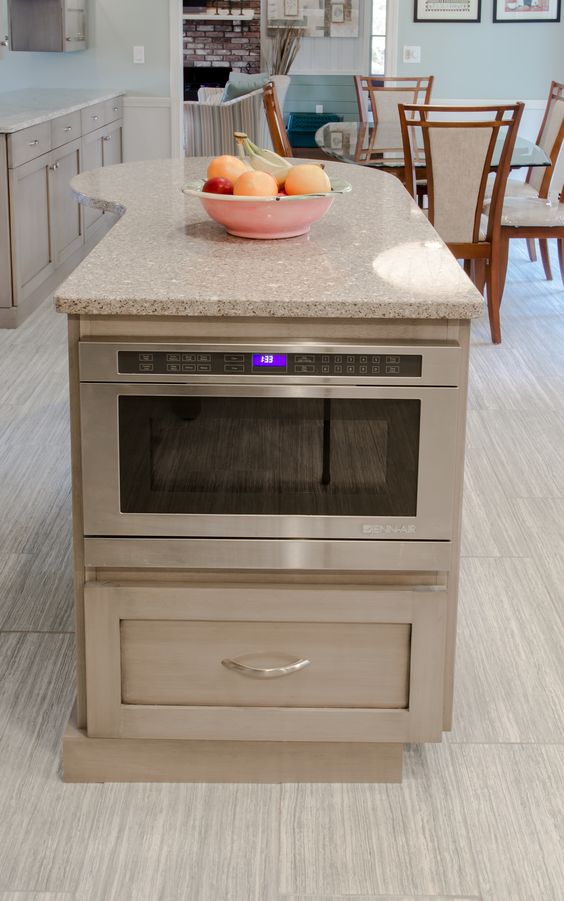 END microwave post… brief housekeeping.
I'm getting this questions a lot:
Have you considered repurposing antique furniture for the kitchen cabinets?
Short answer: YES… a brief selection includes:
1. Repurposed / Reclaimed / Nontraditional Kitchen Island Inspiration.
2. Actual STUFF I considered for a repurposed kitchen (the bank table still gives me FITZ. I still cannot afford it.)
3. In case you didn't know that Pilar Guzman's kitchen is my ULTIMATE DESIRE.
4. More antique wardrobes-into-kitchens
This post sums up: One last hurrah… giving up a repurposed kitchen design.

Long answer: if budget was no issue, this would have been a magical solution… and also my entire life would be magical and I definitely would not be writing this blog about MICROWAVES because I would be out frolicking in the magic fields.
MORE LONG ANSWER: the piano-into-island spoke to me so LOUDLY that I felt– YES. Whatever comes next definitely needs to incorporate THIS.
But that complicates the outer cabinets.. anything that goes on the perimeter needs to be an appealing complement to the piano… AND I have no idea what kind of perimeter-amalgamation-buffet-nightstands-bookcases-library-cabinets… would be incredibly appealing to ME… while also not being nine million dollars… while also being a compatible size AND construction.
Paul cannot just hack into anything.
Even I must acknowledge this.
Then I got the lady mirror… which… sorry I am getting into the word-weeds here… You can stop reading… Nothing important is happening.
I had sort of waffled on that Renaissance Revival auction mirror –I had thought that the straight sides would be better for accommodating some kind of open shelving… but writing this out reminds me that the lady head mirror SPEAKS to me in relation to the piano. So I'm calling that decision.
Anyway.
A very long way of saying: the perimeter furniture would need to complement many things, be affordable, and also be plentiful.
And also: I haven't FOUND IT… despite LOOKING!