The day after moving is usually a time of reorganizing.  Of shuffling boxes around.  Of moving one pile to another…  A time of trying to find basic necessities like towels and the coffee pot.
But instead?  The day after we moved in, Paul woke up at six in the morning.  He built three-stories worth of scaffolding.  Then he strapped himself into a harness and climbed roughly 1,000 feet in the air.
I was like—wow.  This house will be done in NO time.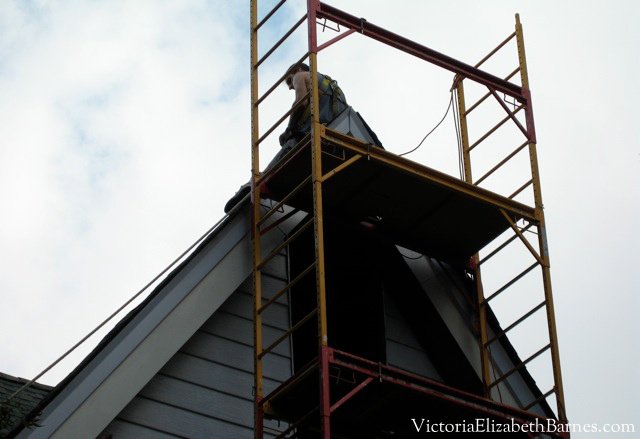 There is something about watching your husband catapult himself out of a hole in the roof.
It gives you the idea that THIS is how husbands should spend all their time.
Not actually OUT on the roof, but just jumping out there…  The act of springboarding themselves into thin air.  Preferably shirtless and sweaty.
I'm pretty sure E.L. James does not know about this, and I feel sorry for her.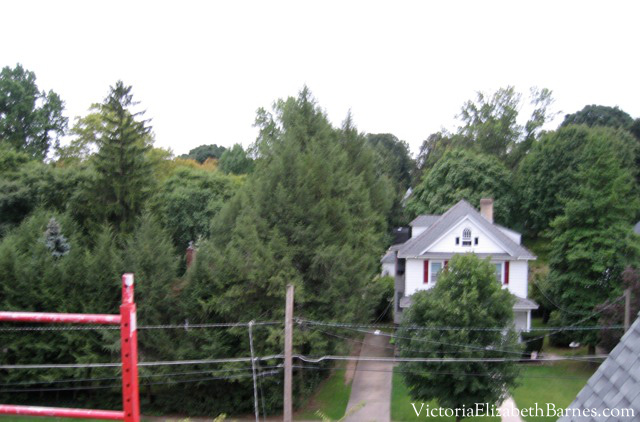 Moving here felt like an adventure. Yes, it was a mess.  Yes it was chaotic.  But I loved the house.  I loved the double front doors.  I loved the spindles.
I loved the overgrown front porch… I loved sitting out there, under the disturbingly-orange roof.  I hung Chinese lanterns, and at night, it felt like an old camp in the Catskills.  Like we should make gin and tonics.  And that Patrick Swayze might show up and ask me to dance.
I loved the rotting.   I loved the disrepair.  I thought it was fun.  Romantic.  Squalid…  And, if Paul left me for someone easier-going, I could just morph into Edie Beale.  And get more cats.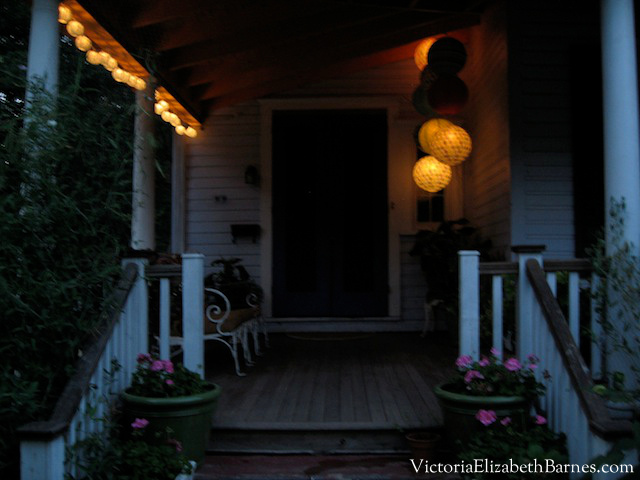 Part of all that love, was how I really had no idea.
I had no idea that entire years later, there would still be rooms that looked like we just moved in.
I had no idea there was a million pounds of concrete hiding in the bathroom.
I had no idea how the adrenaline wears off.  And is replaced by frustration.  And how stress and tedium and dirt become defining aspects of the project.
I had no idea how the stress and tedium and dirt actually become the other person's fault.  And you will want to TELL them.  And?  Mysteriously?  They will not be receptive to the information.
But?  At first it was fantastic… the way voluntarily uprooting your life initially feels like a whole NEW life.  Rather than your old life, with brand new problems.
We were having fun.  We hadn't disagreed over anything yet.  We hadn't shredded each other's last nerve.  We hadn't polished up our worst characteristics, and then defended them as valuable and important.
We had sold our old, charming house ourselves.  We'd had a bidding war.  We'd gotten this house for a good price… We'd flown past every predicted hurdle.
We'd packed up all our stuff.  Nothing got broken.  Our buyer showed up at closing… Everything followed the absolute best-case scenario.
All of that made us feel lucky.  Special.  As though our decisions were somehow sanctioned by the good-luck gods.  And therefore had some greater meaning…  Like a metaphysical endorsement of our choices.
It's so easy to be in love and have fun with all that newness and adventure.
The hard part is keeping it.
Keeping it when you have totally different ideas about what should happen next.  Keeping it when your husband does something so rage-making that you literally cannot even comprehend how he thought of it.
In retrospect— the first month was easy, because I had no opinion about whatever was going on up there on the scaffolding.  And I can see now, how much simpler that made everything.
Neither of us considered this was the last instance of me NOT having an opinion.
Or what would happen when it was time to bring it inside… how Paul was going to want the same game plan:  just him and his harness and the sky.
His expectation that he would be granted carte blanche from The House Committee.
And how my failure to meet that expectation would turn me into The Rule Lady.
Also known as The Mortal Enemy.
First rule?  Containment.
YOU MAY ALSO LIKE: