These are just the dahlias that I am growing for the first time… You can see my full flower order and last year's favorites in my earlier dahlia post. I am leaving out anything I'm not happy with or that isn't performing well.
Overall I like a pink/yellow color scheme with some purple/orange for variety and contrast… But sometimes I get distracted and start thinking I need extra variety. Which is always a mistake— I am someone who needs no variety at all.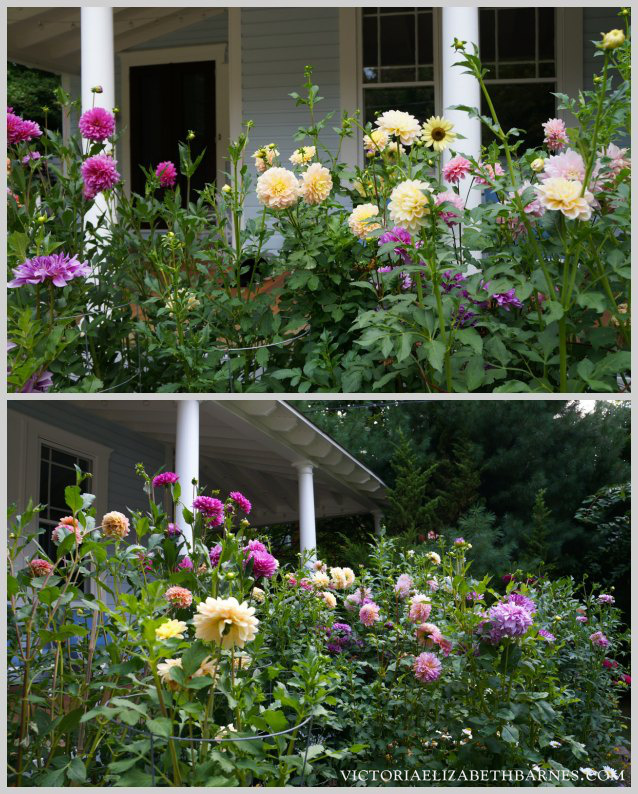 I took these pictures over the weekend.  It's my favorite thing about dahlias– everything else is dying back and they are just getting started.
I grow my dahlias in tomato cages… not too pretty for the first two months, but saves me staking-duty. Plus, tomato cages are worthless for actual tomatoes, so you can sometimes find them on trash night.
I'll write the flower/my impression above, then share the photo below.
Oregon Reign is nice. I like the streaky petals, and the blooms are pretty large… you could compare it to a smaller version of Vassio Meggos.
Bluetiful is very pretty. But it did not get very tall for me. I have two and they are both hidden by larger plants… next year I will be sure to plant these tubers at the front of the bed.
Both have nice full foliage and blooms in the purple/lavender family… (although I think "blue"tiful is a stretch.)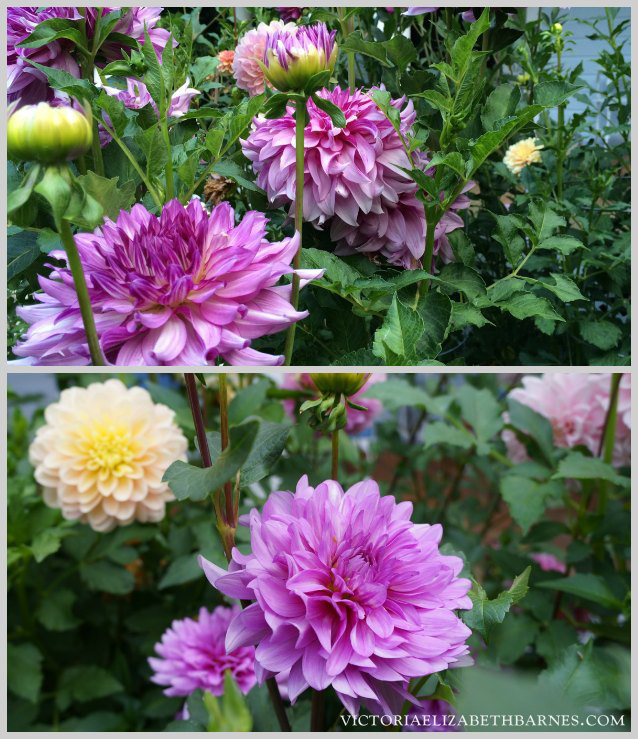 Heather Feather and Innocence are similar. (Innocence is lighter.) Both very pretty flowers, sort of similar to Randi Dawn, (second photo in that link– it's my favorite waterlily dahlia.)
I like the more intense pink of Heather Feather, but Innocence is giving me bigger/more flowers, and is a bigger plant overall.
Daydreamer is one of the best new dahlias I tried. It was the first to sprout and bloom and it has a great waterlily shape… It's a nice size flower and the more intense initial color fades to a light yellow but it doesn't look tired.
Nicholas has stems that are not super long, so you end up with some flowers pretty much inside the plant, but the color is a great peachy-orange, not a light red or muddy yellow, and the flowers are large.
Both have very full foliage and lots of blooms.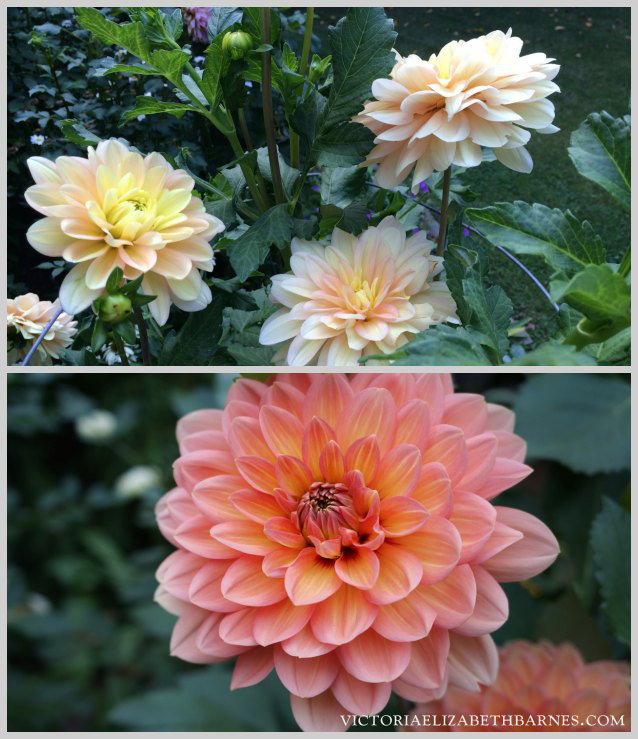 Sheer Heaven is light peachy-yellow, less-intense than Daydreamer. Nice foliage and blooms.
Cameo Peach is a pretty flower, but for some reason I do not find it remarkable one way or another.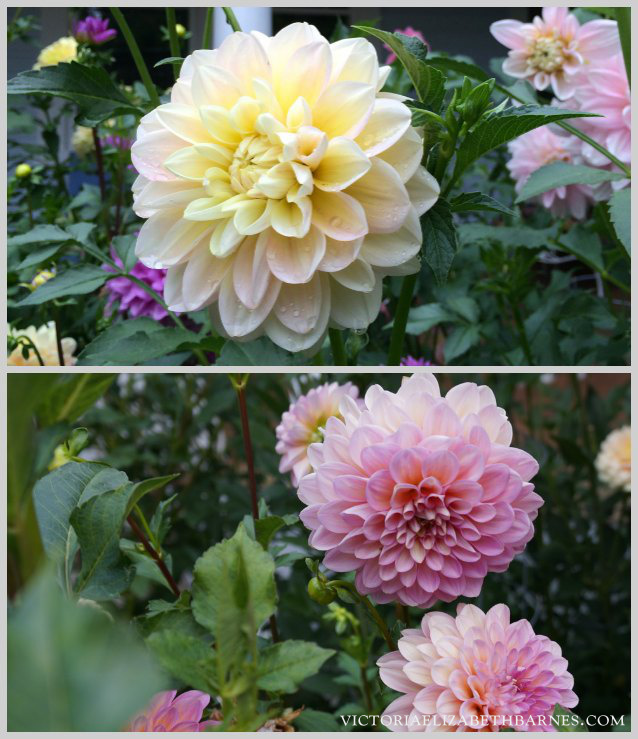 Blah Blah Blah is a color combination of rose and dusky yellow. I thought the colors would seem kind of vintage-y and cottage-garden-ish, and they do upon close inspection (or in photos) but from a few feet away, it is… blah (which I guess they tried to tell me)… the flower/color doesn't pop out. Plus, it is small. But it's made a really nice cut flower– great long stems and good vase life.
Gabriel Marie is a replacement tuber that I did not choose. (Some tubers will not sprout, and then you need to get a replacement… and by the time you realize this, they might be sold out of the one you ordered, and then they just send you whatever they have.) This rarely ends up in a flower I like, but Gabriel Marie is one I'll order again.
It is a very prolific bloomer. Not too tall, but lots of plant. It has almost a sunset look to it – the center is very dark orange, but the surrounding petals are more yellow.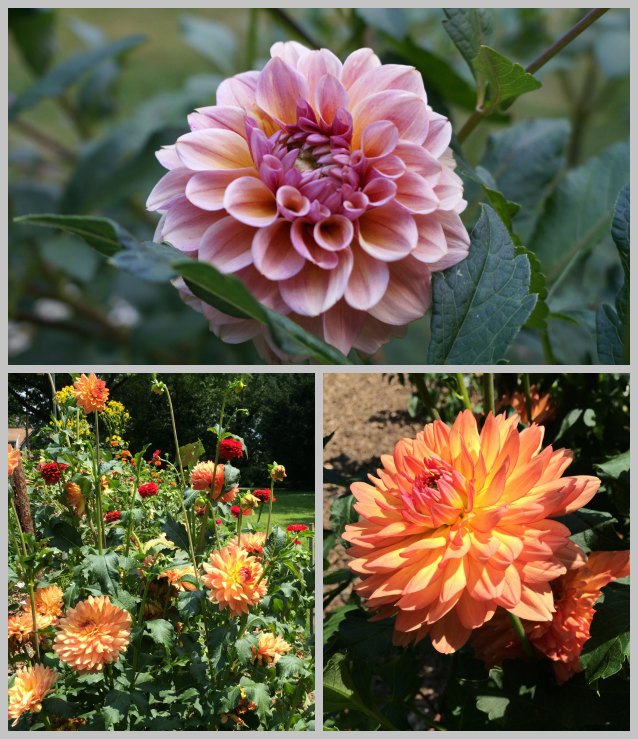 I received some other replacements, none of which are worth writing about… and I grew some others that I don't love, so didn't bother taking pictures.
For instance, I ordered Boogie Nights– because I love the movie of the same name**— and surprisingly it turns out that is not a good way to pick flowers… it is too dark, the flowers are small, and the plant isn't very full (although it is a dahlia, so it's possible that if I moved it five inches to the left it would explode with amazing size and vitality.)
**I am compelled to specify that I am not endorsing the movie… unless you like deliberately tacky, retro, and naked Marky Mark. Which I do.
If they made a Magic Mike dahlia, I'd order that too.