I like my New Year's resolutions to avoid any whiff of self-evaluation. I am already the best at what I do: irritable, controlling, whimsical, hoarding, weird grammatical choices… there is no room for improvement.
As validation that I am doing life extra right, the universe has sent me yet another giant piece of furniture that I do not need… practically for free.
Thanks, universe!

Paul and I were both home… We had an out-of-town event and were planning to leave around noon.
By 11 o'clock, I still hadn't taken a shower. Or packed. Or generally done any of the things I needed to; but because there is never a time when procrastination is not appropriate, I decided I should look on craigslist.
And? This is why you always, always, always, always check craigslist.
No. Matter. What.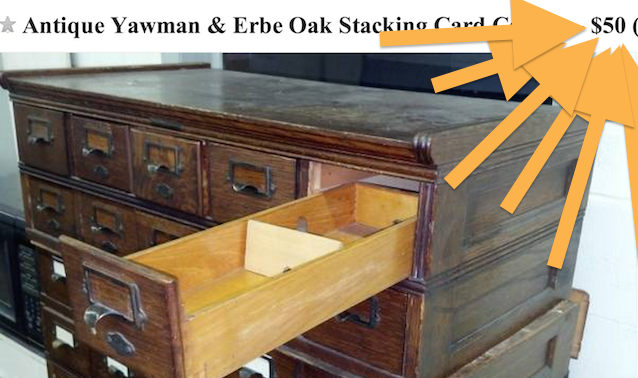 I already said this in the Victorian Wardrobe post but it bears repeating:
When there is something on Craigslist that you really want, and it is listed for a ridiculously low price, you must contact them correctly.
To stand out from the 400 emails the seller is going to get, you must be the one person who requires nothing. You must be a beacon of simplicity and straightforwardness:
Hi,
I want that.
I can come anytime.
I can move it myself.
I don't need your help.
Here is my phone number.
My social security number.
My bank account number.
Then I went and said to Paul– small detour ahead.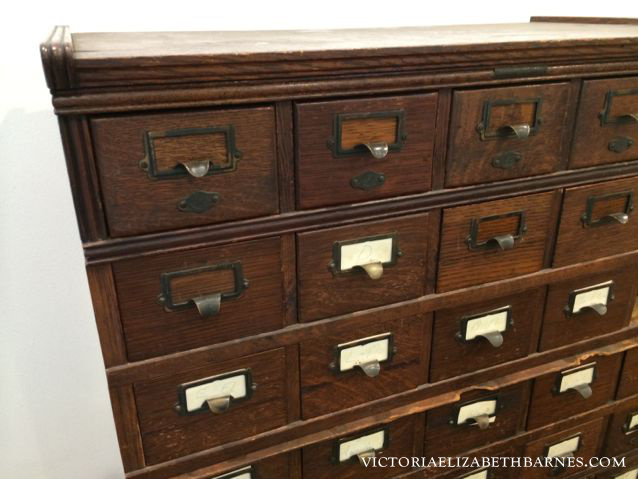 Paul said – you know, we need to leave pretty soon.
And I was like – yes. I know. THIS IS WHY I NEED A CREW.
He looked at the pictures and said – I thought you didn't like oak?
I said – true. I do not like oak. However? For $50? I REALLY LIKE OAK.
It was not even 10 minutes away— in the loading dock of an office park.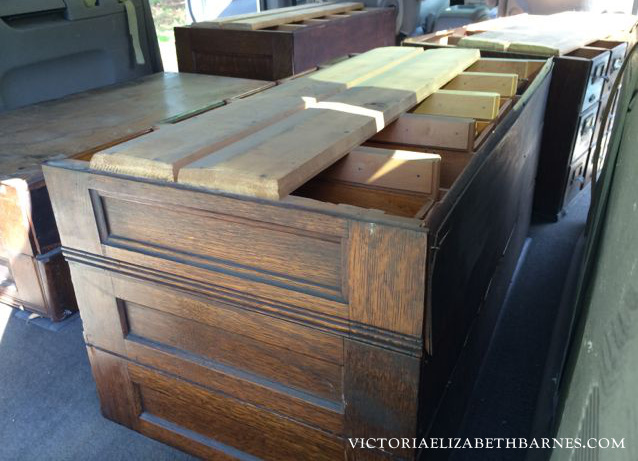 It's not in perfect shape, but for $50? It's in FANTASTIC condition.
In the craigslist photos, I could kind of see that something was off about the stacking… if you look above, you can see that there is a thin, chipped board sticking out; but it turned out to be no big deal– at some point they had split up the sections and made a makeshift top.
It's missing two strips of the decorative molding… one of which we found in a drawer.  We'll hold off on reattaching it until we figure out what side needs to be the "good" side.
**random transition**
This post has been sitting, (unfinished) for over a month now…
I have tried to end it a couple of ways: speculating on what I might use a 55 drawer card catalog for. Gibberish about repurposing it for the kitchen. Trying to think of new and ridiculous ways to stage it.
But what does it really matter? I've acquired it, it is awesome, eventually its purpose will be revealed.
The End.
OR
It will serve no purpose, and it will just take up a giant chunk of space and become yet another unusable area of the house.
Based on my research conducted over the last weeks, this is the likely outcome.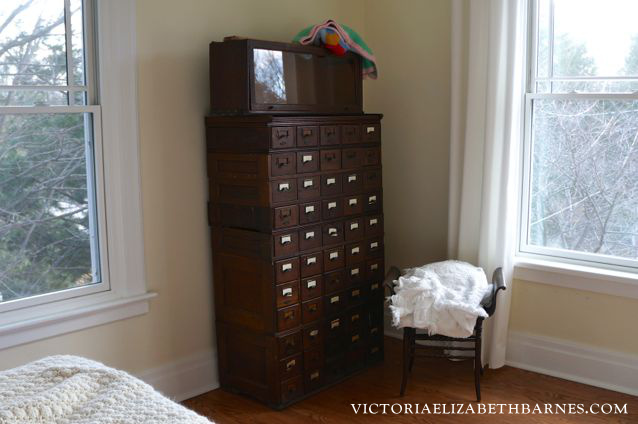 I've moved it from room to room to room to room to room… stood back and thought – that does not look right… then after a few days, I start stacking other unused furniture bits on top.
If I reach the ceiling, I win some kind of disorganized/hoarding prize.
see all my favorite Craigslist finds