The sensation of having adrenaline injected directly into your brain, in the form of the thought:
I AM GOING TO WIN.
Is how people end up broken and destitute.
I know this FOR SURE, because I bid these urns up to nearly $1,200.
BECAUSE THEY WERE MINE.
(Although, it turns out they are not.)
When I left for the auction, I told Paul that my top price was $400-ish for the pair. In reality, it was closer to $500-ish… and in extra reality, some part of myself believed that budget was irrelevant because the urns already cosmically belonged to me and it was just a matter of waiting around to collect them.
After I had been at the auction for an hour, I raised my mental bid-bar to $600… ish.
Just to be safe.
But also because myself pointed out to me that if I thought of the price on a per-urn basis, magically, they were half as expensive!
Self said— $300 per urn is ALMOST the same as $250! Just with slightly more gravitas! You could even go to $350 and still be in the ballpark!
Self also decided to ignore the 18% buyer's fee and 6% sales tax in favor of convenience and not having to do math.
The bidding began at $100.
Cue music: Eye of the Tiger.
Things moved quickly… According to plan, the other bidders in the room dropped out around $500. But there was a problem– there was a phone bidder who apparently did not get the memo about how I was going to buy these urns for NO MORE THAN $600.
Somewhere around $700, I lost consciousness.
I began bidding in a fugue state… A blackout I can only attribute to my psyche having decided that without the urns, life was not worth living.
As I inched higher and higher— locked into mortal combat with the unknown assailant on the phone… we entered the $900's and I had the thought – I am doing a BAD thing!
I looked around to see if anyone was coming to arrest me.
But they weren't.
Self instructed me– GO. MORE. FASTER. MINE.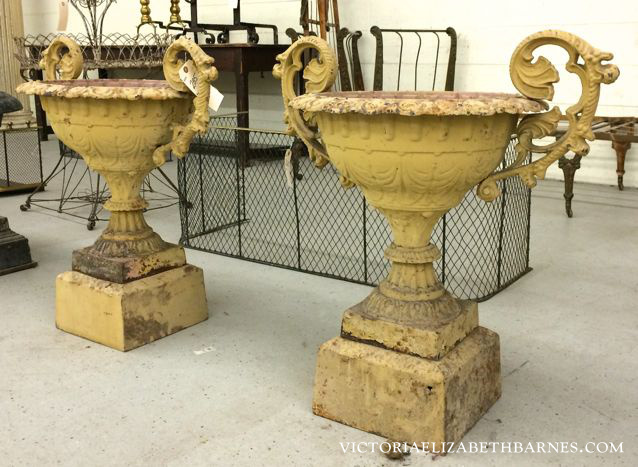 At NINE HUNDRED AND FIFTY DOLLARS, I tried to do some quick math to figure out exactly what I was spending.
$950 + 18% buyers fee = $1,121
$1,121 + 6% sales tax = $1,188.26
The above equation is done with a calculator. Sitting at the actual auction, it was more like this: WAY MORE money than I planned to spend + ANY MORE amount of money = HUGE AMOUNT OF MONEY.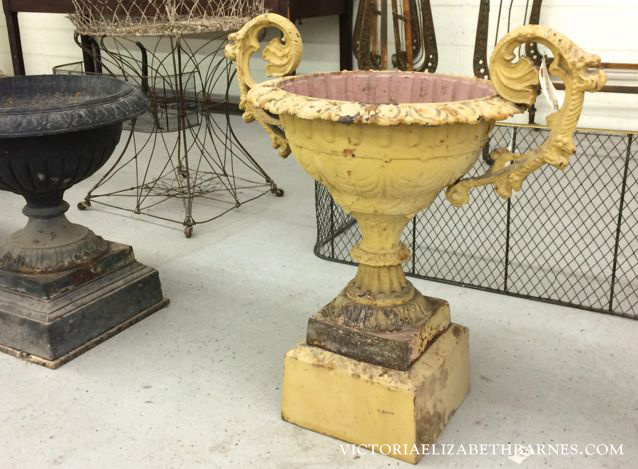 Up until nearly $1,200:
I was CERTAIN I was about to win.
I was CERTAIN that the urns were MINE.
I was CERTAIN that Unknown Assailant was just about to cave.
But at some point I had to consider that my certainty was unfounded… Because actually, Unknown Assailant seemed perfectly willing to continue ad infinitum… I really have no idea WHAT I would have needed to pay to win these.
Self said – this is not about money! It is about destiny! If we do not win, the rest of life will be a slow, meaningless plod through an urn-less wasteland.
Who wants that?
Teaching me two important auction-truths and illustrating the fundamental unfairness of life:
sometimes your own destiny walks off, hand-in-hand with someone else, while you sit on the pavement and sob.
just because you are too poor, does not mean that the other bidder is also too poor… in fact, they may have ALL THE MONEY IN THE WORLD TO SPEND ON URNS THAT COSMICALLY DO NOT BELONG TO THEM and your experience is not even relevant to the situation because you are just someone who has lost control of their senses and must scurry backwards.
Then you wonder:
Why must I be the scurrier?
Why?
I have some fairly deep-seated childhood issues surrounding that question and I am pretty sure that the urns would have resolved them for me… it is unfortunate that now I will be forced to continue, unabated, my deeply flawed existence.
see the antique urn we restored