No fun preface today because I'm having a crisis and I need your help.
(If you're only here for the party, go read this post where I tried to get Paul to help me sew Christmas bows.)
This is why I need your help:
UNIVERSOUL CIRCUS IS THE WORST.
I've written about circus animals before, but how can I make a real difference? How can I be more effective? (hint: this is where you come in.)
I made a short video to jazz up my soapbox, and I uploaded it directly to Facebook… my hope is to reach an audience much larger than my own; and this is the simplest way I could think of to share information.
In the interest of time/narrative/internet-attention-span, I'm limiting my content to tigers… tigers used for "entertainment" are my own personal hill-upon-which-I-will-die-(and-keep-forcing-you-to-read-about.) ESPECIALLY the tigers used at UniverSoul circus.
Their "owner" Mitchel Kalmanson, is REPEATEDLY CITED for treatment of the cats that is horrific and makes me want to light myself on fire.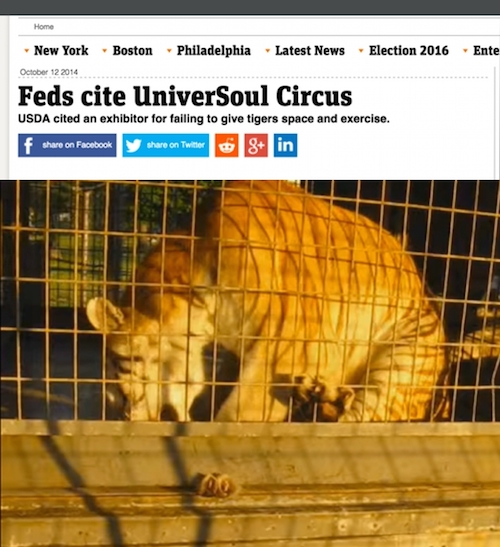 Here is a SIXTY-FOUR PAGE pdf of all Mitchel's USDA and U.S. Fish & Wildlife Service (FWS) citations, fines, and violations of the Animal Welfare Act, that I could find. Let's assume if I spent another 40 hours looking, I could find twice as many.
Not that it matters, because he just pays the fines and gets to keep doing the same thing.
So. CLEARLY Mitchel Kalmanson is a man who needs me to be WAY more involved in his life; and as soon as I get done this circus business, I am going to get right on that.
In the meantime, here is short list of his greatest hits:
– cited for failing to provide the animals with water, food, ventilation, space, and exercise… (otherwise known as the ability to sustain life.)
– cited for feeding cats rotten meat,
– cited for holding cats in trailers filled with excreta and infested with maggots,
– cited for denying animals veterinary care, (including a lion cub who died of metabolic bone disease caused by an inadequate diet of aforementioned rotten meat.)
– cited for keeping tigers and a cougar confined to unsuitable cages inside transport trucks during 90-plus-degree-heat without access to water in a mall parking lot… It took the USDA TWO DAYS TO INVESTIGATE THIS REPORT… two days the animals baked in a mall parking lot inside a tractor trailer.
– cited for refusing to allow USDA inspectors to investigate the animal's welfare.
**douses Self in kerosene and lights match**


UniverSoul denies any responsibility for the animal acts they hire; offering this disclaimer: "Any and all animal acts that perform with the UniverSoul Circus must be in compliance with federal, state and local rules, ordinances, and regulations."
This is utterly meaningless seeing as how Animal Welfare Act violations are enforced by FINES. When the fine is paid, the animal contractor is in compliance.
Besides, seeing as how it's LEGAL to keep wild animals in a tiny cage for their entire life, bereft of any kind of normal existence, (as long as you give them water,) the idea of being in "compliance" with the law is hinged upon the acceptance of treating magnificent living beings as objects whose suffering is irrelevant.
**Self's rage fire burns with the heat of 10,000 suns**
**Please don't make Self live with her rage fire all alone.**
HOW YOU CAN HELP:
1. Be a voice for animals.
Share information LOUDLY.
Tell EVERYONE.
Our beliefs are not what define us as people, our actions are.
Just sharing once on Facebook isn't enough… we REALLY NEED TO BE PERSISTENT… If Paul Revere had just Tweeted that the British were coming, and then was like, DUDE I'm so busy! I don't have time for the revolution… we'd all be having an afternoon snack called tea.
Take the time to truly explain to your friends and family WHY you don't support circuses that use animals… plenty of people really don't realize at all what these animals endure, and a change in perspective can make all the difference.
2. Go to UniverSoul social media pages.
Leave a comment asking them to end their support of animal abuse!
facebook.com/universoulcircus
twitter.com/universoulcirc
instagram.com/universoulcircus/
You can retweet mine:
. @UniverSoulCirc Keeps tigers caged 24/7!! deprived of any semblance of a natural life. used as props in magic act. https://t.co/DkCJtLLacS pic.twitter.com/G7XTCYRfSy

— Victoria E Barnes (@victoriaEbarnes) November 22, 2016
Here are some comments you can copy/paste/edit.
The animals in your circus are deprived of any semblance of a natural life… forcing tigers to endure enormous suffering so that they can be a prop in your magic act is MADNESS! This is the year 2016! HOW ARE HUMANS NOT BETTER THAN THIS YET?
Keeping living beings in chains and cages is NOT entertainment. Wild animals belong in the wild! It's time for change!
Hello fellow animal lovers! I was horrified to learn that UniverSoul Circus is the WORST for animals!!! (google: UniverSoul animal abuse!!) EVERY SINGLE ONE of their animal acts has a long history of Animal Welfare Act violations!
They are abusing elephants (google it!) and the big cat act is horrifying! The tigers are caged 24 hours a day, 7 days a week!!! THEY NEVER LET THEM OUT!
3. Write and call UniverSoul directly.
Tell them that the circus is no place for wild animals.
Telephone: 404-588-1235
hernest@universoulcircus.com
wthomas@universoulcircus.com
tjones@universoulcircus.com
Info@UniverSoulCircus.com
Here is an email you can just copy paste:
Subject: the circus is no place for wild animals!
Dear UniverSoul,
According to the USDA, the animal acts you contract with have lengthy histories of repeatedly violating the Animal Welfare Act (AWA)… But even if that wasn't the case, wild animals don't belong in the circus!
Circus animals are deprived of any semblance of a natural life– please end your support of this abuse!
Wild animals are not entertainment.
It's time for change!
Sincerely,
Victoria Barnes
832 Park Ave
Fancyville, GFT 01010
555-1212
(I always include my personal info… I think it says, I'm HERE. And I'm REAL.)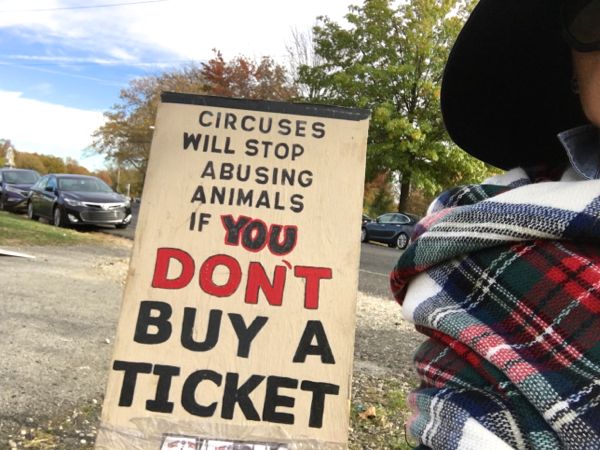 Bears do not want to ride bikes, tigers do not want to jump through fire, elephants do not want to stand on their head… Animals forced to perform in circuses are "trained" in extremely violent and inhumane ways: electric prods, bullhooks, whips, muzzles, chains, restraints.
So many places in the world have banned animals in circuses, but the United States continues to allow it! Yes, there are American cities who are implementing more progressive policies, but at a pace so slow as to be useless to the animals.
Wild animals DO NOT BELONG IN PRISON FOR OUR ENTERTAINMENT.
This is not a life for any living being.

Alright. I suppose you get what I'm saying and I can wrap up the all-caps brigade.
In closing, if you are in Philadelphia… UniverSoul is here through Sunday night, November 27th… They've been here since November 3rd– putting all of us who protest them through an endless shuffling of schedules and driving and hauling signs for a total of 38 shows at which we raised awareness that UniverSoul Circus is profiting from animal abuse.
We are tired, but we are still showing up for the animals!!! We'd love to have you join us! We have signs and flyers, all you need is yourself!
If you are still reading this, YOU ARE MY PEOPLE.
I AM THANKFUL FOR YOU… From the bottom of my heart.
p.s.- I got a new foster baby.