this is part 4 of the piano… here is: part one, two, three, five, six, seven
1. We are going to replace the top of the piano.
I do not want to have to be careful with the original wood surface, so we are going to replace it with a slab of countertop material.
Carrara is my first choice, despite knowing the arguments against it, and despite the commitment involved with spending the next chunk of my life patrolling the island to be sure no one touches anything.
The floor of the piano box is SOLID. (It is built to support the harp which is heavy.) Paul will build a structure internally to make sure that the marble is supported across the entire span.
Removing the wood top will also give us some spare material – no specific plans for it, but always good to have.
2. I keep forgetting to tell you how surprisingly ideal the piano's height is: 38" tall.
This is slightly taller than a standard countertop height, but I am used to working at a 40" high workspace— I am 6 feet, Paul taller… and when we DIY-ed our original (luxury) custom island, I had Paul jack up the height of the countertop.
I have been testing the piano as a workspace, to see if I want it taller, but it feels good.
3. My goal is to make the piano a truly functional workspace.
That gives us two totally different options:
sink in the island.
or
storage in the island.
4. Sink in island option.
The space is there, and we could configure the plumbing to be as hidden as possible… what we cannot hide, we could sort of mask (at least on one side,) by using the decorative foot pedal as a guide.
We could not make it totally invisible, but if we used copper tubing and were careful to align everything, we could do a decent job of something vaguely steampunk. Or, at least not horribly unsightly.
Do I think that is the best plan? No. But all along, I have been considering a kitchen design where we move the sink into the island because it would free up the sink wall. Which would give us the option of doing a full wall of cabinets.
All in the pursuit of finding space to install a yet-to-be-discovered-and-may-not-even-exist-magnificent-perfect-size-nine-foot-tall-seven-foot-wide-bookcase-to-repurpose-as-floor-to-ceiling-cabinetry.
If I commit to the sink on the wall and two months from now we find the perfect thing for that space… I might have a nervous breakdown. (Paul says not to worry– while I am in the sanitarium, he will finish the kitchen in peace.)
The thing that finally discouraged me from sink-in-piano was the dishwasher… I cannot come up with any configuration that is not utterly ridiculous.
We played around with the idea of dividing the empty space under the piano, long-ways: building a wall down the center with the spare wood from the piano top we removed. This would allow us to build a back for a dishwasher/cabinet.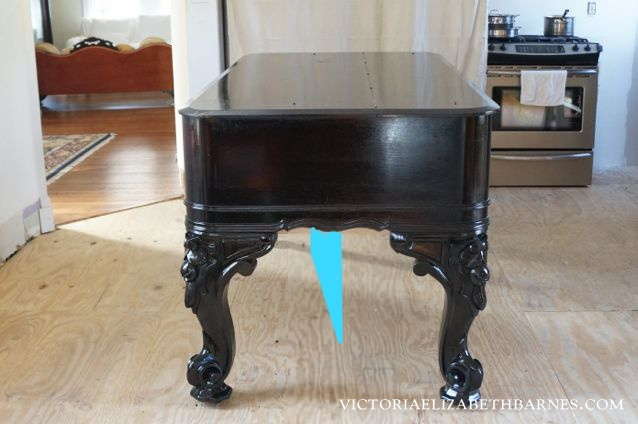 I also looked at dishwasher drawers. Maybe one on either side of the sink… At some point I even started to think – maybe we DON'T need a dishwasher?
But while I feel like we could do a good job of camouflaging the back/sides of the dishwasher, I was never satisfied with how we would integrate it in the front.
Plus, Paul kept going on and on about how if we cut a giant chunk out of the bottom of the piano, we end up with an entirely new problem: stability.
Which brings us to this plan.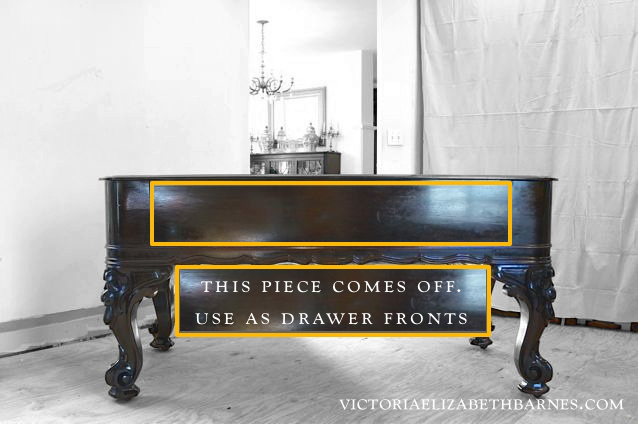 5. Drawers in island.
Ultimately, I think the best decision is to preserve the furniture-ness as best we can.
The last thing I want is some configuration that is offensive to the dignity of the piano's appearance, and I'm not too excited about the idea of a faucet sticking up out of my isle of beauty and Carrara marble and shrine to awesomeness.
Also, I have been saying all along that ALL I needed was JUST ONE giant fancy thing… And that when I found it, that GFT would dictate everything else: layout, design, sink placement, range placement, EVERYTHING… So this really is what I have been waiting for; it's just that hoarder-brain always wants to point out ways to get more GFT's.
So I think drawers are the best solution… you can see how the marble-supports are going to integrate with a drawer structure.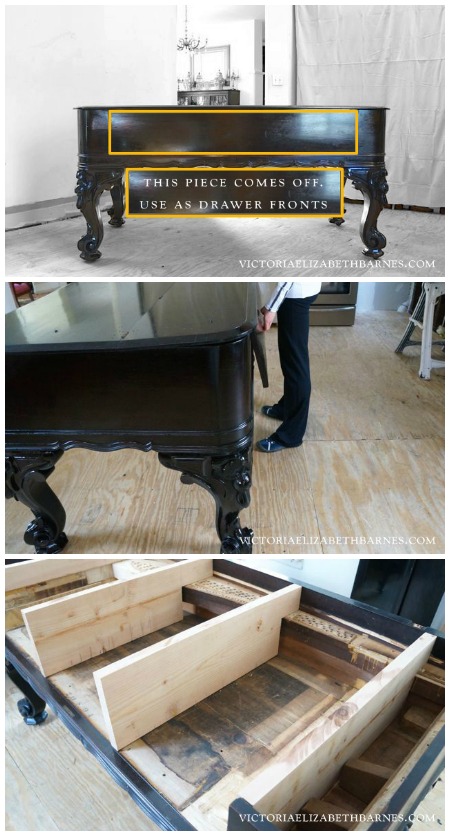 Paul is on vacation this week and enjoying a relaxing time full of math and building what I have made up in my head… we'll see if I can do my part to improve his time off even more, by finding something REALLY RIDICULOUS on Craigslist.
I will receive extra credit if it won't fit in the van and needs to be tied to the roof. And extra, extra credit if it serves no purpose at all. (This would be ideal
, and if one of you near Chicago can go get it, you will save me a lot of driving.)
Wish me luck.