I haven't written about the front porch for over a month now…
Incase you thought that was because we magically finished?
We didn't.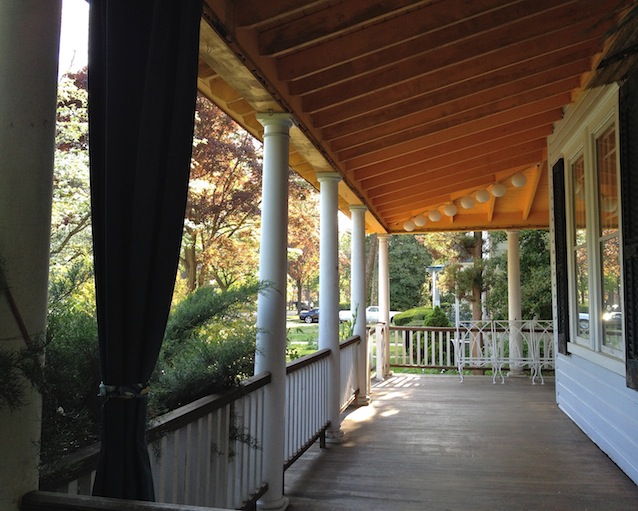 The front porch has been the summer's big project.
And as happy as I am with the outcome, the idea of digging back into the details isn't appealing.
The idea of coming up with snappy explanations.  And descriptions.  And making paint-sprayers and wood siding interesting.  Is a hopeless task.
I would prefer to say:   Here are the pictures.  Figure them out for yourselves…  I am too tired of making decisions to form words where I explain them to you.
Except?  Allowing you the freedom to interpret for yourselves? Would be in direct contradiction to my most central personality-trait:  Narrative Dictator.
So.  We took down the railing.
It wasn't original to the house.  The previous owners installed it to corral their menagerie, and it made the porch feel small.
We patched a giant scar of missing siding.
I should explain how difficult it is to match existing, original, Victorian siding with replacement wood.
And how it's a headache to make it seamless.  But? I have no idea how Paul did it.
Cutting?  Sanding?  Nails?  Math?  I don't know.
But judging from Paul's mood?  It was easy. And fun. Relaxing, even.
Then we borrowed a power washer.
Then?  Since we had to wait for the porch to dry, and since Paul still had the pressure washer, he started washing everything else in sight…
An assault on my other most central tenet:  Hater of Noise…   An ideology in ongoing conflict with Paul's most central principle:  Get Shit Done.
Then we borrowed a paint sprayer.
I'm not sure if the paint sprayer is supposed to make a high-pitched, super-fast chugging noise.  But this one did.  And that noise, following on the heels of two days of power-washing was enough to make me crazy.
But we finally got rid of the circus ceiling.
We went through a couple of five-gallon buckets of Kills primer.
We used the paint sprayer to do multiple coats of Kills on the ceiling, siding, window trim, door trim, columns… everything.
I'm pretty sure there were about 84,000 other steps in this process.  Patching?  Fixing?  Filling?  Repairing? Laying drop cloths?  Taping plastic? Grinding nails off the underside of the roof? Sanding?  Running to Home Depot?  Only to find you did not get the one thing you most needed?
I don't remember…  and I didn't do a lot of it, so according to me, this is all there was to it.
Also according to me:  the next part was the HARD part…  Picking out paint.  And that was all me.
Related Posts: