A combination oven has traditional baking with a standard heating element, PLUS a microwave in the same box; so we can skip having a separate microwave elsewhere.
Here is the blog post where I was shopping for combination ovens and considering our options… visit if you wish to see what I would have bought if money was no consideration— FANCY WITH BRASS OOOOH SHINY.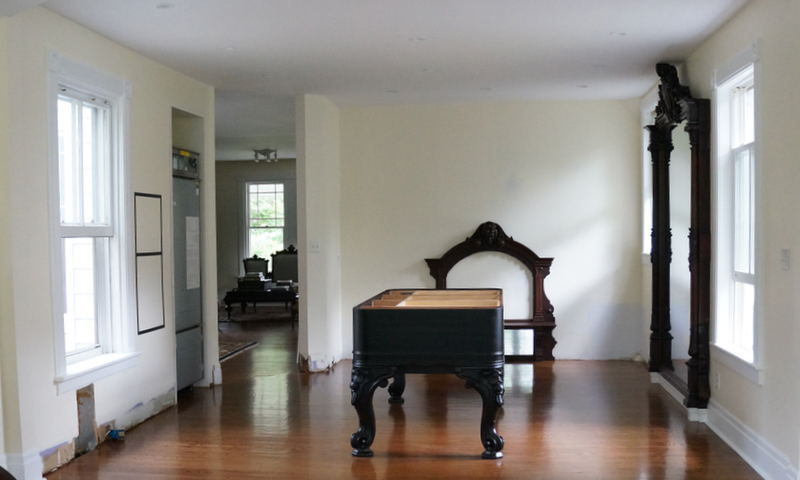 After much comparison, we settled on the Bosch Convection Combination Oven; more expensive than the GE Combination Wall Oven but it gets great reviews and Paul liked some specifications that didn't matter to me because both only come in stainless with black glass so I hated both of them and it is a testament to my unusual and amazing flexibility that I was able to compromise.
Aside, Kitchen Aid makes a WHITE combination oven unit which was what I WANTED… but it gets awfulterrible reviews– at the link there is a photo of the paint inside the oven peeling. Miele also makes white but is $$$$.
BUT! THEN! Amazon! Did you know they have a "warehouse deal" section? I did not! Now I will check there for EVERYTHING because we got white Miele for nearly what we would have paid for Bosch!
It has knobs on the combination oven– a design element I do not like (they do make one without knobs, but it is $4k JUST for the one oven!) But no worries tho– because I am a reasonable person, I only spent 17 hours hating the knobs then I got over it.
lol
no
istillhatethem
I read absolutely no bad reviews for Miele… until after we had them installed— it comes with a glass baking tray that I could not tell if ACTUAL glass or some kind of toxicbakeableplastic. So I googled it; that's when I found negative reviews about the glass tray breaking when whacked.
My reaction to the angry reviewers was— duh… anyone who has ever owned a glass french press KNOWS YOU WILL BREAK IT IMMEDIATELY.
Aside— we use a stainless press and it's AWESOME— totally indestructible AND insulated… I do not even know why they make the glass ones.
Random ending: this kitchen design I came across and wanted to show you… I think this is so smart because the ladder is small enough to be manageable!