My original criteria for a refrigerator was to minimize it as MUCH as possible.
In some kind of vortex of frugal-impossibility, the fridge I had settled on was $1,300 AND had a larger interior than our current fridge, despite having a smaller exterior footprint.
I was VERY pleased with myself.
But, like much of life, my self-congratulations were based entirely on my own stupidity; that's what happens when you are raised by people who have a freezer-on-top-appliance, and the audacity to keep on living.
My blissful ignorance corrected itself IMMEDIATELY, once I saw my frugal choice of standard-fridge; in comparison with tall-and-fancy-and-built-in… Self was like, one of these is not like the other. One of these is SAD.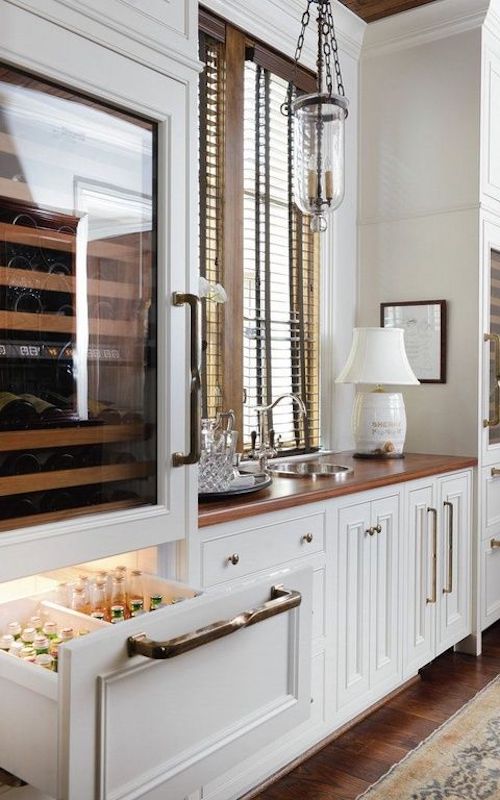 I reeled from the weight of this new awareness: the full extent of my own sadness… SO SO SO MUCH SADNESS.
Bigly sadness.
I realized two things:
1- minimizing something you hate is not the same as a solution to something you hate.
2- anything not bigly sad comes with a snob-tax.
If you can't afford the snob tax, you have to go to Sears scratch and dent.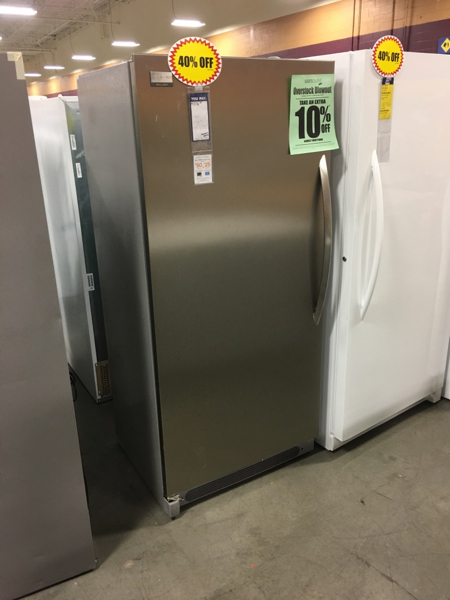 But then it turned out that the original tall/short/SADNESS/visual-issue became a total non-issue… crushed by a larger problem.
Seeing the fridge I THOUGHT was our solution, forced me to visualize EXACTLY THAT in the kitchen.
And THAT made me visualize ANY refrigerator in that space… and I definitely hated all of them… and revisiting this post where we WERE putting the fridge–> ERMAHGAWD, WHAT WAS I THINKING?
Tall.
Short.
Panel.
Stainless.
Glass front.
No matter what, we are putting a cube of metal in ONE corner… AND NOT IN THE OTHER.
The symmetry czar was deeply displeased.
Zeese eeze not korrrrreccct.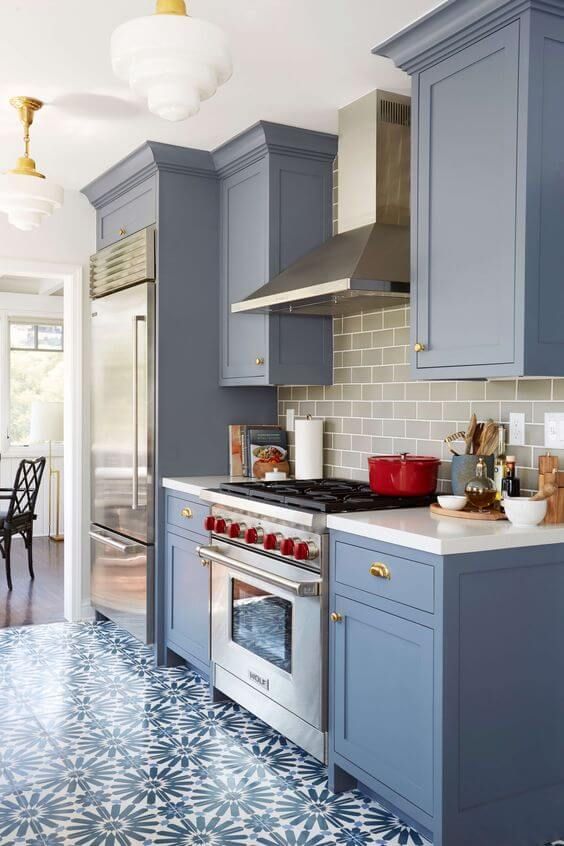 I hated all of it.
I hated it more every single day.
To be fair, I hate everything that is not totally useless, (or made of kittens)… so it's good that I am so full of HELPFUL SUGGESTIONS.
I said— let's just move the refrigerator to the basement!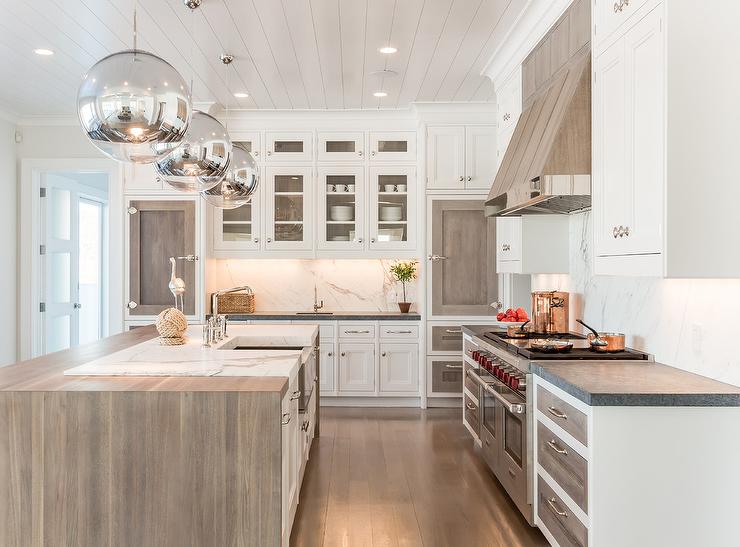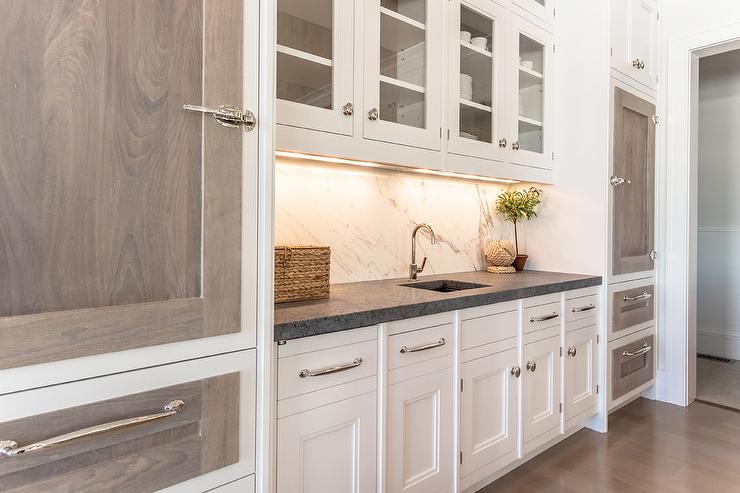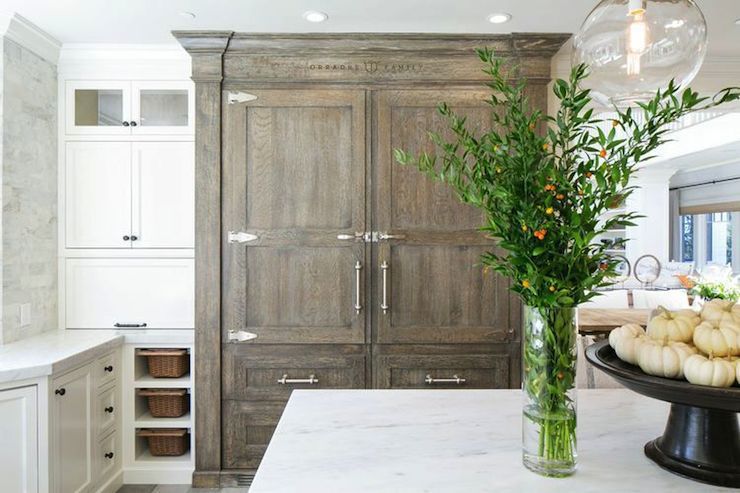 But Paul was like— no. I do not want a kitchen SO INCONVENIENT IT HAS NO REFRIGERATOR.
I was like— I hear you, Paul… I don't want to get out of bed every day. It's called being an adult. Sometimes you have to do things you don't want to.
So I had to wait him out.
Now we are all on the same page.
Sadly, this new page did not come with $10,000 to fund our improved plan.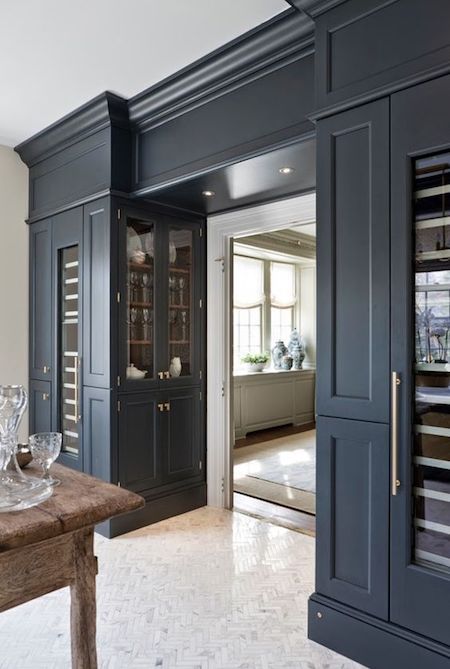 For a while, we considered a fridge-only column… I could get the HEIGHT I wanted, it would be half the cost, and we'd just use our chest freezer in the basement.
Liebherr's just-fridge was the least expensive, at $3,500, (but only 76" tall)… a Thermador fridge column at 83.75" tall was like… BE STILL MY HEART.
VEB+ TalL FRidGE = TruLv.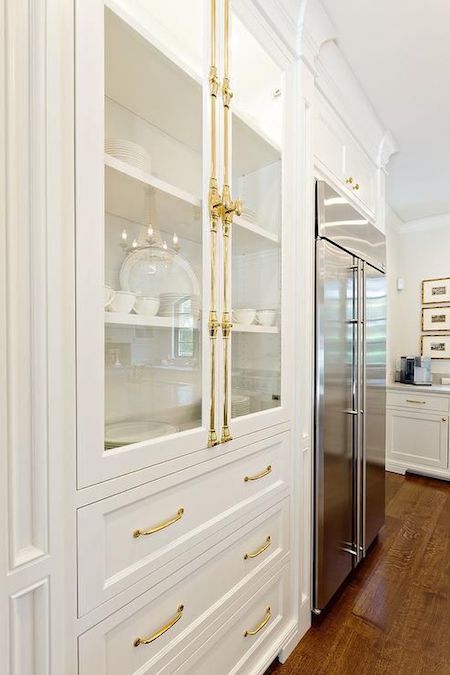 Paul and I talked about DIY-ing some kind of built-in, with a door to match our house's interior doors THE FANCIEST DOORS I COULD FIND.
Then the fridge-space would appear fancy but conceal a shorter/less expensive brand.
But ultimately I decided I would be unhappy with a faux-fancy-front that opened to reveal a squatter… being confronted DAILY by my own fraud would be demoralizing.
For a while, I was enamored with the idea of doing a glass-front pharmaceutical/industrial refrigerator… (that fridge linked, is the same as the photo below,) they are WAY more affordable (and bigger) than the glass-front "real" refrigerators on the market.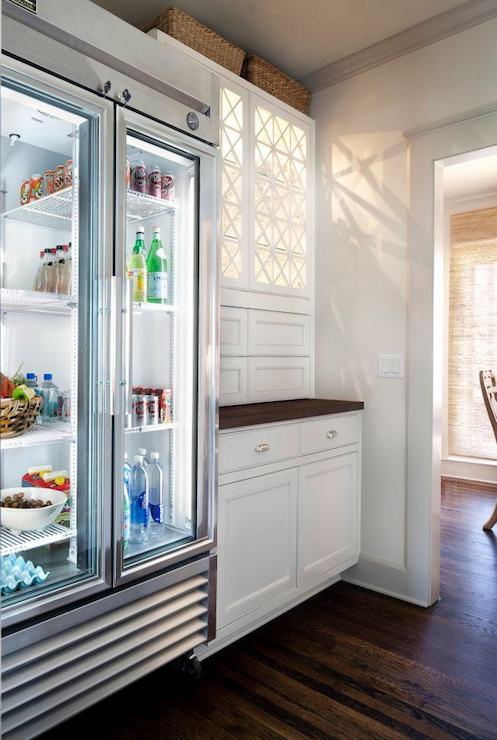 It seemed like I could SOMEHOW trim out the front of it… I was totally obsessed with the double brass doors towards the end of my post about all the pricey panel-ready refrigerators I cannot afford.(and I actually found a similar pair at a Philadelphia salvage yard!)
But whenever I incorporated that into the big kitchen picture, it fell apart.
EVERYTHING fell apart, and I think in this space, the best thing I can do is KEEP IT SIMPLE.
Contrary to appearances, I AM familiar with the concept of simplicity.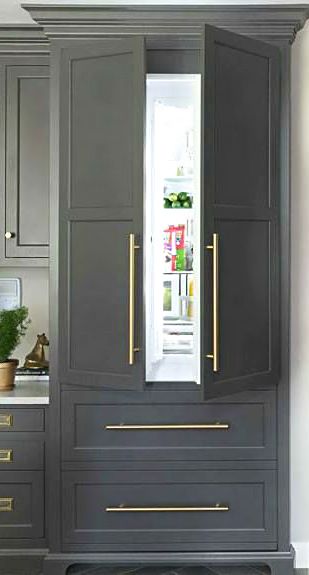 We are just going to have to suck it up and spend the money.
Subzero, built-in, panel ready, over/under fridge/freezer… at 84" tall, it squeaks past Thermador by a quarter of an inch… we can get a floor model (brand new, not refurbished, but also not the newest model) around $7,000.
HIVES.
Also, to clarify, it's not JUST the height… this panel ready by Dacor is half the cost of the Subzero, and it looks good! BUT while the exterior dimensions are nearly the same, the interior cubic feet is NOT!!! You lose over 2 cubic feet on the Dacor, just in the fridge section… not a big deal IF you are doing two side-by-side units, which we are not!
Subzero has the biggest interior cubic storage of all the brands.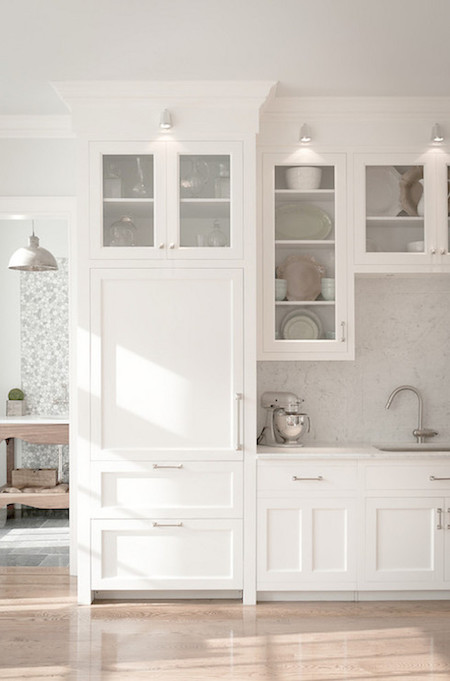 I am undecided what our actual panels will look like; simple/white will match our woodwork… and Self is unusually quiet at the idea of UNREMARKABLE.
Although, of course, you all keep trying to rile her up by sending her emails and being like, BUT HAVE YOU SEEN A FAUX ICEBOX FRONT.
Paul wants to know why you hate him?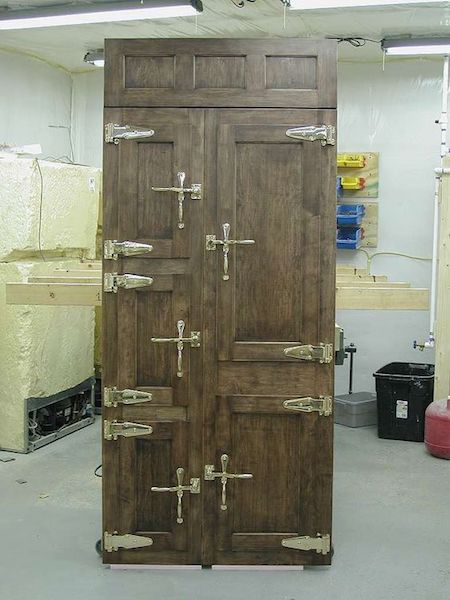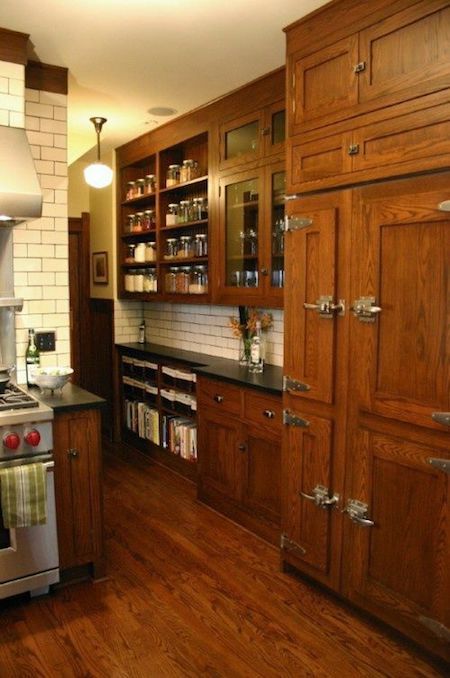 Except, the PROBLEM with a faux icebox front is… the FAUX part. I'm afraid that I will always be like, OH THERE'S THAT FAKE PANEL THAT I GLUED SOME FAKE HARDWARE TO.
How awesome is that?
I'm not exactly sure.
But I AM sure it will NOT reproduce for me the feeling of a PHENOMENALLY TREMENDOUS BIGLY FANCY.
So I guess what I'm saying is: GIVE ME old/BROKEN/useless/FANCY… OR GIVE ME DEATH boring refrigerator panels.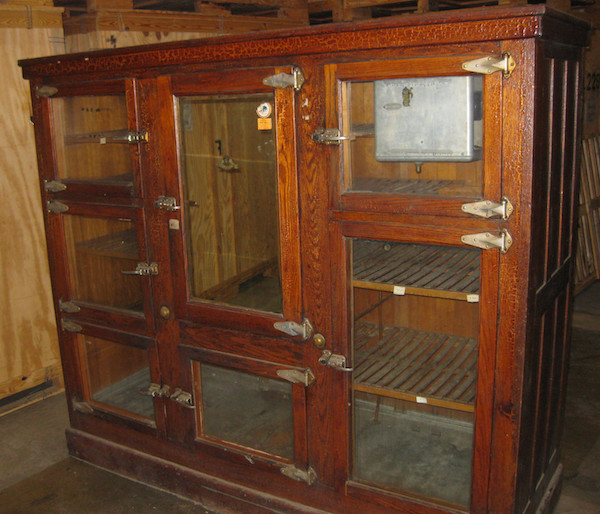 Easter is almost here! 
Celebrate Easter with COMPASSION! 
Celebrate Easter WITHOUT eggs!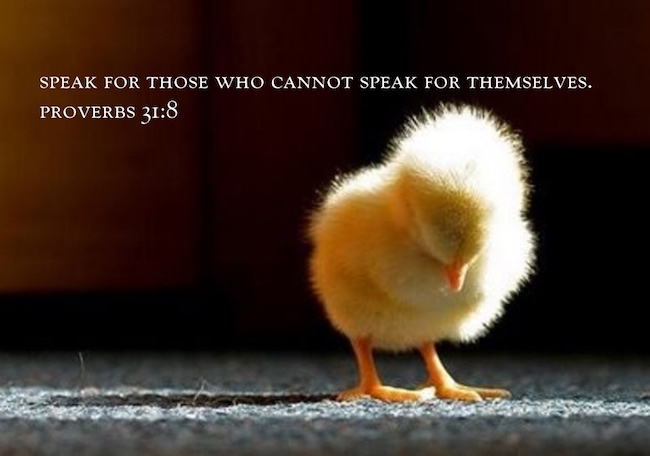 Did you know: baby boy chicks are useless to the egg industry; at birth, they are killed.
Grabbed by their fragile wings by workers known as "sexers," (who separate males from females,) these baby animals are thrown into a grinding machine. Alive.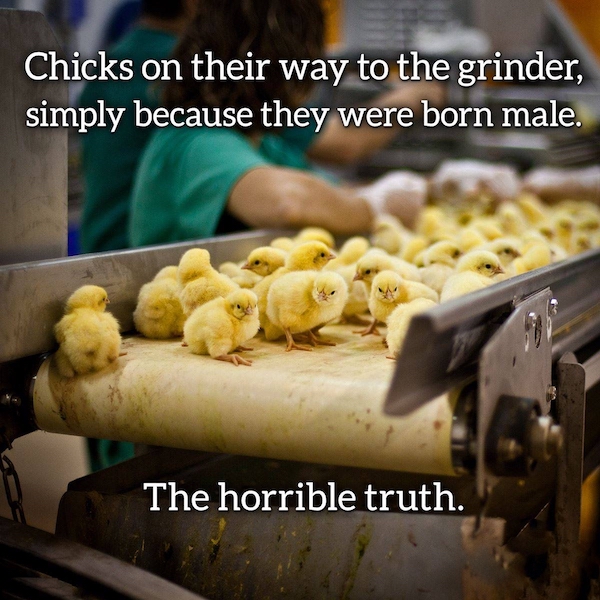 It confuses me, that humans celebrate Easter, by LITERALLY throwing new life into a shredder.
Ground up.
Suffocated.
Or simply thrown away.
While they are alive, feeling, breathing.
It does not matter if they will be free-range, or organic, or whatever… those terms have no application at a hatchery; an egg hatchery is a supplier… all they do is hatch eggs.
Did you know: 150,000 male chicks hatch every 24 hours at ONE large hatchery.
Did you know: at ONE large facility, over 30 MILLION male chicks are chipped up PER YEAR.
WHY NOT CHOOSE COMPASSION, LOVE, KINDNESS?
We can make a difference, when we open our hearts!
❤️🐾💕🌱🐯🐒
xoxo, VEB