This is part two of the bed story. Part one is here. It contains important plot elements like sawing the mattress and other modifications for making a full-size antique bed fit a queen-size mattress.
Normally I do not like roadtrips. (Or any sort of unnecessary-leaving-of-the-house.) But it was a Sunday shortly before Christmas and it was actually really nice to randomly cut life.  Plus, for $300 and some driving, this was CLEARLY our bed.
I felt so strongly about it, that I was able to suspend my anxiety about traveling MANY hours to buy something off of Craigslist that I had not seen in person.
My experience with Craigslist is that about 50% of the time, you are going to be surprised. Not necessarily in a bad way. After all, I once responded to a Craigslist ad that contained no photo, no description, no anything… and ended up finding a kingdom, under a tarp, in an alley.
That was surprising.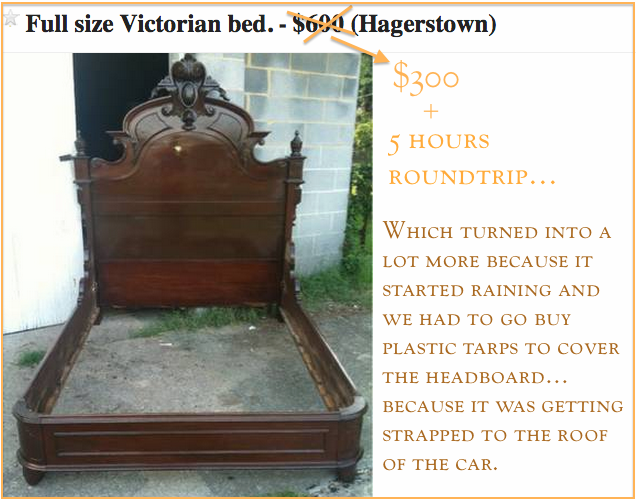 But it is equally possible that your surprise will not be pleasant… Like the time I went to look at an antique bookcase and when the guy let me in, I was struck by the fact that he had not one, but NINE mounted deer heads in his living room.
I am not sure exactly where the line for how many dismembered-decapitated-corpse-pieces is normal to hang on your wall… But I am pretty sure nine crosses it. (Since I definitely wanted the bookcase, I acted like I thought it was totally fine.)
Essentially with Craigslist, YOU CAN NEVER TELL.
Anything is possible. Maybe the item is not as advertised. Maybe the person selling it does not even know they misrepresented it.
So with this bed, I had to be sure that he would take significantly less– $300. Not because I thought $600 was a bad price… but because I could not risk driving all that way to discover something horribly disappointing.
Even though I asked all the questions and had plenty of pictures to look at…this is Craigslist we are dealing with. People are unpredictable. Even when they don't intend to be.
$300 was the price at which no matter what happened, I would be happy. If nothing else, I could cut the fancy part off of the bed and wear it as a necklace.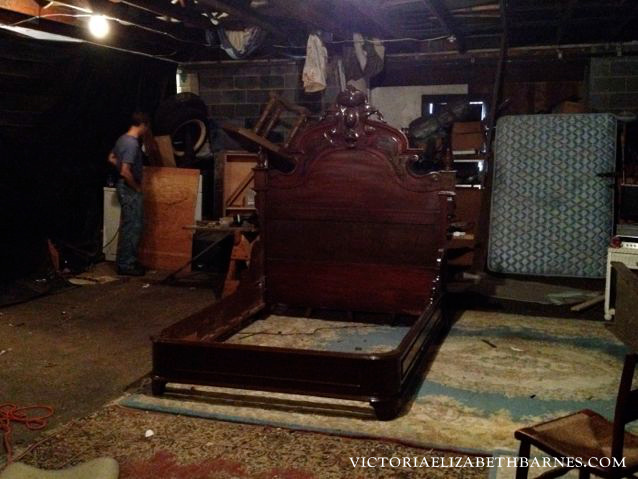 So how did I do? I would say about half and half.
When we got there,  it was apparent that there were some things that had NOT been disclosed… However, YOU CAN SEE THE HEADBOARD. And it was even better than I hoped.
I did ask specifically if there was anything I would be surprised by; and whether the guy deliberately omitted these details or just didn't notice, I really don't know. There was a full break in one of the curved pieces of the footboard, a crack in the lower third of the headboard (not visible once the mattress is in), and some places where the veneer is alligatoring– which I expected to some extent.
There was nothing remotely shady about the guy selling it and I am inclined to believe his oversights were genuine. But any faith I had in my own ability to judge human nature was annihilated back when I wired money to a scammer, and then gave him extra for being such a good person… So I really can't say for sure.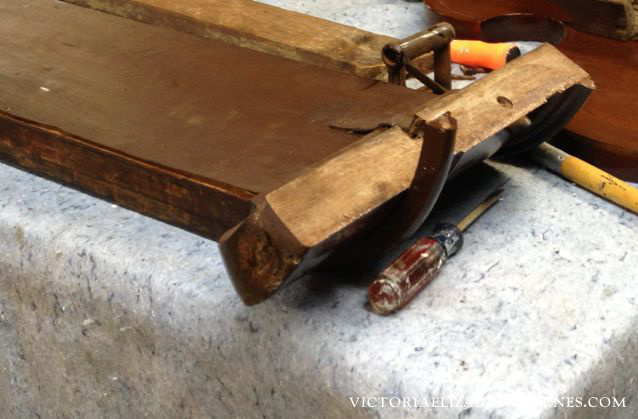 When I noticed the break in the base of the footboard, the guy said that if he had seen it, he would have repaired it. Which I believe because he started explaining to Paul how all he needed was some wood glue and clamps. He even offered to GIVE Paul clamps. (Which as previously discussed, is not necessary since our garage is essentially a clamp-silo.)
Anyway, I did not even care about any of these things. To me they were nonexistent in comparison to what we were getting.  My only anxiety was that Paul would be irritated.
I whispered – Are you mad?
Paul said – it's fine. You only buy broken things. This is exactly what I was expecting… The real question is – are you okay with this?
I said – are you kidding? I love it. I want to hug it right now.
*Sidebar: what is this place? It's the guys garage/workshop/storage area. He had some other antique stuff. And a lot of junk. I did ask him if he was selling anything else and he said no, so I am not sure exactly what he does with all that stuff.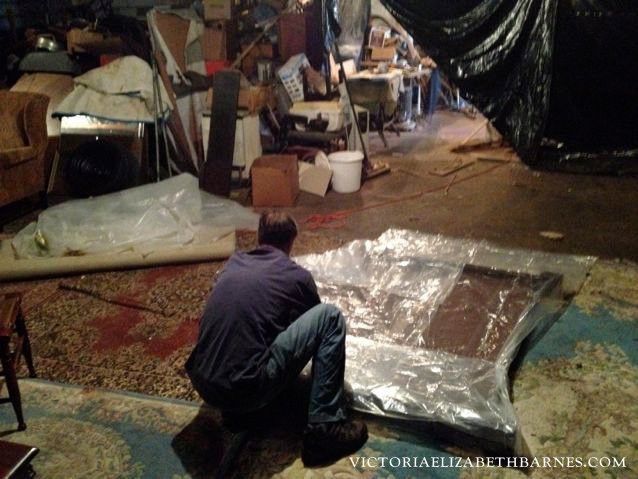 Now we get to the part involving rain.
We had known the headboard would not fit in the van and would need to be tied to the roof… A mode of transport that always makes me nervous because I am never tying something up there that is not a visual representation of my soul.
Usually it's a short trip, and I can chant the magic spell – I hope it's fine, I hope it's fine, I hope it's fine… But I had not factored in an entirely different weather pattern. And by the time we got there, it was raining.
Since there was no coming back tomorrow, we went and bought a large plastic tarp and a roll of tape. Did this seem sufficient? No it did not. Did I have a better idea? No I did not.
You probably know that feeling where you can SEE that this is not the best way to do something but are at a total loss for any other option, thus, you must embrace it.
I actually like getting to that point – if life could offer me only one option for everything, I would save so much time.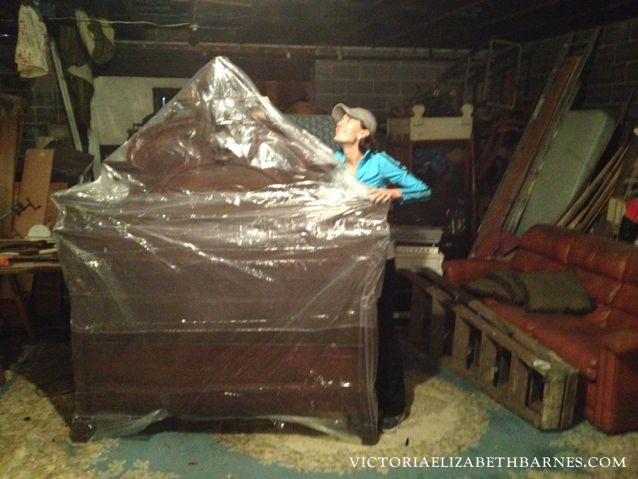 Now is the part of any project where I ask Paul two questions repeatedly:
1 –are you excited?
2–are you sure this is a good idea?
He has to say yes to both, otherwise there will be FAR MORE questions and no one wants that.