Paul is away for work.
I could have gone with him, but there were some problems… such as being required to (not only) leave the house, but also spend a full 24 hours on a plane or in an airport; which is in direct opposition to all of my defining character traits.
I won't hash that out because either that makes perfect, OBVIOUS sense to you, or it does not.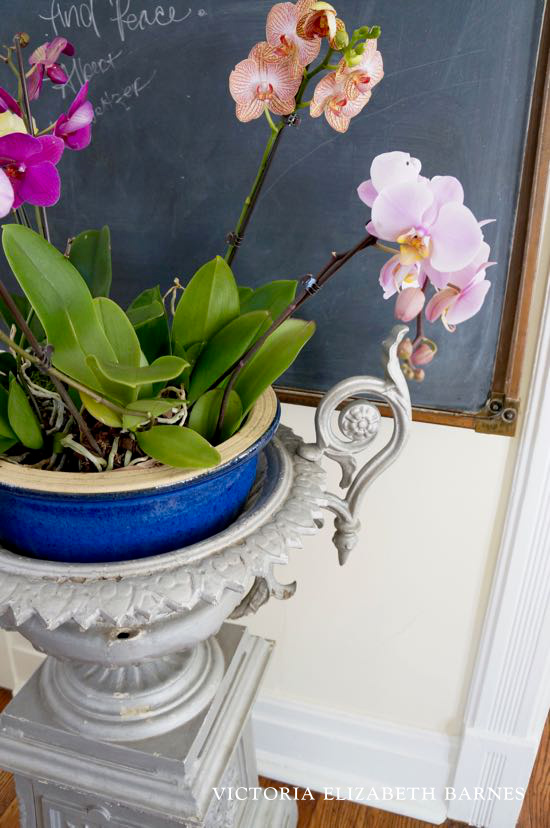 Paul has traveled a lot in the last year, and his absences have given me plenty of time to think about the way I am limiting my life because of Self's preference for her own bed.
I'm fine with it!
But other people (who claim to know me, but clearly don't) keep trying to call into question my self-awareness by saying things like: BUT HAWAII IS SO BEAUTIFUL!!
As though Hawaii's beauty is relevant?
It's not.
I promise.
It's just that I hate everything that other people think is fun.
Except auctions.
Auctions > Hawaii
Who knew!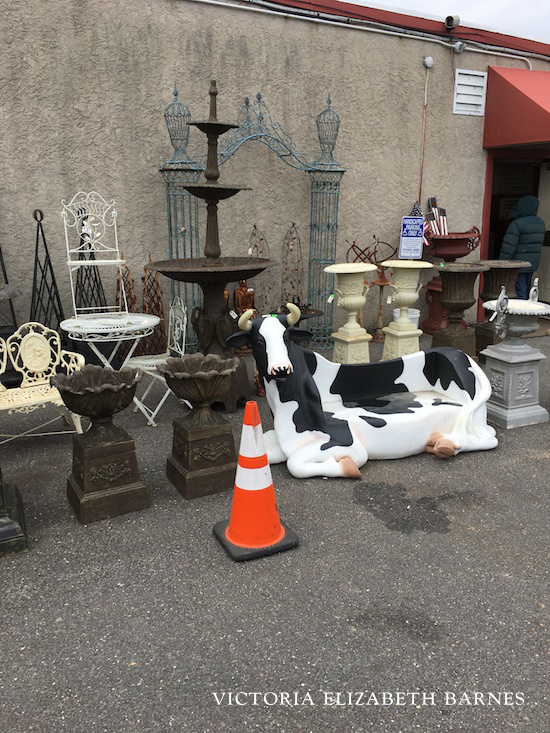 I have no idea what is with the cow bench, but it sold for EIGHT HUNDRED DOLLARS… as I was typing that, I was confused all over again because: who pays that much for a bench that looks like a cow?
The pure madness of it made me google and… wow, okay, COW BENCHES ARE EXPENSIVE! The guy got a good deal!
All the other urns you see are reproductions… the one I bought is the only true antique.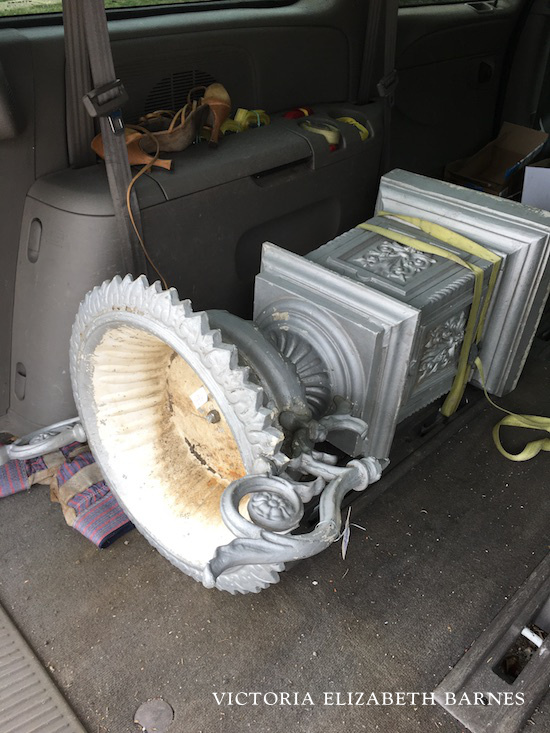 My price for the urn I won was $60. Plus tax and buyer's fee put me close to $75… this is more than (what I consider) a GREAT price, but it's still good and I have LONG been looking for just the right urn for INSIDE the house.
I bought this pair last year (for a true steal!) but the size was not quite what I wanted for inside… the aspect-ratio (or something) of this one is exactly what I wanted, and of course I LOVE the handles!!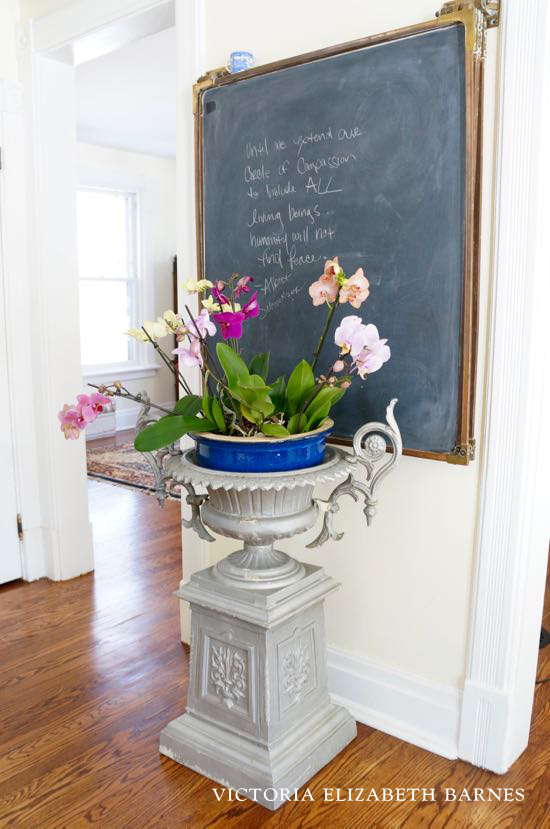 I know this is not the urn's original base, but I'm fine with it; no one but a true urn-connoisseur would enter my home and openly judge me for having a mismatch… and if that were to ever happen, I would be overjoyed to meet my soulmate!
But also suspicious that I have finally met Unknown Assailant… Remember him? The mystery bidder who robbed me of my one true destiny in life.
Intermission while I relive the agony.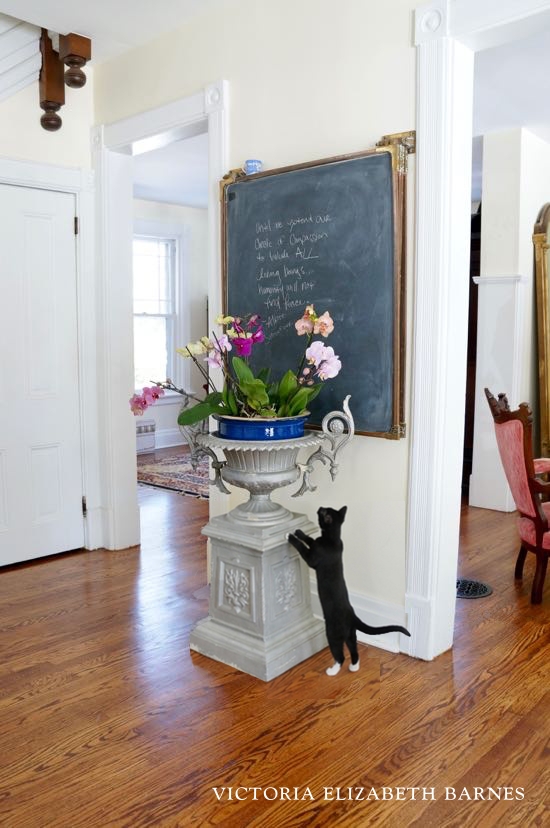 Ok! So below is what the base should look like… but considering this sold for $950, I feel alright!
Although this one's patina is arguably THAT good.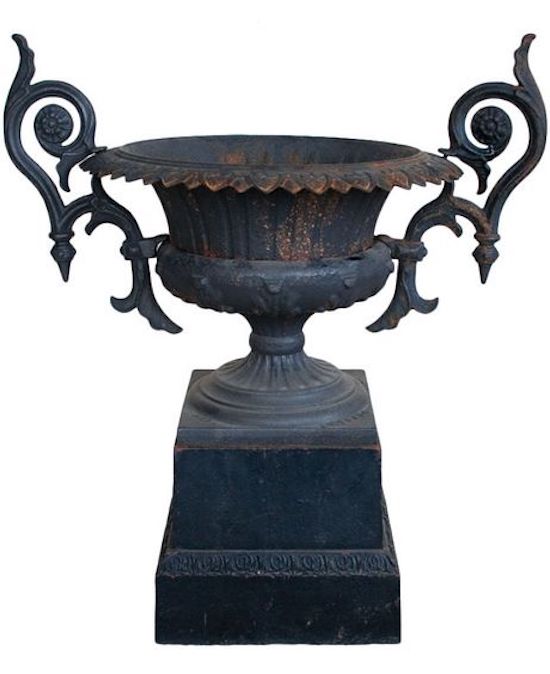 Below is the base mine is paired with.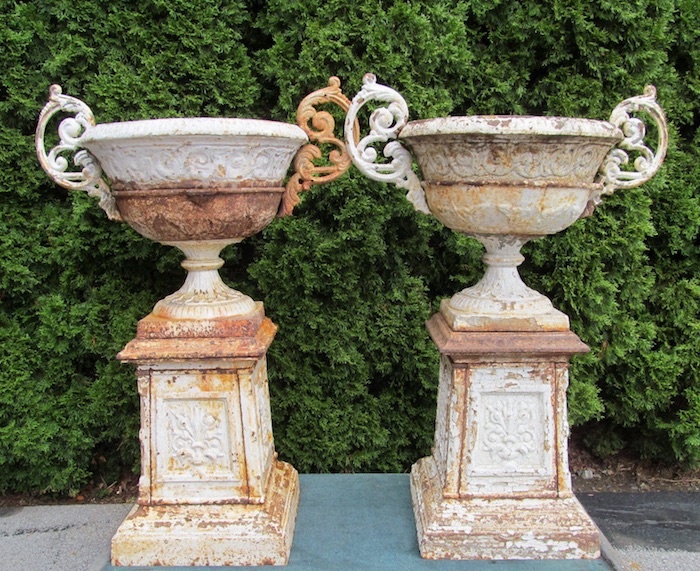 If you would like to purchase these urns for me, I will trade you my soul… it is in good usable condition; and who doesn't need a spare soul for emergency purposes?
Think about it!
Anyway… the silver color is (shockingly) not doing anything for me, and I'm thinking I'll paint it white.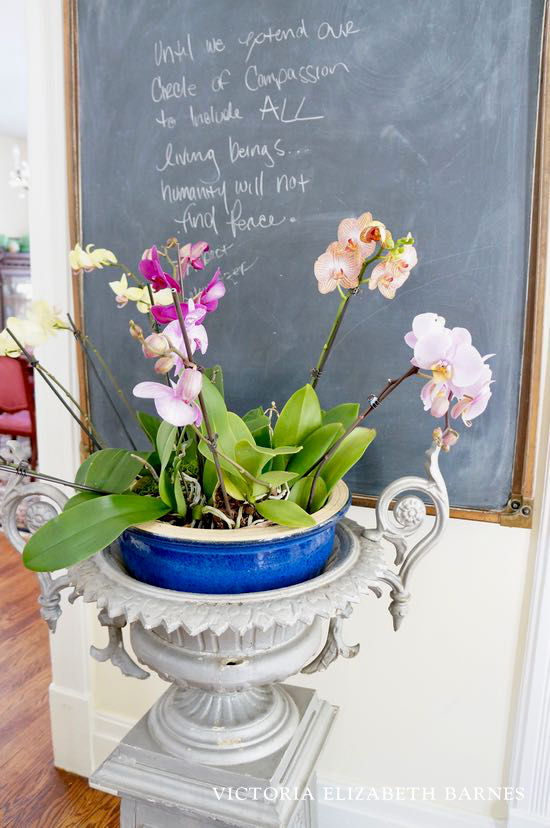 If I were putting it outside, I would do black… (my BEST urn find is black and I love the pair of tabletop urns that are also black) but for the corner inside the house where I am thinking this will be best, I think white/light/bright/matches window trim and molding, etc.
I do wish it were already painted a color I like, and that that color had had time outside to naturally fade/distress, because I LIKE the rusty look… but c'est la vie– such is the life of a non-wealthy urn hoarder.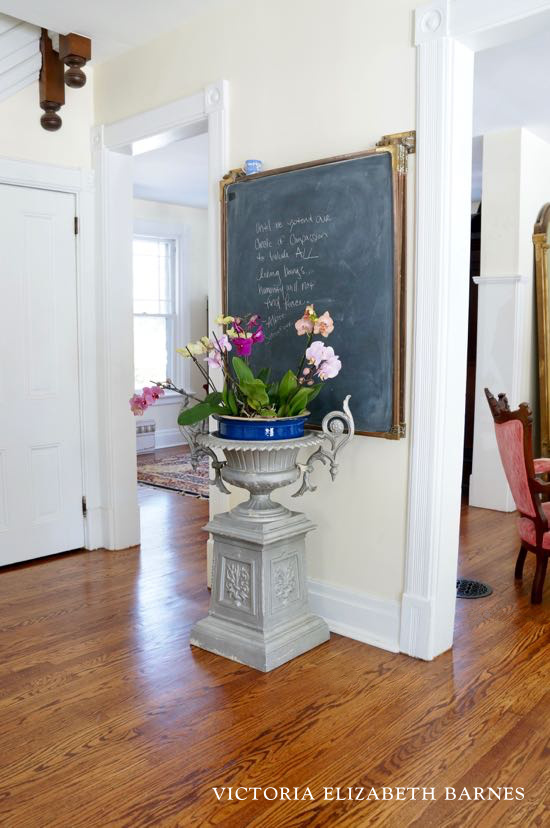 My intention is to plant something in it.
I used the arrangement I have on top of the old glass ribbon display cabinet to make the photos appear that I lead an enviably flower-filled life of charm, glamour, and Pinterest-worthy simplicity… but I will get something smaller that actually fits as an insert, so that you do not see the container.
I'm probably not going floral; as nice as it would look filled with seasonal blooms! Forced bulbs in winter! Daffodils, lavender, pansies, ranunculus in spring!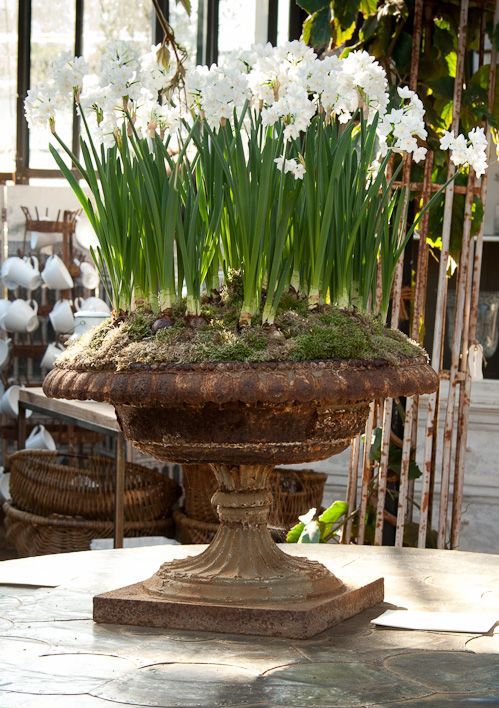 Floral height is lovely! But no maintenance is lovelier! So some type of evergreen… and maybe some moss… or maybe Sagina Subulata which is a nice alternative to moss– it gets a tiny little flower and spreads quickly.
I don't want to be swapping out/replanting stuff inside the house… I've done it before and (because I am not a wealthy horticulturist with people to clean my mess) the dirt/repotting/bother is a deterrent.
Bunny Mellon, thou art inimitable (and frankly, a little irritating.)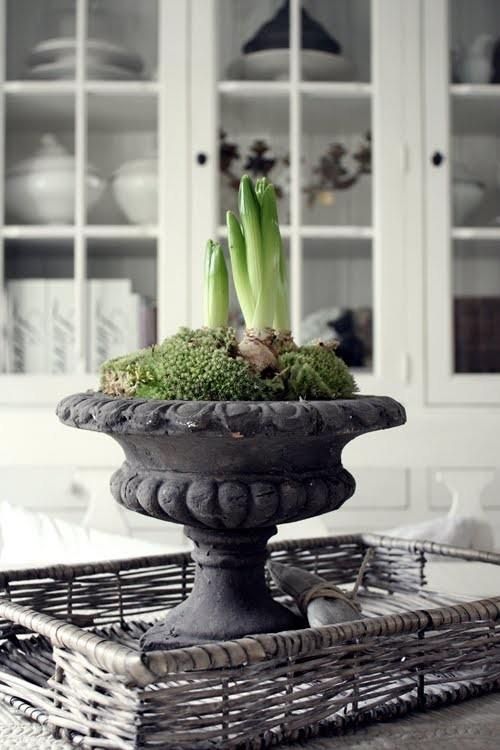 It would be fine/super easy if you just bought the full-grown plants and stuck the containers in there and then threw them away when done, but I'm compelled to start everything from seed which is inexpensive; but a whole tedious production I'm WAY over once we get all the vegetables finished.
Infact! Below is a video of how I start my seeds… I made it back when I was a baby blogger who did not know that gardening posts = no one cares.
I am thrilled to foist it on the three of you who will watch it!
Or, go SEE ALL MY FAVORITE FINDS!