Our previous owners had nothing short of a fetish, for intensely pigmented and blindingly obnoxious paint…
Their criteria for choosing colors seemed to be the question: what will be most jarring?
If you have not seen the before pictures of this house, they basically painted every room a different color.
The orange in the addition was the last surviving evidence of their dedication.
Above is where we were two weeks ago.
Before I show you the AFTER, let's remind ourselves what the addition looked like BEFORE.
Before we:
gutted the bathroom.
took out the floor.
installed the windows.
And yes, my husband DOES still have tanktops from 1999… Paul's theory of clothing is that if it has not absolutely disintegrated it is not time to get rid of it.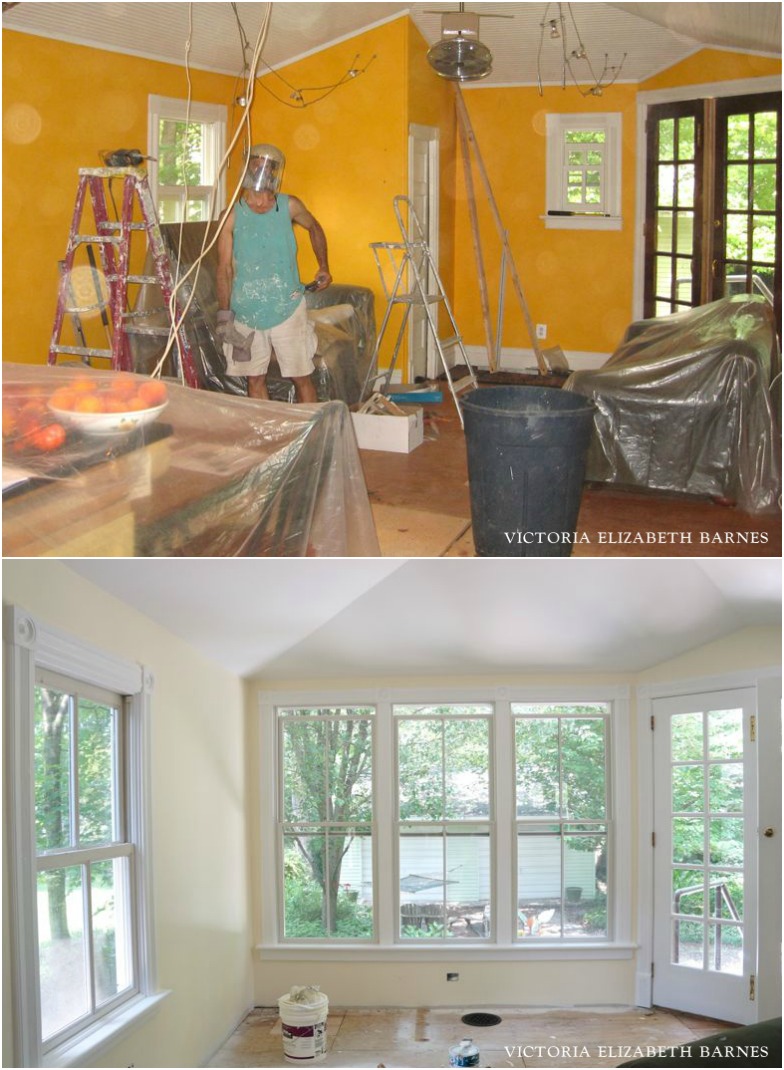 I have been trying to finish this post in a coherent way for going on two weeks— there is more to this project that is worth explaining… but Elvis hasn't been doing well, and I feel like my brain is in cement.
Last week her eating started to go downhill, but then over the weekend she rallied… not in a way that makes me think she changed her mind about the finale, but enough that I've had a brief reprieve from the shock of realizing that I only THINK I am at peace with the next part.
I know I don't have to explain to you the degree to which this is leaving me frantic but also paralyzed.
The strange thing is that other than poor eating, she seems FINE. She is not having any of the issues I expected (yet) and she is still enjoying all of the things she loves; her favorite activity is being brushed while she rubs her face on her fuzzy ball in a blanket nest… so that's mainly what I've been up to.
Other than that, I am unable to cope with anything. Including some really important things I'm supposed to be doing and soon they may catch on fire. I should be concerned, but the cement-in-brain issue is preventing me from even caring.
Instead I've been re-reading comfort books, (particularly this which is magic— about grief and human friendship and how animals save you.)  And buying earrings I don't need, in a push to fill the dark, sad pit in my soul with shiny things… my aptitude in this area seems undiminished, proving concretely that my life skills are useless to anyone, myself included.