This post is sponsored by Paul's patience. All opinions are my own.
After the kitchen-bookcase-misappropriation, I excommunicated Self; denying her Craigslist access and banning her from a position of power.
I said – Self, that was the last straw. You can no longer be trusted… as punishment, we are NEVER buying anything ever again.
Self whispered – I think we should buy something else RIGHT NOW.
I said – NOTHING. EVER. AGAIN.
Self said – or, we could drive directly to the bank and take out all of the money… have you considered that option? Then we can get this mirror.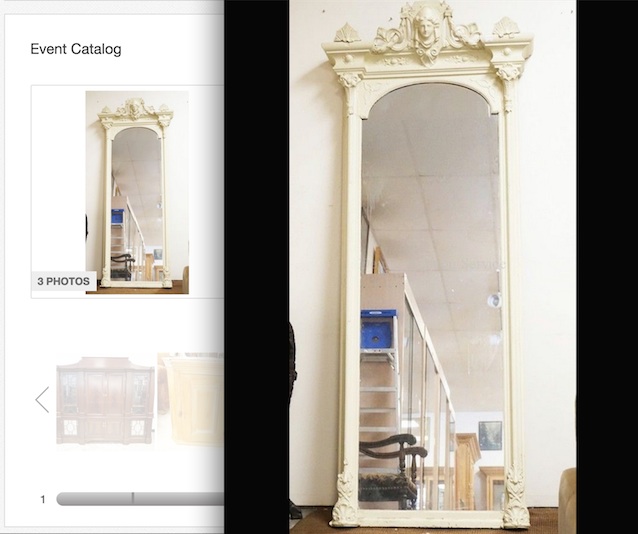 This sounded like a better plan, so I went and showed Paul. I asked him – if I get a good price for this mirror, will you get it up to the second floor?
Paul said – no.
He said this casually… as though he had never met me before.
I consulted Self to see how we felt about this, and she said — this is why Paul married you: to save him from making horribly erroneous mistakes in life.
So I bid on it.
I won.
$200.
Self said — congratulations! WE ARE A WINNER.
I had to go pick it up by myself, because I hadn't yet figured out how to tell Paul that I had decided I didn't like his answer… and rather than have a conversation about it, I had chosen to take a page from his book and act like WHAT?
ARE YOU SURE WE TALKED ABOUT THIS?
I DON'T REMEMBER THAT.
YOU MUST BE WRONG.
I was excited to see how he liked this version of language exchange which some-people-named-my-husband enjoy substituting for conversation.
I was also excited to consider that I may be approaching a time when I operate independently of constraints such as: what is my husband's opinion?
I mean, it's even possible that I might eventually graduate to: THERE ARE NO RULES NOW.
Why have I not thought of this before now?
On the way home, I calculated how many people I would need to help me get it upstairs… just incase Paul refused to be involved.
I decided I needed one Paul. Or ten, non-Paul regular people with some moving skills.
Sadly for Paul, I only know people who are idiots like myself, so he had to help after all.
Before we can mount it to the wall, I have to order some corbels… I haven't decided between fancy or extra-fancy.
To understand how we'll support the mirror from below, read this post… to understand how I'll use the corbels, look at this post/ fourth photo down.