Up until yesterday, I was stuck in the post-holiday zone where time has evaporated and you have no idea what day it is. So for this week's post, there is no requirement for wit or intelligent thought.
I mean, you can be witty or intelligent… But I myself am excused.
I spent the weekend de-Christmasing and lecturing myself about minimalism. And vacuuming, vacuuming, vacuuming. And coming to terms with the need for a new computer because the intermittent-shutting-off of this one has made doing anything like a game of chicken… I win if I hit save every 30 seconds, I lose if I try to do anything with photos.
The only thing that would be more annoying than this computer, would be the process of getting a new one.
I might have skipped posting altogether but you all are the best part of my week and I miss you when I am not here. Plus, I wanted to thank you for the way I do not even have to browse the Internet anymore– you just send me what I need to read/pin/consider… Everything from disco ball pizza ovens to house-related stuff that gives me fits of envy.
Such as this video of the restoration of Belcourt Castle in Newport.
[quote]…The house was built in the last half of the 19th century for Oliver Hazard Perry Belmont, the son of the financier August Belmont and an eccentric who apparently really loved his horses (some sources note he liked to dress them up, changing their costumes several times a day).
…had the entire building laser-scanned to produce an accurate set of architectural drawings. That will allow him to make "incredibly accurate molds for reproduction" of the damaged ornamental plasterwork.
…The thing about houses, he continued, "is they can always be fixed. It's just a matter of money."– Via the New York Times article on the restoration[/quote]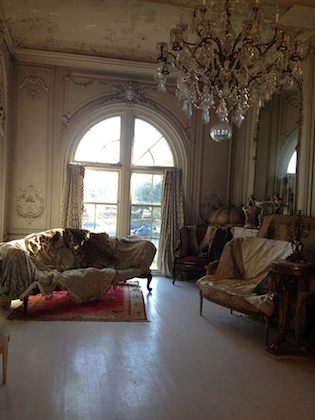 more pictures – Belcourt of Newport, photo album, thanks to TKraft for the NYT article!!
Paul and I also spent the weekend moving my latest craigslist score up to the second floor.
What is it? Obviously I can't tell you. Where is the suspense in that?
Paul told me that I do not need to bother explaining that it needs a few "adjustments." He claims you already know that I only buy adjustment-needing things…  or even more preferably – broken things. And that being broken is actually my first criteria when shopping for anything.
Paul says that when I call someone on craigslist, I say – Hi!  Are you are selling something broken? I am interested!
A handful of you sent me the above article about an apartment in Paris that has been sealed since 1946 – The owner fled during the war and never returned.
I hadn't seen this story and I am very excited because clearly, Paris will be calling me to say they could not think of a more suitable person to give it to.
Below is Lillie's. The bar is not original to the space, but moved from a Victorian mansion in Belfast, Ireland.  The rest of the photos are a mix of giant Victorian stuff, thus I approve. Thanks to DIY Sarah for the link.
Now for the open part of this post – I would love if you shared a link to something you have enjoyed reading or looking at…  No requirement for house-related content and it doesn't have to be online – could be a book or movie. *Be aware that more than one link in a comment will likely get you eaten by the spam filter.