For posterity sake, I am beginning with the attic's true "before."
Here is a post about how we got here… it has more photos of before.
I didn't take a lot of video way back when—I did not know I would need it for a blog… but there is enough that you can see what a mess it was! For those of you who are just here for the kittens, there is a sneak attack at the end.
Things to know:
The floor was ALREADY painted (a dark color that looked woodish from a distance), stripping it would be a herculean task of self-loathing… also, the walls were painted in various shades of eye-violence… before-gallery of more eye-violence is here… every room was a different blinding color.
Paul added ALL the insulation humanly possible— that's the blue stuff under the roof in the video… he had planned spray foam, but I vetoed because outgassing… it was a hill we BOTH wanted to die on; I prevailed.
If you google spray foam insulation, along with the word toxic, you will see that science gives humans reason to be wary… tho, obviously I assume the blue stuff will also kill us, but hopefully slower?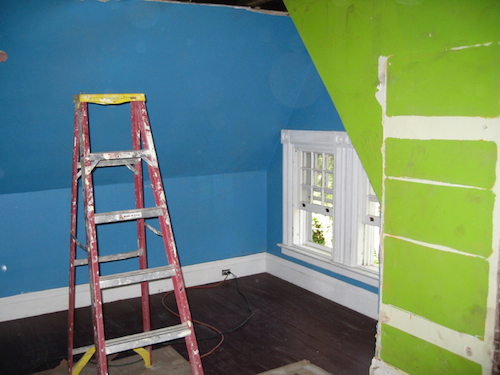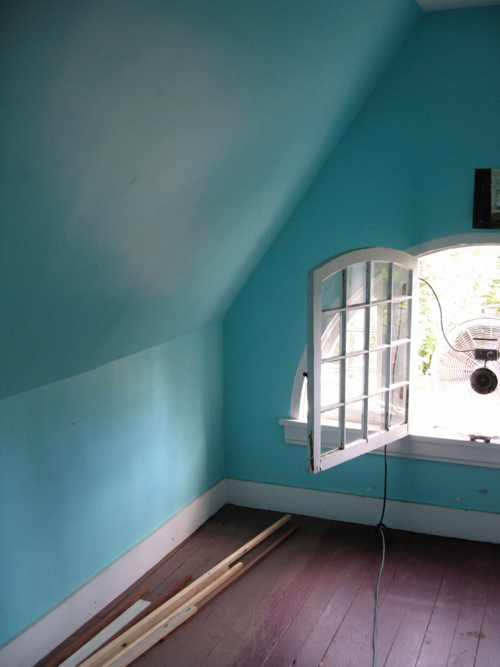 Originally we had painted the floor blue, because I had only lived with the idea for a week… if I had sat on it, I would have seen it was a passing whim.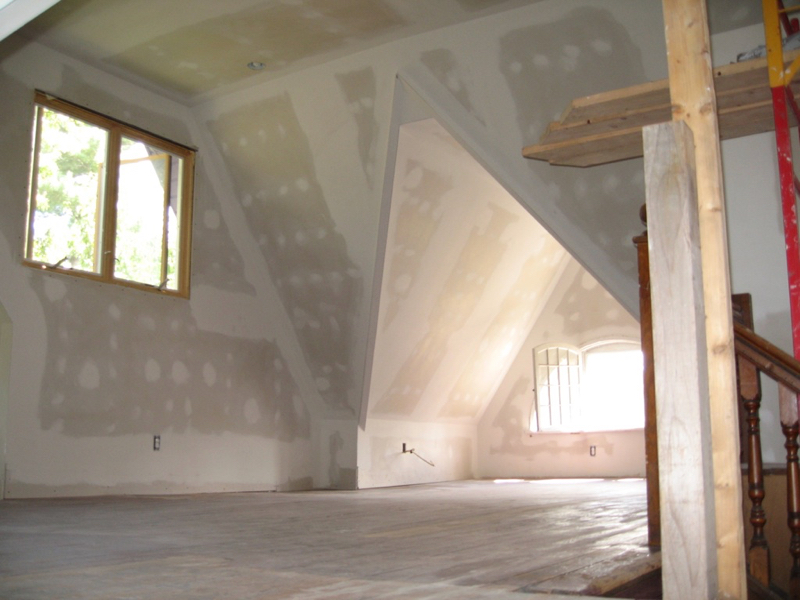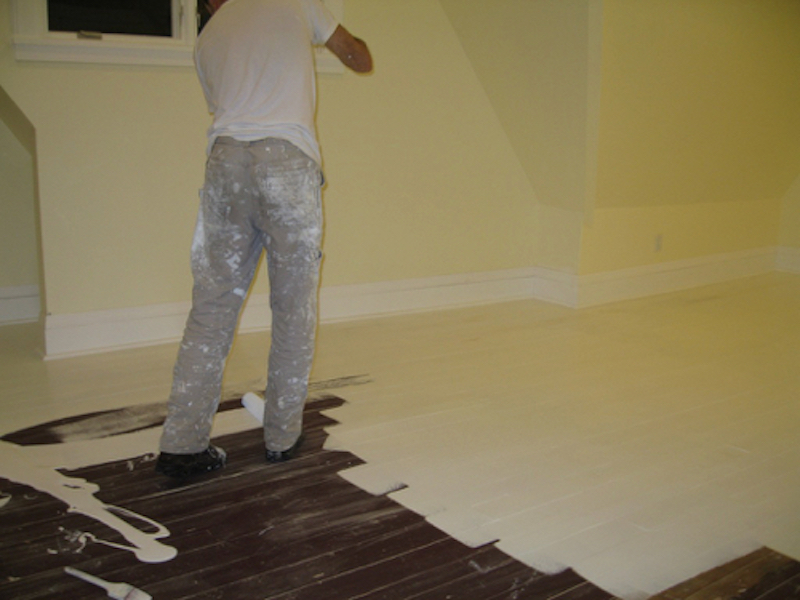 Going through photos, I am ASTONISHED to remember that the previous owner was SO DEVOTED TO PURPLE that he painted the eaves on the entire house… see out the window, in the photo below– outside? PURPLE.
Aside from being hideous, THAT IS A LOT OF WORK.
Here is the post about painting the exterior of the house… if you want to see MORE purple.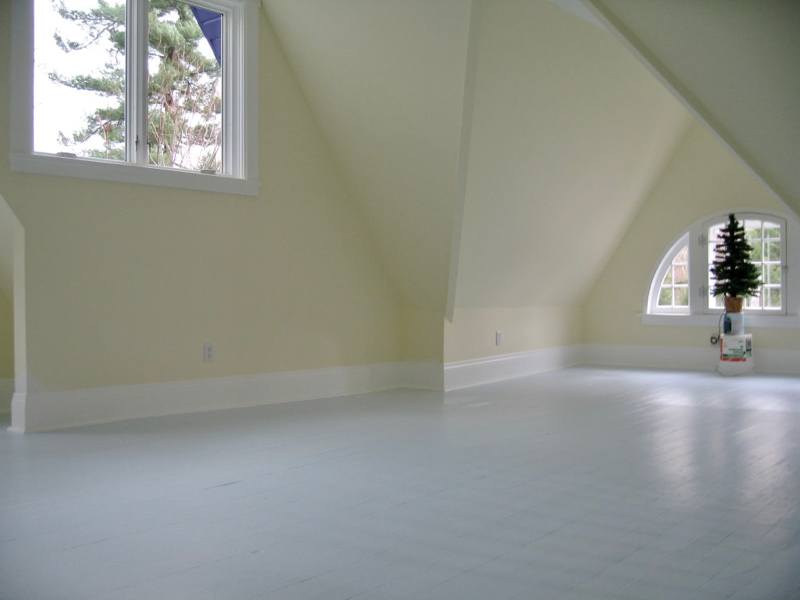 Below is how Paul paints doors or anything flat you want to flip while still wet.
Put two screws in the top and bottom… not all the way, leave enough so the screw ends can rest on the boards that elevate it; then, use the screws to flip the door while it is wet– leave yourself enough room on the boards to support it when flipped.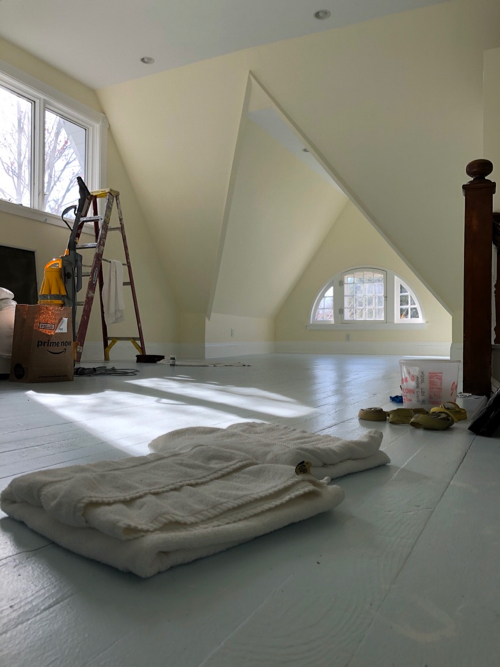 I have had all kinds of assortment of fancy furniture up here but after all the try-ons, I eventually settled on Ikea Kivik lounges (I got on Craigslist)… they suited the space and have washable cushion covers, but I cannot sterilize the frame, (after panleuk kittens) so I'm not putting them back.
However, it turns out that I LOVE IT EMPTY… which is WEIRD, for someone who generally wants three layers of fancy before we even begin discussing the REAL plan for fancy.
This is going to sound insane… but it's very peaceful– whatever the visual equivalent of quiet is; obvs I am not familiar.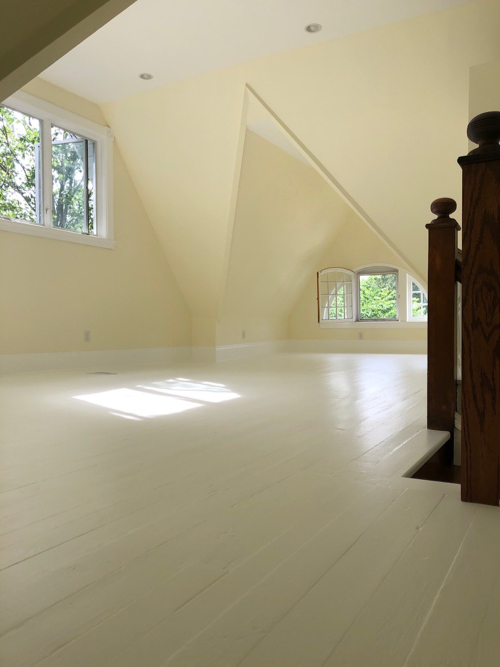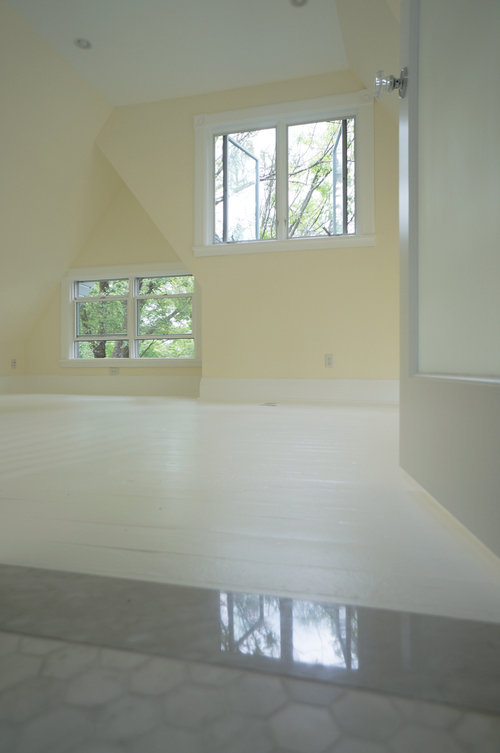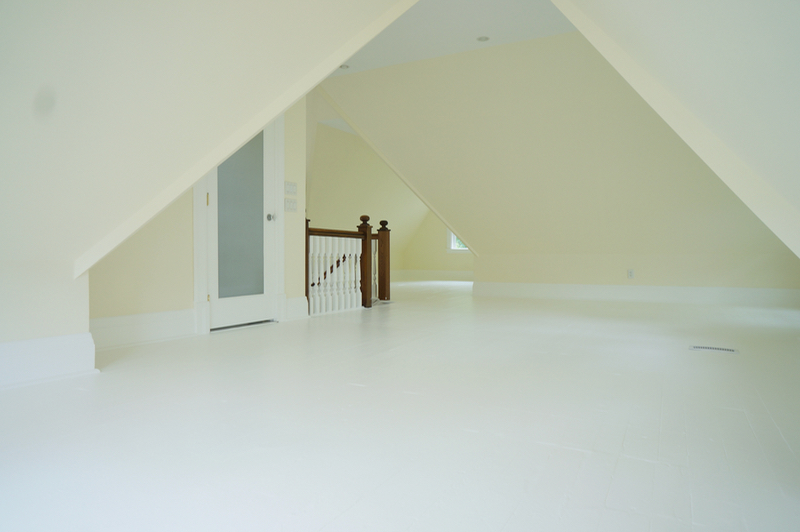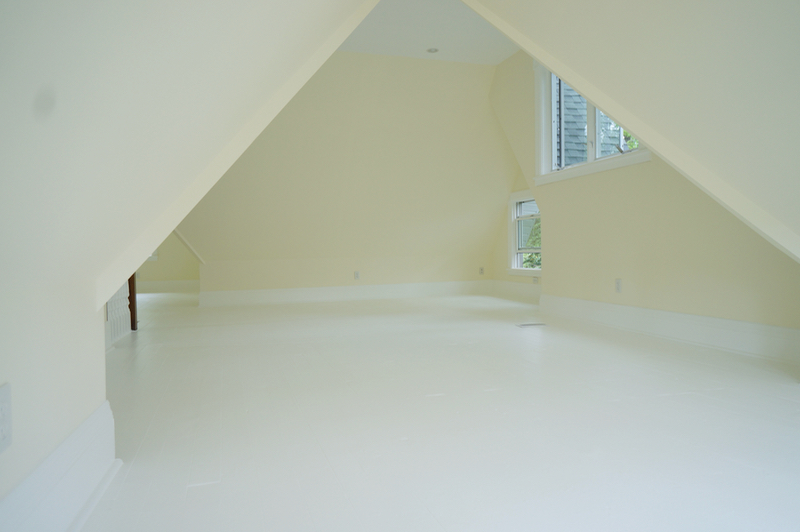 What I'm reading: The Mermaid and Mrs. Hancock — Imogen Hermes Gowar… by the middle, I was SUPER into it, by the end, I did NOT want it to be over!!
If you like historical fiction, this is for you… if you like good writing and a good story… also for you. (and also Slammerkin and The Dress Lodger)
Victorian women in class-segregated, industrial revolution London, who have zero use for the expectations of others, are apparently a favorite of mine.
Of course, I cannot recommend anything in this category without endorsing Michael Faber's The Crimson Petal and the White… when I discarded books, I had two extra copies. THAT's how much I love it.
ALERT: for already-fans of Faber— when I went to get the link for Crimson, THERE IS A SEQUEL  (of short stories). The library did not have it so I ordered a used copy on Amazon… I am super excited!!