This is part 1… here is: two, three, four, five, six, seven 
Last summer, I saw a posting on Craigslist.
I went to show Paul, and he said– we are definitely not getting a piano.
This is exactly what I was hoping he would say, because who does not love being the one to reveal an exciting plot twist?
I shouted– SURPRISE!
We are DEFINITELY getting a piano!
I thrust my fist into the air— to indicate action and piano-getting.
I said— AT DAWN WE RIDE.
Then I marched up and down the street with my gong, announcing— Here'ye! Here'ye! I SHALL HAVE ALL OF THE GIANT FANCY THINGS.
Also, for the record, only someone who does not read my blog would mistake this for a piano. CLEARLY, this is our kitchen island.
I explained my idea to Paul… at length… which took about five seconds.
Here it is, for your consideration.
IDEA:
Acquire item of giant fanciness.
Put the giant fanciness in the kitchen.
The End.
I guess I did not explain it right, because Paul said – don't you think a piano in the kitchen might be a little bit… much?
This confused me– a little bit much?
No. I think it will be a LOT much… much like myself.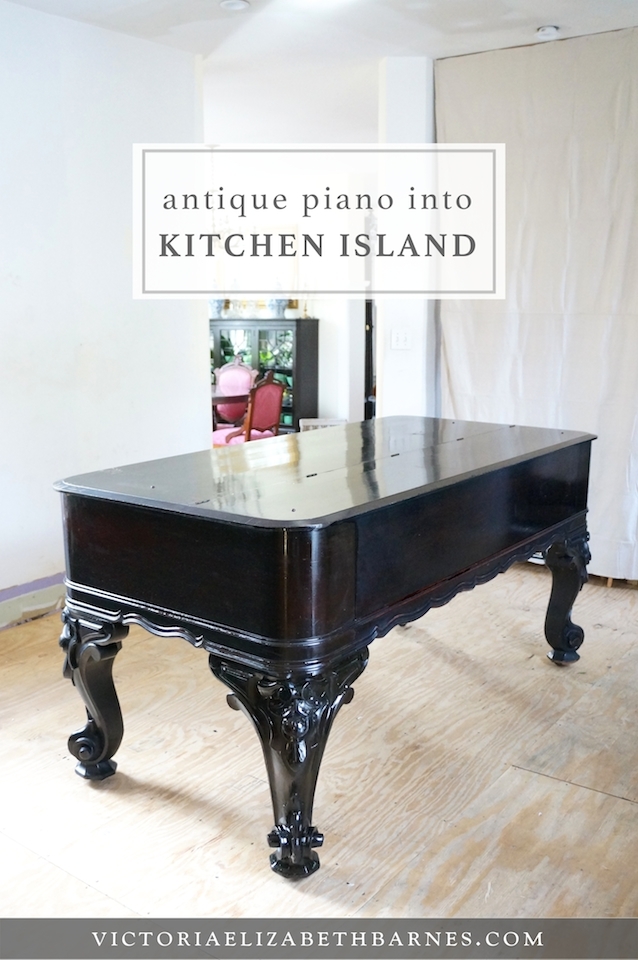 Paul thought about this. Then he went back and rifled through his rolodex of anticlimactic responses.
He said – well, it's an interesting idea.
Let's think about it for a little while.
Stalemate. After impasse. After deadlock.
Fortunately, I am trained for this: this entire house project has been an extended drill session where I've eschewed all reasonable housewares and set fire to anything from Homegoods.
And ultimately, I guess Paul forgot to ask himself the one really, really, really important question: If this piano exists, DO I THINK VICTORIA WILL CHOOSE ANYTHING ELSE?