Our kitchen island is an antique square grand piano.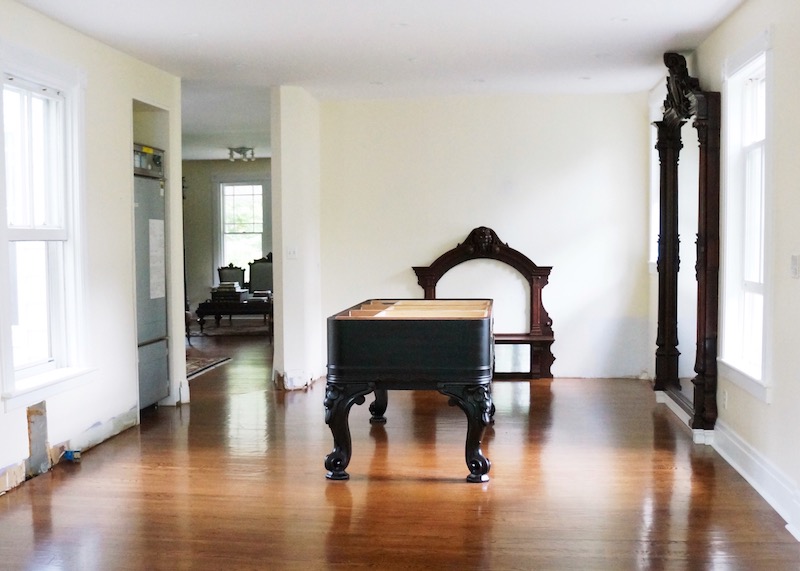 It has been gutted.
Then customized with drawers.
It will be topped with marble slabs we rescued— formerly shower walls in an antique bath.
Now we need electric– we are drilling THROUGH the piano legs to add wiring.
What you are looking at above, is Paul's setup to drill.
He used a laser to figure out dead center— the legs have a swoop to them, so if you don't hit DEAD center, whoops no do-overs.
Then he built a brace/thing/jig that to keep the drill bit straight.
Obviously, this was not going to work… but I did not say that out loud… because I am the one who insisted this could be done.
I imagined the bit going in smoothly, straightly, merrily, along the jig… and then veering off and shooting right through the front fancy, splintering the finish and making an unfixable mess.
Instead, it went fine.
It took two seconds.
Self smugged.
Behold.
The electric is not just for outlets- we are also going to put an induction cooktop in the island.
If you missed: here is our kitchen layout/plan.
Being introduced to induction cooking is one of the things that drastically changed our design— skipping a stove-looking-stove, allowed us to skip an entire wall.
Also, we will NOT have a range hood because I loathe them.
Now that we are doing an induction cooktop, we will be doing a built-in oven… which are mostly super-modern-looking… so I have been looking at euro versions— visually, I FAR prefer them!!! Hertz is maybe an issue, if we do a matching microwave… I have spent too much of my life thinking about this and cannot summon will to type it all out.
There is ONE vintage-looking built-in oven that is incredibly cheap and actually I LOVE the design… BUT it only comes in black and we are now considering the effort to put the oven next to the refrigerator… which would eliminate black as a good option.
Of course.