If you missed the first half of this project, here is the sofa being stripped and reupholstered.
Below is a photo of when you last saw it… (and also the point at which I realized I had failed to factor in matching trim to my fabric choice.)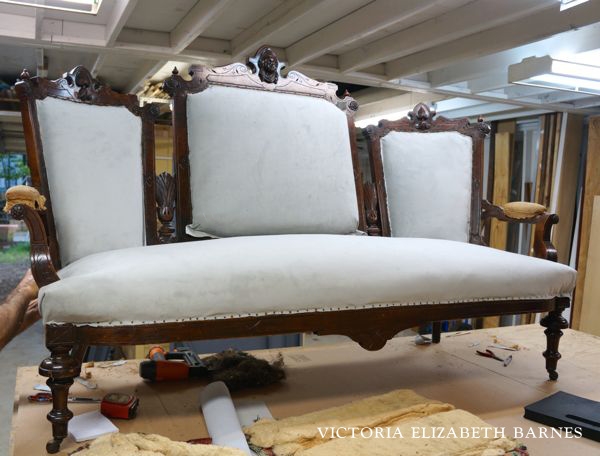 Then! Because you people are so helpful are bored at work and want to be entertained… some of you wanted to shame me into DIY-ing my own matching, double-welt trim.
You know who you are.
NICE TRY.
You specified things like "bias" and "zipper foot." And I was all – they think I do not I don't know these things!
(I totally know these things!)
After all, I am a descendant of the people's worker! And if THAT does not convince you, let me also point out that my mother is a woman who can sew a circle skirt (bias) OF PLAID FABRIC (mathmatical-probability-theory of plaid-matching and differential-equations.)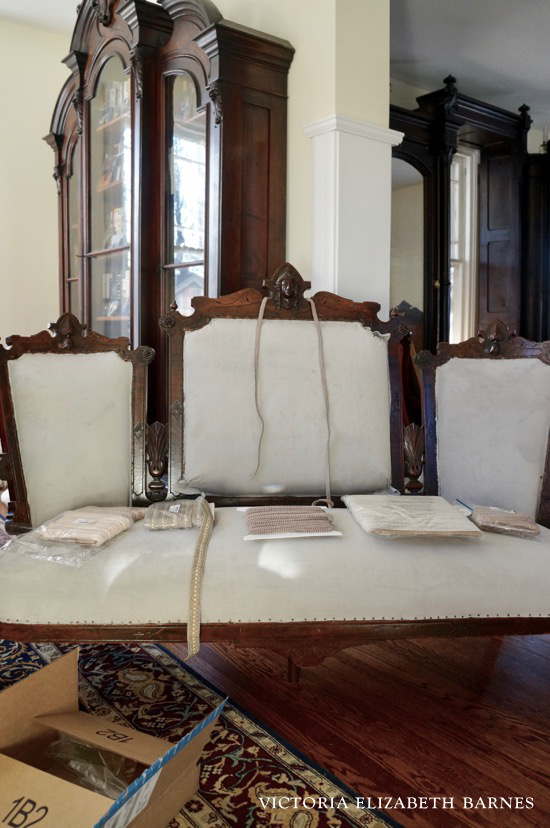 Then you took the welt-shaming one step further: by acting like I wouldn't want to stab myself 12 feet into the 100 yards of sewing back-and-forth… and that rather! I would find it a soothing activity of productivity and thrift!
So I was like– FINE. I WILL WELT.
Heaven forbid that strangers on the internet are not impressed with BOTH my frugal-furniture-acquisition, AND the ease with which I breezily churn out miles of pristine upholstery trim; unmarred by fabric-puckering-and-broken-sewing-machine-needles-and-the-maddening-snarl-of-when-the-bobbin-randomly-decides-to-spit-all-the-thread-into-a-matted-tangle-of-project-destroying-fury… again and again and again. FOR NO REASON AT ALL. (Other than because it is possessed.)
And you want to just keep sewing right through the mess – as the machine binds and binds and binds– because you are gritting your teeth with rage and just want to exert your will over this stupid thing because THE BOBBIN TENSION HAS BEEN FINE FOR THE LAST 50 FEET, WHY ARE YOU BREAKING NOW? I WILL SHOW YOU WHO'S BOSS.
And the machine is like LOL. Nope. #nottheboss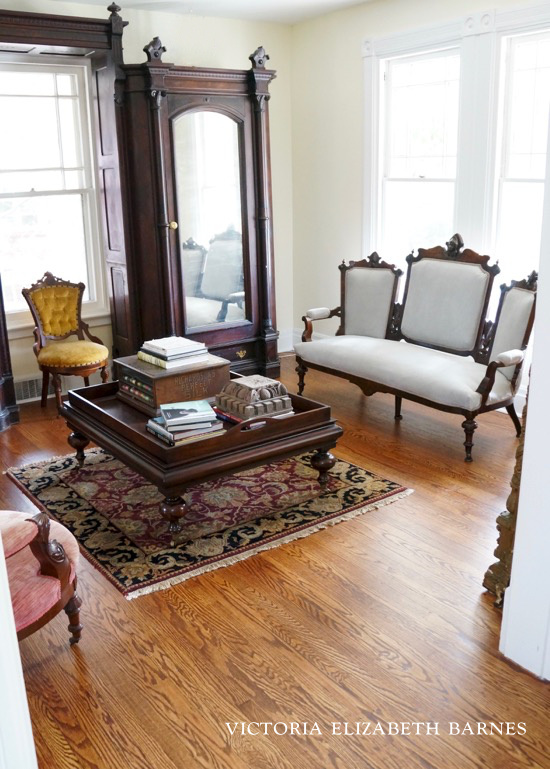 So! Yes! For sure! Welting sounds totally awesome and exactly how I want to spend 57 hours of my life in exchange for the meager approval of people who will consume this post in less than five seconds and probably only look at the photos.
Fortunately, I remembered my saving grace: welting is not authentic to the age of this furniture.
Original trim on Victorian furniture would have been similar to modern gimp, (or if prior to 1850, more like a textured ribbon than woven cording.)
So I went back to the passementerie/soutache/gimp drawing-board.
*Insert intermission while I open 47,689 Etsy tabs.*
I thought I might get lucky and find some treasure trove of old-stock antique trim, but eventually I resigned myself to something new… The vintage stuff is BEAUTIFUL. But A– I need a LOT. And B– even MY foolish, detail-loving heart thinks it is idiotic to spend $1,000 on trim.
Also can someone please explain why everyone on Etsy has "acquired a wonderful collection of old stock French trims that are all in very nice condition and unused."
Meanwhile, I myself have never once stumbled across boxes of old French trim just lying around in the street. WHY? So irritating!
Then after 457,823 hours of looking, I chose this one… it was $20 for ALL I NEEDED. And on top of that I actually really like it!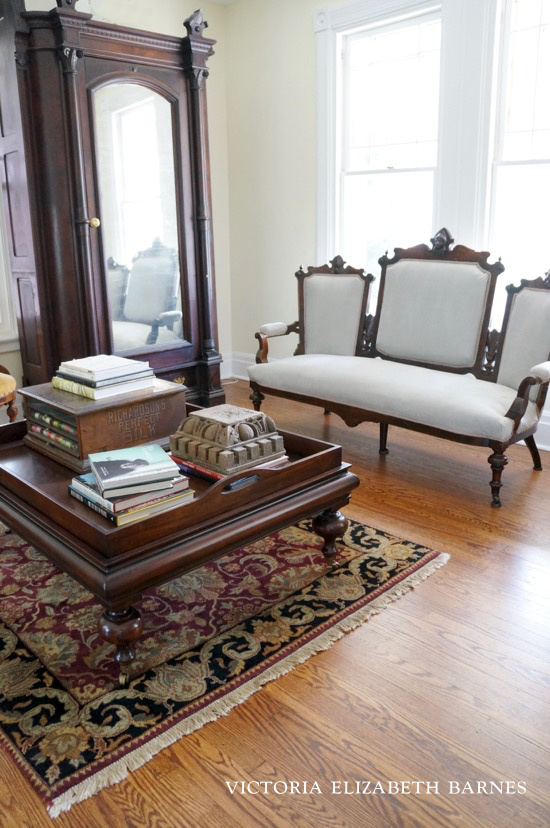 In closing, (if you care about such things) you can see the evolution of this room in the post where I sold the Restoration Hardware sofa … and for posterity's sake, I also sold the petite orange velvet sofa that I got at my first auction.
Edited to answer about the coffee table… it's old, RH. Discontinued. I got mine on CL (of course) so check yours! I couldn't find a good dupe, but this one has legs that are similarly turned (it's cheap, so could be great or horrible!) and this one's scale looks closer to mine, but is pricey!
SEE ALL MY FAVORITE CRAIGSLIST FINDS