Since I did my favorite shade plants in last week's post…  I'll continue the garden theme and do my favorite sun-loving flowers for cutting.
My requirements are: low maintenance, long vase life, blooms all summer…
And?  Repeat after me:  BIG.
Big, bold, colorful, and easy… (my one exception to that would be Lisianthus.)  I'm so over anything that needs more than mulch, water, and a stake.
These are dahlia (see my favorite dahlias here), Benary giant zinnia, sunflowers, and blackeyed susan.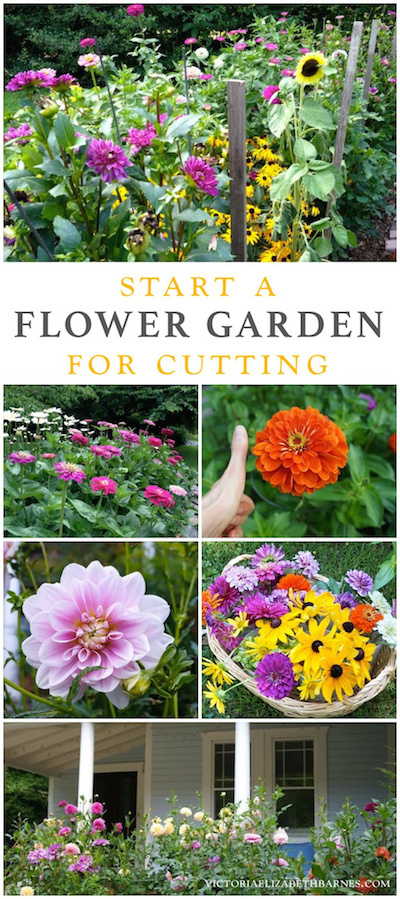 When Paul and I got married, I moved to what is now our old house…  Paul was nearly finished, and had already done the landscaping.
In retrospect?  It was REALLY nice.  Paul's idea of gardening is all practical, all the time.  He only chose plants that were perennial, hardy, and totally maintenance free.
I thought that was a terrible idea… I swanned in and waved my hands—and said: this will ALL have to come out.
That was my first garden, and I was ALL about the frills.
I planned something formal.  And elegant.  Like a mini-Versailles.  But also vaguely English… full of roses and peonies.  And possibly old stone walls and hedgerows.
I had no idea there was an easy way to garden… and a hard way to garden.
I had no concept of planning a garden that does at least part of the work FOR you.
In fact, I didn't even know that peonies DON'T bloom all summer.
A few years later, when we moved to this house, I had learned a LOT about what I actually want in a flower garden vs. what I thought I wanted.
This time, as I planned the flowerbeds, I started a cottage garden… where if something falls over, or dies, you can just ignore it.
My goal with this garden was to grow NO-maintenance perennials, some wild flowers, and to fill it out with a few more-effort-intensive flowers (dahlia, giant zinnia) that would reward my efforts, rather than humiliate me.
My garden advice?  Choose flowers that will withstand the natural occurrence of water falling from the sky, and not require you read them poetry by moonlight… unless you like that kind of thing, in which case—you've earned my utmost garden-respect.
My other garden advice?  Order some Benary Giant Zinnia seeds.  Go.  Now.
You're only a tiny bit late getting started, and you'll thank me later.
Last year I did  pinks and purples, but this year I'm adding orange… which I am INCREDIBLY excited about.
If you want something you can cut, and cut, and cut, and cut…
If you want more flowers than you know what to do with.
If you want it to still be going in August…
Then you need to grow this!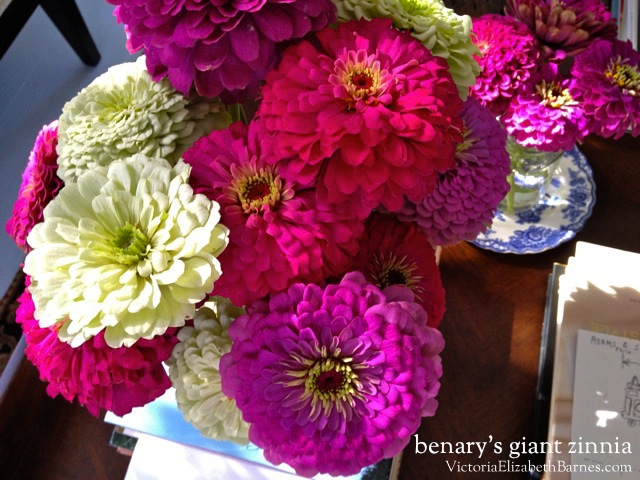 Here's my post about getting the most out of your zinnia, so if you get some seeds, you'll be able to follow along.
Below is the flower garden after I dug the new bed, and you can see one of my favorite perennial wild flowers—Cup plant.
It's like a perennial sunflower.  SUPER tall, nice greenery, and it gets HUGE, without requiring any staking (or anything else!) at all! One warning– it is a PROLIFIC re-seeder, so you will be pulling up lots of baby seedlings every spring.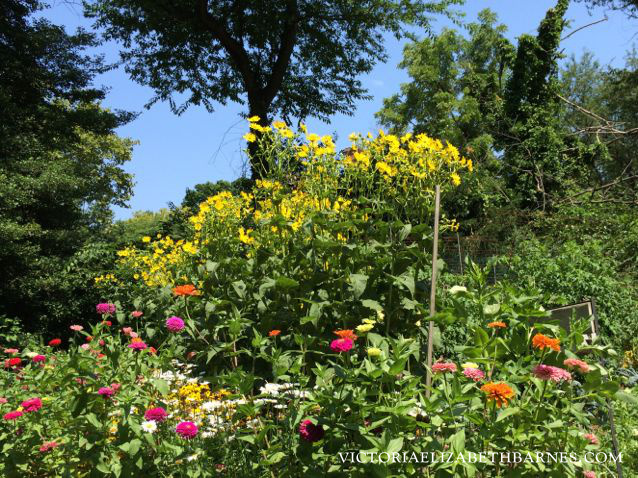 see how I start my plants from seed!