After The Kingdom Mirror went viral, Paul said things like – are you going to leave me for some guy who loves antiques that you meet on the internet?
I said – of course not. Unless he loves cats. Then, maybe.
This was because I'd gotten some emails in the vein of: you are an amazing, glorious, goddess of perfection and giant fancy things, whom I worship and would acquire mirrors for all day long.
And I sort of thought– gosh. Wow. I DO love Paul… but maybe I would love someone else even more? Someone who WANTS to do mirror-retrieval? I mean, for all I know Jon Hamm really likes antiques. And cats.
So I started to wonder – have I inadvertently limited my life's work by tethering myself to Paul? By choosing someone who is capable of mirror-retrieval, but not enthusiastic for it?
Have I made a terrible mistake?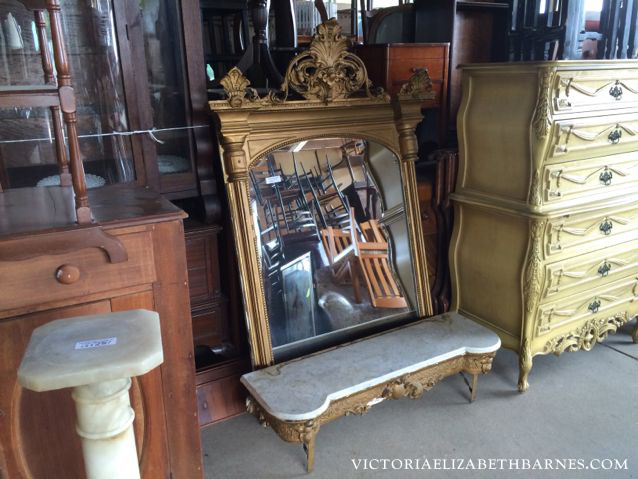 And now I can say – it looks that way. Because it seems that Paul has forgotten how I am a special mirror goddess, entrusted to him.
He has forgotten that I am to be cared for with utmost devotion.
He has forgotten that my every whim should be met with parades and cheering.
He has forgotten that I might leave him for Jon Hamm.
I know he has forgotten this, because when we saw an Elvis-cat-sized mini-kingdom at the auction preview, he did NOT say – oh my God, we MUST get that.
Instead, he walked right by it without acknowledging the stupendousness of our good fortune.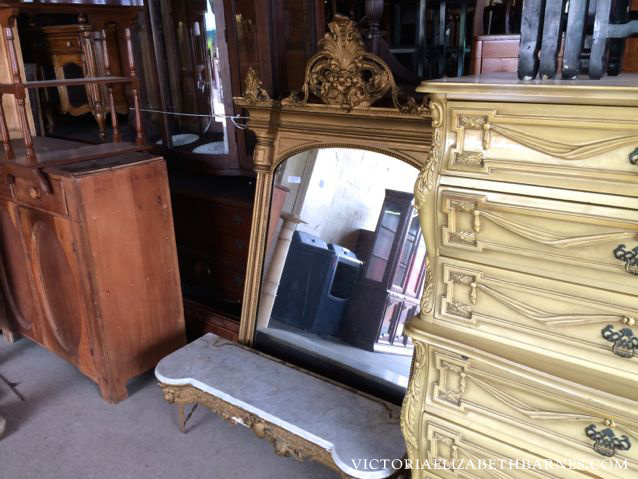 I had to whisper-shout at him to get his attention. I gestured rabidly with my head and performed the well-known mime/celebratory dance: look-what-I-found-oh-treasure-of-mine, while The Mirror Troll marched around playing the trombone and flinging confetti.
Paul backed up and looked at it for a minute. He said – you want this?
I looked at him cross eyed. Because, what?
Paul said – what do you want to pay for this?
But this is a trick question. What Paul means is: no matter what figure you name, I will look aghast and crush your dreams.
So I said – $1,000… because two can play that game.
Plus, it took me no time at all to learn that Paul wants to pay $5 for everything, so I need to start high for him to feel like he has reined me in.
Paul gave me the look that says – I think you are joking. But also, I am afraid you may not be joking.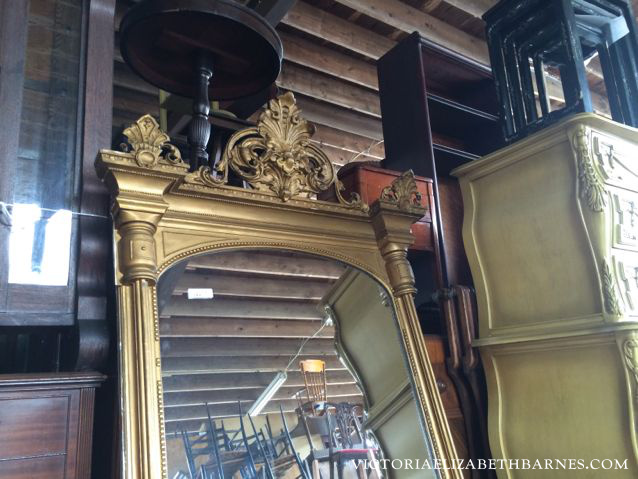 He said – this is a piece of junk… look at here, and here, and here… It is missing this, and this, and this.
I said – I see that. And I do not care. And I suspect you know this and are just taunting me. Besides, if I really wanted to I could make a latex mold to repair the missing fancy bits.
Paul said – sure.  That would work. Will you complete that project in my lifetime?
I said – no. However. AS YOU CAN SEE. This is a mini Kingdom Mirror. FOR ELVIS. Therefore, we cannot be hampered in our acquisition.
Paul said – $20. Otherwise, no.
I said – oh, I am sorry. The suggestion department is closed. Be ready to get up early tomorrow.
The next morning as we were driving to the auction, Paul said to me – if you are the first bidder, you will need to find another ride home because I will disown you.
This is because Paul thinks I am unpredictable and jumpy and not fully cognizant of what is going on and likely to bid haphazardly without waiting for the auctioneer to lower the price.
I just nodded and smiled at him to allow him the illusion of control he so clearly needs to cling to. But in my head I calculated how long it would take me to walk home.
I paid $65 and I am happy to say that I was not the first bidder, so I got to ride home in the car.
However, I made the mistake of asking Paul what my final price was… I knew I was somewhere between $50 and $75, but I was unsure of the exact amount. And like an idiot, instead of JUST KEEPING IT TO MYSELF, I said how it is very hard to tell what is happening and it just seems like the auctioneer is randomly pointing and saying nonsense and people are milling around.
Which led to an inquest and cross-examination on the drive home where Paul tried to trip me up by saying things like – so you had no idea what you were bidding, and yet you kept putting your hand up?
And I had to nimbly dance around his accusations and mischaracterizations by using my time on the witness stand to obfuscate and redirect attention to the greater good I have achieved: perfecting Elvis's inner sanctum for a relatively low price.
When we got home, Paul said– where are we putting this? I looked around and then gestured over in the living room. I said– let's just put it in that corner for now.
Paul said– because that's what hoarders do… fill up all the corners.
I said– Please be patient.  I am going as fast as I can… but there are so many corners.
see my other mirrors: pier mirrors & foyer, Kingdom mirror, just a mirror frame.
see all my favorite finds