When we first moved in, we had this giant rock on our front lawn.
It was just one of the many unexplainable objects d'art collected by the previous owner.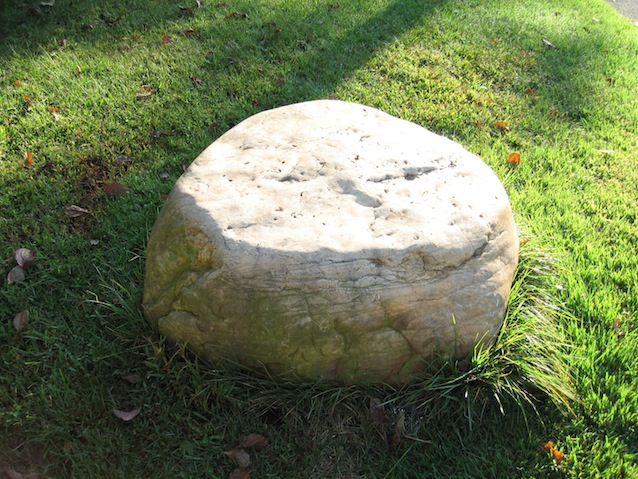 Landscaping was low on our priority list, but the rock irritated me, so I put it on craigslist.
Anytime I give something away on craigslist, I am astounded by the tsunami of people who want the very thing I am getting rid of.  The rock was no exception.
I wrote:
Free Rock.  BIG, HEAVY  –  Approximately 800lbs of rock!
I don't actually have any idea how heavy the rock was, but I figured 800lbs would be enough to deter anyone who wasn't really serious.
Two guys came for it, and I asked what they would do with it?
One said—I don't know.  I just like rocks.
I was like, wow.
The guys brought a trailer, a crow bar, and a hand truck that had seen better days. And after heaving and grunting and pushing-back-of-hats and smoking.  Bald guy told me that it didn't look that heavy in the picture.
This is the exact photo I posted on craigslist.  You can judge for yourself how heavy/not heavy it looks.
Also on craigslist: the dimensions of the rock at 36" across and 16" tall.  Incase anyone wanted to try to calculate how heavy a rock that is roughly three feet wide would weigh.
Eventually, they were able to stand the rock up on one end.  And get it on the hand-truck. Except that the hand-truck tires promptly deflated, and the bottom started to bend when they tried to tilt it back.
Then they unhitched the trailer from the SUV—the trailer needed to be closer to the rock, and they couldn't back it up anymore with the car.
So they aligned the now un-hitched trailer with the rock… and voilà.  They flopped the rock down into the trailer.
The (apparently unexpected) consequence of the flopping was that the hitch-end of the trailer flew up into the air and refused to be coaxed back down to be re-hitched.  Even when both large men stood on the end.
My neighbor was out mowing his lawn.  And came over to help.  There was jumping, pushing, suggesting, whacking…  all far better than I could have imagined for my free rock experience.
In the Rock's vacancy, I planted some Shasta daisies and Galardia.  At the time I thought it looked better than the rock, but looking at the photo now, I'm not too sure about that.
What I really wanted was to put a large flowerbed in the grass lengthwise, across the edge of the front lawn. If Paul would let me, I would rip up the entire lawn and plant flowers.
Actually, of course Paul will let me do anything I want.  There is no letting.  If I decide to go out and rip up all the grass—fine.  No problem. But what I actually want is for him to rip up all the grass.
Why? Because if you have never tried to rip up Zoysia grass, you have no idea…and because any project Paul is not involved in is not a project I want to do.
This spring, Paul was itching to be outside, and my patience (badgering him) was rewarded… We staked out a bed.
Originally I wanted the front curved—we have another flowerbed at the front porch, and I thought it should mirror the shape of that one.  But it looked strange, and then I decided that it was better if it matched the rectangular shape of the lawn.
Obviously I waited until after we had cut out the curve to decide that it didn't look right.
About halfway through the project, I realized that I hated it and it looked like an ugly, random, inorganic place for a flowerbed. It was the kind of thing where you feel sick for starting something, which now cannot be reversed.
I didn't tell Paul, since he'd just spent three nights after work sifting dirt and cutting out sod and re-leveling the area.  For NO reason—other than I wanted yet another flower bed.  I felt ill.
I'm not sure how obvious it is from the photos, but this was a HUGE amount of work.  Most of which fell to Paul.  His "work" setting is approximately eighteen times faster than mine.  Me, at warp speed—is to him, agonizingly slow.
Add to that, we were using the grass we dug up as sod in the weedy, uneven area at the curb…  So that meant more digging, more leveling, more ripping up of grass.
No, the photo is not blurry, Paul just works that fast.  Now you know why I didn't bother without him.
I got the plastic edging out of the trash on one of my yard-waste scouting expeditions.  And we had some stones left over from the front-porch flower bed.  So I made a rock wall.  It's harder than it seems—to pile rocks artfully.
I still regretted chopping up the lawn, but at this point, I hated it less.  Mostly because it's hard to hate digging in a wide expanse of fluffy dirt.
I divided Shasta daisies from other parts of the garden, and reused the Galardia.  I also planted Benary Giant Zinnia, Lisianthus, and some Alyssum around the edges… The bed looked kind of sad and scraggily but it was still early in the season.
I start all my flowers from seed in the house, and last year, my favorite annual was Lisianthus.  I grew it again this year, but it may have been surpassed by the Benary's Giant Zinnia.  Because?  This flower is awesome.
Huge.
Amazing cut flower.
Blooms last forever inside and out.
Apparently loves the horrible 100 degree heat we've been having
And it grows like CRAZY.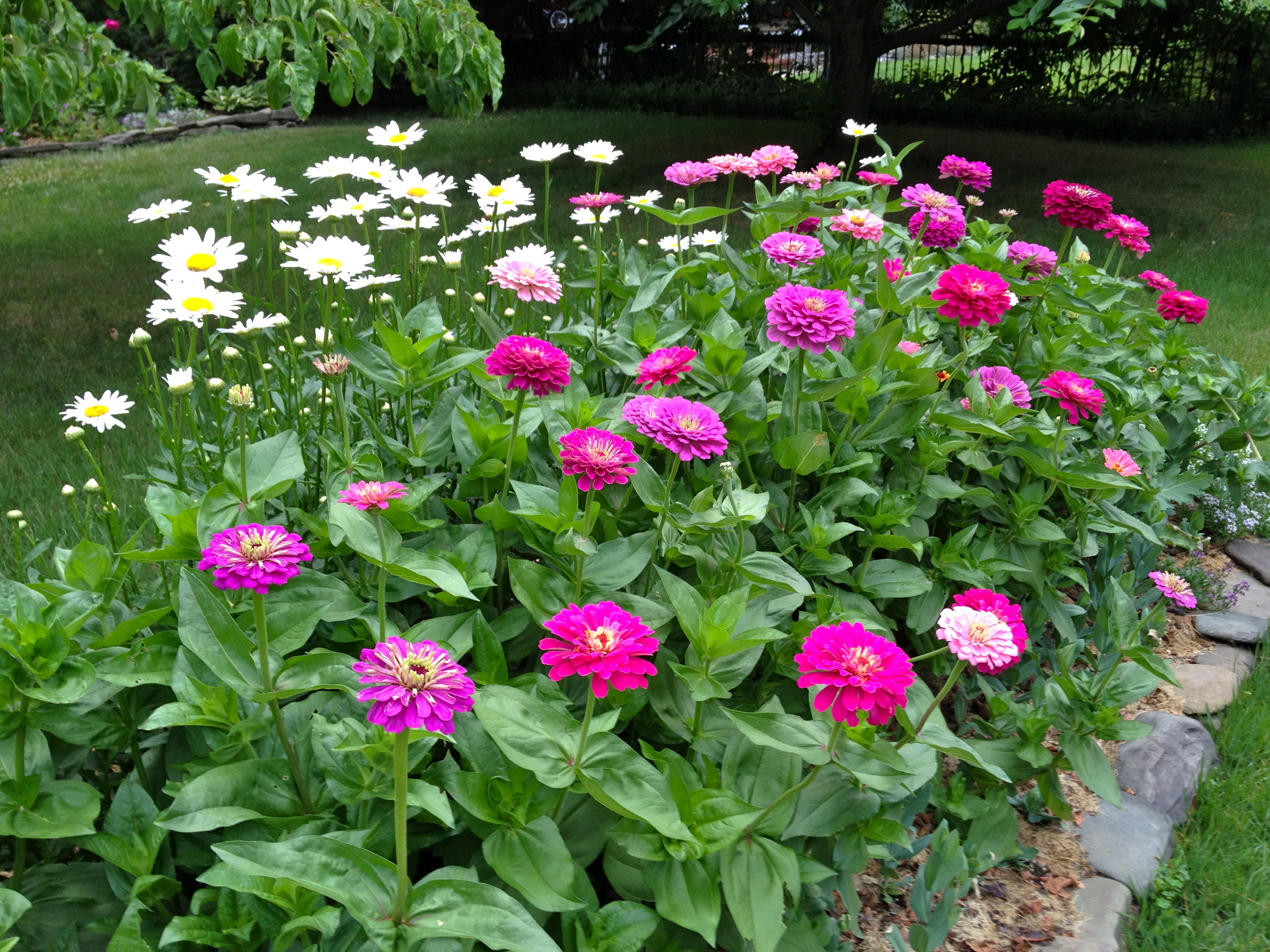 I went from disliking the new bed, to regretting we didn't make it bigger.  Lots bigger.  I'm all the way back around to wanting to dig up ALL the grass.
I also planted them in the other new flowerbed I started this spring, in front of the vegetable garden. And I REALLY cannot recommend it enough.  It makes a gorgeous cut flower.  It lasts WAY longer than any other bloom I remember bringing in the house.  And I have enough to cut for myself, and still have plenty to give to other people—I save any glass jars we have, and after you wash them and remove the label, they make a great disposable vase.
I will love you EVEN MORE… if you share me with your friends.