Until this weekend, the exterior of the house has been low on the list of priorities, seeing as how the inside looked like this: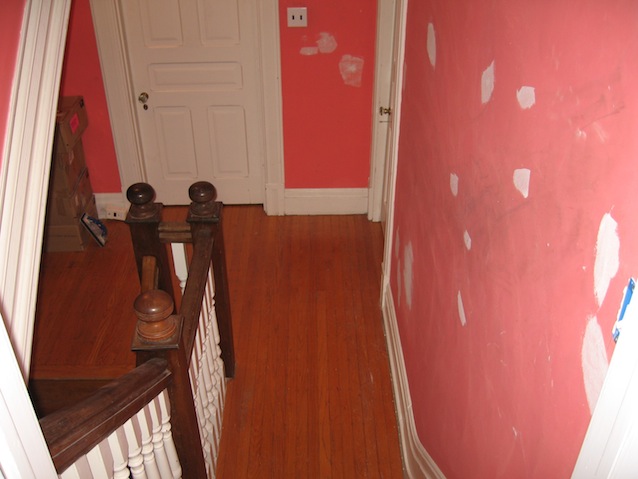 Our plan was to finish the current project in the hallway bath before spring.
But as usual, everything has taken seven times longer than expected—the sum of which is the stalled progress in the bath.
Paul has taken the blockade surprisingly well… Perhaps after the last two years, he is better able to take in stride the limitations of doing a project with a slow and indecisive partner.
Or, I have just worn him down. Either way, he's getting started on the countless exterior issues.
The foundation of the house and the porch both need some extreme renovation. Structurally, they are fine. But aesthetically and practically, they are a disaster.
Witness the color of our foundation:
Obviously the glass block delights me to no end.
If you look at my About The House page, you'll see that the interior of our house was painted every shade of the neon rainbow. And they carried that frenzy right out to the base of the house.
We are constantly amazed by the lack of attention the previous owners gave to detail, upkeep, maintenance… versus their endless supply of attention to paint.
Plus? If you're going to paint your porch ceiling orange? Don't you at least want to stay inside the lines?
index of the front porch restoration project