In case you missed: bed part 1, bed part 2. 
The headboard alone was enough to sell me on this bed. If there had been nothing but the the fancy bit at the top glued to a cardboard refrigerator box, I would have liked it just as much.
Also, I hate footboards like I hate turtlenecks– a lot. So to find an antique bed designed with no footboard at all, and a fancy headboard nearly 7 feet tall, and will accommodate our queen-size mattress… (sort of.) I knew this was the bed I had been waiting for.
Besides, if at some point it turns out I was wrong and I do find a king-size bed? That will be EVEN BETTER. Because I will stack this bed on top of it and make bunkbeds of awesomeness.
As we headed home with the headboard strapped to the roof of the van, I said to Paul – tell me, realistically? Do you think this will actually fit up the stairwell?
Paul said– what? Now you're a realist?
And I thought to myself– he's right, who even cares. Maybe I will just stack it in front of The Kingdom Mirror. In fact, that room is underused in general and I should start thinking of it as a warehouse for spare glory… a storage unit for displaced magnificence — who doesn't need one of those?
Besides, as previously established – I am only the finder. After that? It's Paul's show.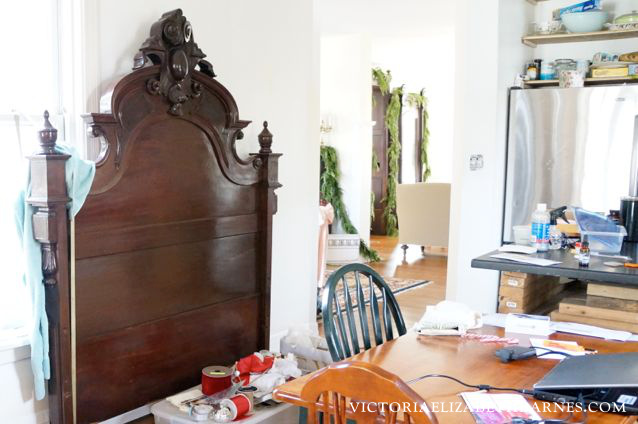 We got home late at night and hauled it into the kitchen. Then it just sat there while we waited for our other bed to sell (on craigslist). It took a couple of weeks, considering the holidays and everything.
Paul fixed the break in the footboard, (you would never know, if you were not looking for it closely). And he decided we would skip the fool's errand of getting it stuck halfway up the stairwell.
So Paul built a ramp/sled up to the front-porch roof outside the bedroom window.
Rather than forming words to explain this, you can see for yourself:
I would guess that I have impressed you with two things:
1– my ability to help. Without helping at all.
2– the extraordinary foresight I showed in marrying Paul.
Related posts:
see my other craigslist finds… or read about the time I was scammed on craigslist.